Los Angeles Lakers:

Lakers Draft
June, 18, 2014
Jun 18
8:38
AM PT
After bringing in a dozen prospects for their first predraft workout session, the
Los Angeles Lakers
invited Kentucky big man
Julius Randle
in for a solo show on Tuesday.
The 6-9, 250-pound 19-year-old said that he showed enough during the Wildcats' run to the NCAA championship game -- averaging 15.0 points on 50 percent shooting and 10. 4 rebounds along the way -- that making him face off against other players just wasn't necessary.
"There's no reason for me to go up against anybody," said Randle, who had 24 double-doubles in 40 games for Kentucky during his freshman season. "You've seen me all year. I think teams' biggest thing is they want to see my skill and not see me banging (against other players). I had the longest college season out of anybody in the country."
[+] Enlarge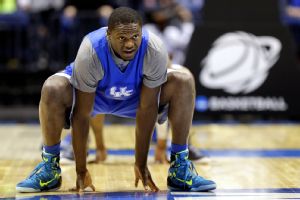 AP Photo/Michael ConroyJulius Randle is projected to be a top-ten pick in the upcoming NBA Draft.
Randle showed NBA 3-point range capability during the portion of his workout open to the media, knocking down outside shots with ease -- albeit with a bit of hitch in his left-handed shot.
It's an aspect of his game he rarely displayed in college -- he shot just 3-for-18 from 3-point range for the entire season -- and something he wants to prove he's capable of doing at the next level.
"I'm very versatile as far as things I can do on both ends of the floor," said Randle, when asked if he saw himself as more of a traditional back-to-the-basket big man or someone who will be able to spread the floor. "And I think I can play in many different styles. I don't think there's one style that's going to fit me and what I'm going to do. I think teams are going to see my versatility and know that they can use me in many ways. Whatever way is best for the team."
ESPN's Chad Ford has Randle going No. 10 to Philadelphia in his latest Mock Draft 8.0. Randle was once considered a top-five pick, but a Yahoo! Sports report surfaced that Randle's right foot may require surgery to replace a pin that was inserted after breaking the foot in high school.
"I met with the best foot doctor in the country and he said he wouldn't do anything with my foot, so there's no scheduled surgery or anything," said Randle, adding that he would be ready to play in the summer league in July. "I feel healthy, athletic. I'm moving great. No problems recovering and I'm ready to go."
Randle said he thought a team might have planted the story.
"I think a lot of it is coming from maybe some teams (whose) motive is maybe for me to fall in the draft to them, or certain teams may want me," said Randle.
While Randle's foot might not end up being a problem, his competition might end up being the bigger hurdle for him to clear before he can land in L.A.
The Lakers have another group workout planned Friday where they will invite back a pair of point guards in Oklahoma State's
Marcus Smart
and Louisiana-Lafayette's
Elfrid Payton
for a second look. Michigan's
Nik Stauskas
, who cancelled on the Lakers' last group workout after initially being scheduled to appear, is also invited, along with several other undisclosed players.
One team source was particularly impressed by Smart, telling ESPNLosAngeles.com that his "tenacity was off the charts" at his first workout with the Lakers. Not to mention, Ford has the Lakers taking Smart at No. 7.
Whether the Lakers end up picking Smart, Randle, or somebody else, the team is leaning towards keeping their No. 7 pick rather than trading down in order to acquire multiple picks, according to a source with knowledge of their thinking.
While it's widely believed that there is a gap in the talent available after Kansas'
Joel Embiid
and
Andrew Wiggins
and Duke's
Jabari Parker
go off the board, the Lakers feel there is another gap between the player they have rated 10th versus who they have at 11th and below, so it's not like they could flip their pick for say Phoenix's No. 14 and No. 18 picks and still come out in with a player they are totally sold on.
Which brings us back to Randle. The guy certainly seems pro-ready. He played for a coach in John Calipari who runs NBA sets in college. Physically, he is extremely gifted, as he was measured for a 38-inch vertical leap during his Lakers workout (Indiana's
Noah Vonleh
, another freshman big man the Lakers previously worked out, was measured as having a 37.5-inch vertical) and his body looks more sculpted than it did in college (Randle told reporters he's dropped 5-10 pounds while putting on muscle at the same time).
And there is a certain star quality to him, which was on full display as he was surrounded by approximately 30 media members after his Lakers workout and was equally adept in taking on a
league issue,
flashing his big smile, showing confidence in his abilities (when asked to compare himself to the rest of the big men in the draft he said, "I feel like I'm the best one ... I don't put myself second to anybody.") or even spinning a yarn.
"The first time I went to a Lakers game I was probably in like sixth or eighth or seventh grade and I had courtside seats," Randle recalled. "Kobe (Bryant) was warming up and I'm on the sideline and I'm going, 'Kobe! Kobe! Kobe!' And he wouldn't turn around. I guess he probably got annoyed with me. I go 'Kobe!' and he (slapped my hand). Then he just turned back around and started shooting. I mean, that was enough for me. I said I wasn't washing my hand for a year."
All these years later, he could be the one the Lakers end up hand-selecting.
June, 5, 2014
Jun 5
3:05
PM PT
The Lakers' first predraft workout was a veritable bonanza. Despite holding just one pick in the draft at No. 7, L.A.
brought in a dozen prospects
for evaluation.
It was a mixed group. There were five one-and-done freshmen (Arizona's
Aaron Gordon
, Indiana's
Noah Vonleh
, UCLA's
Zach LaVine
, Syracuse's
Tyler Ennis
and Kentucky's
James Young
). There were four seniors (Creighton's
Doug McDermott
, Weber State's
Davion Berry
, Nevada's Jerry Evans and Pepperdine's
Brendan Lane
). There were three in-between (Oklahoma State sophomore
Marcus Smart
, Michigan State sophomore
Gary Harris
and Louisiana-Lafayette's
Elfrid Payton
). Seven were back-court players, five were were front-court players. They came from conferences as big as the ACC and as small as the WCC.
And they all had a story to tell of how they got here, on the precipice of realizing their NBA dream.
Below is a sampling of how the prospects answered the barrage of questions they faced from the media on Wednesday.
Q: Which current NBA player are you compared to the most?
[+] Enlarge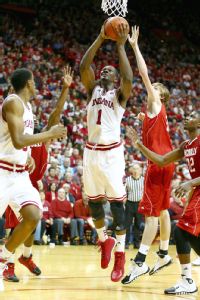 Andy Lyons/Getty ImagesIndiana's Noah Vonleh was one of several draft-eligible players to work out for the Lakers.
Noah Vonleh, F/C, Indiana:
"I hear a lot of comparisons of like
Chris Bosh
,
LaMarcus Aldridge
. I see some similarities, but I think I do some things different."
Gary Harris, SG, Michigan State:
"Recently I heard the comparisons to
Bradley Beal
. Just what he did for the Wizards is just somebody in that type of mold that a lot of people have been saying."
Doug McDermott, SF, Creighton:
"It's a tough comparison, but I think guys like (
Kyle) Korver
, I'm really good at coming off screens. I'm a great shooter. I watch a lot of
Ray Allen
. Guys like that, I feel like I can really find a role in this league and be able to maximize that."
Elfrid Payton, PG, Lousiana-Lafayette:
"I've been compared to (
Rajon) Rondo
,
Tony Parker
.
Chris Paul
how he kind of picks his spots, things like that, throughout the game. Those are a few I look up to."
Q: What are you trying to showcase during predraft workouts?
Aaron Gordon, F, Arizona:
"Just the versatility. I can guard a plethora of different positions."
Tyler Ennis, PG, Syracuse:
"I tried to go out there and show I could defend another point guard, another top point guard, especially. I tried to shoot the ball and stick to my game. Making plays for others, seeing the floor and I think I was able to show that a little bit in the 2-on-2 and the 3-on-3 as well."
Zach LaVine, PG, UCLA:
"I feel like I have all the tools to be a great defender at the 1 position. I have the speed, the quickness. I have to get stronger, of course. But learning how to read the picks -- going over or under them -- different type of defenses, off-ball defense as well. I'm willing to do anything a team needs to me to do. If they want me to go out there and just play straight defense, try to lock somebody up, I'll do that. If they need me to be a cheerleader on the bench, I'll do that. If they need me to run the team, I'll do that as well. So, I'm going in to win a spot, I'm going in to play. But whatever happens, I'm going in to compete and have fun."
Marcus Smart, PG, Oklahoma State:
"I'm a playmaker. Not just on offense, but on defense. I'm a playmaker on both sides. That's what makes me. I can shape a game on both ends."
James Young, SG, Kentucky:
"That I can attack the basket. I didn't do it a lot this season but I definitely try doing that every workout and just try showing people I can attack the basket."
Harris:
"I just say my will to compete on both ends of the court. I'm going to give my all no matter what."
Vonleh:
"Trying to show my versatility. Showing I can take guys off the dribble, I can finish above the rim, go to work in the post when I have a smaller guy on me. Just really show my versatility and show how I can rebound the ball."
Payton:
"Getting into the paint. I like to live in the paint. I think it helps me and my teammates. If somebody steps up, I can drop it down. If somebody helps over, I can kick it to a shooter. And I think I have the ability to finish at the rim myself. So that's kind of how my game is predicated."
Q: What's it like working out for an organization with as much history as the Lakers have?
Vonleh:
"When I think of the Lakers, I think of a championship program. They didn't have a good season the last couple years, but I think if they get the right pieces, they can definitely get back to that championship level."
Ennis:
"The Lakers haven't had a lottery pick in a long time so to be able to come in and work out here with this group is something I'll remember forever."
LaVine:
"I'm incredibly happy. I'm definitely keeping these (practice) jerseys right here. I might wear the shorts a lot, show everybody. I've always been a Laker fan growing up, ever since I was younger, I've lived and died with them. From Nick Van Exel and Eddie Jones, to when
Kobe (Bryant
) came in to where Kobe and them had that losing streak and then didn't go to the playoffs (in 2005) to where they're at now, I know everything about the Lakers."
Smart:
"It's crazy. It's a great feeling. Not many people can say that they've been in the Staples Center or (the Toyota Sports Center) to see those (retired) jerseys in person. So, like I told everybody, it's an honor to be here. I'm excited and I'm blessed."
McDermott:
"It's pretty crazy, man. This is a dream come true. It's my first workout so, I was a little nervous to start. Especially it being the Lakers as your first one, but it went really well and it's just a privilege to be here."
Gordon:
"I went up and asked somebody, 'Are those (championship trophies) real?' They're like, 'Yeah, yeah. Everything is real around here.' So I thought it was pretty interesting. It was pretty cool. Obviously L.A. is a very traditional program and it would be amazing to play here, but like I said, I'm just excited to get picked for any team."
Young:
"It would mean a lot. I would love to play out here. Great offensive guys and I would love to be out here in L.A."
Q: What about the chance to play with Kobe Bryant?
Ennis:
"I think everybody was (a Bryant fan growing up). You got to respect Kobe, definitely. I think to be able to work out alongside him and as a young player see him and how hard he works, I think that would help anybody, regardless of what position. I think work ethic is contagious and not just to have him,
Steve Nash
and all the guys, I think you have no reason not to get better."
LaVine:
"It's Kobe Bryant, man. I love his attitude. I love his work ethic. His killer demeanor. I looked up to him and
Michael Jordan
my whole life. I feel like a lot of people have. It would be a dream come true."
Gordon:
"Kobe is psychotic about basketball and I am, too. That would just be absolutely incredible. Just playing with someone great. Just the little intracacies of the game. The details. I would love to see his work ethic. Kobe is the definition of a true pro, as well as Steve Nash is too. Just being around those two guys would help me tremendously."
Q: What do you still need to work on?
McDermott:
"I think at the NBA (level), I have to be a lot bigger. I'm not going to grow any more so you definitely have to hit the weight room hard and that will allow me to guard a 4 at times. But you know, I played it in college. I guarded a lot of strong guys. So I think I can adjust once I get a little stronger, but as of now, I'm going to have to guard the 3, possibly some 2s, and I think I can do it."
Smart:
"I'm still working on becoming a more consistent shooter. My jump shot is getting better day by day and it's improved drastically. But I'm still working on it."
Harris:
"Everything. Being more consistent with my shot. Working on my ball handling. Working on my decision-making skills. Just improving my all-around game, just trying to get better to just prepare myself for the next level."
LaVine:
"I've just been working on my reads off the pick-and-roll, if it's an (isolation play), go down, looking at the tag defender. If it's a zone defense, split the screen with the right pass to make. Just getting a feel for it. I pretty much didn't handle the ball that much this last year, so just getting all my ball handling and my vision back. And running a team is the most important part. Making the right decisions."
BEST OF THE REST
While the group of players were asked many of the same questions, there were some unique questions and answers that were either revealing, entertaining or both.
Ennis on how the workout went:
"I think we all came out here and showed what we can do. It's going to be a tough pick for them."
LaVine on his late-season struggles with the Bruins:
"It's a long season. You have ups and downs. I started off the season really hot, shooting about 60 percent from the 3 and 70 percent from the field and that's not going to happen as a regular basketball player throughout your whole season. You know that. It's like a baseball player who is hitting .700. You're going to come down to earth eventually and you just keep rolling from there."
Harris on the difference between the NCAA and the NBA:
"I've talked to a lot of guys and they just said the strength and the pace of it. They say it may not look like it's going fast from the stands or TV, but it actually goes pretty fast and things happen quickly. Just getting adjusted. Everybody has that adjustment level right when they get to college and there's going to be an adjustment level going into the NBA."
Smart on Lakers fans reaching out on social media:
"I'm on Twitter every day. It's crazy how many fans the Lakers have. They're excited. They keep saying, "Lakers ... Marcus Smart. Lakers ... We need him here. Laker Land this. Laker Land that. We need Marcus in Laker Land." So, it's been an exciting process for me altogether."
McDermott on being a senior among so many freshman prospects:
"It's pretty crazy. I couldn't imagine being 19, 18 some of these guys, going through this process. I feel like I'm still a young guy, but I'm three years older than them. So it's pretty crazy. I like to give guys like that advice, too. Obviously these are all good guys and they're all open to listen to older guys."
Payton on playing with a chip on his shoulder because he comes from a small school:
"It's a little chip. You're always supposed to have a chip on your shoulder. I always play with a chip on my shoulder, but none of us are no longer in school anymore so we're all on the same level field."
Young on if John Calipari will leave UK for the Lakers:
"I feel like he'll stay there. He's doing great there and he's just doing great for the program."
Gordon on what makes him tick:
"What makes me tick? I don't know man. I did a workout before this. This wasn't my first workout of the day."
June, 4, 2014
Jun 4
8:07
PM PT
EL SEGUNDO, Calif. -- For the first time in a decade, the
Los Angeles Lakers
opened their doors to lottery-level draft prospects by hosting a large group workout Wednesday.
The upside to suffering through a 27-55 season for the Lakers is the chance they'll find a franchise-changing talent in the draft come June 26. L.A. holds the No. 7 selection and brought in 12 players to basically audition for the part.
"I still think we'll get a good player," said Lakers general manager Mitch Kupchak, who observed the workouts along with vice president of player personnel Jim Buss and the Lakers' scouting staff. "I do. Hopefully we pick the right player. There's a lot of talent."
And the Lakers have many needs.
With only
Kobe Bryant
,
Steve Nash
,
Robert Sacre
and
Nick Young
(who is expected to opt out by June 30) currently under contract for next season, the Lakers purposely put together a wide-ranging workout group.
It was headlined by forward
Aaron Gordon
from Arizona, big man
Noah Vonleh
from Indiana and combo guard
Marcus Smart
from Oklahoma State, but included three other point guards (Syracuse's
Tyler Ennis
, UCLA's
Zach LaVine
and Louisiana-Lafayette's
Elfrid Payton
), four shooting guards (Michigan State's
Gary Harris
, Kentucky's
James Young
, Weber State's
Davion Berry
and Nevada's Jerry Evans), and a pair of senior forwards (Creighton's
Doug McDermott
and Pepperdine's Brendan Lane).
"You can argue, because we've only got four players on the roster, we're not really limited to looking at a position," Kupchak said. "We need help everywhere. So, I think we'll be in position to take the best player at almost any position. And even the position we do have covered, he's been around 18 years. So we have to look for beyond that position too. So, that is a good thing. Sometimes you get put in a position where, 'Well, we need a point guard. Let's focus on point guards.' And you may overlook a player that's going to be a better player down the road."
June, 3, 2014
Jun 3
6:26
PM PT
The
Los Angeles Lakers
will conduct their first round of predraft workouts to evaluate prospects on Wednesday, just more than three weeks before the NBA draft on June 26.
The team has only one selection in the first round at No. 7 and does not have any second-round picks.
The Lakers are bringing in 12 players to their practice facility Wednesday.
Why so many? A couple reasons. First of all, there is always the possibility the Lakers could acquire more picks. Lakers general manager Mitch Kupchak told the Los Angeles Daily News at the predraft combine in Chicago last month that his goal was to do just that. Considering L.A.'s bare cupboard when it comes to tradable assets, the team could end up trading down to get the additional pick Kupchak mentioned. Philadelphia (picks Nos. 10, 32, 39, 47, 52 and 54), Phoenix (picks Nos. 14, 18, 27 and 50), Charlotte (picks Nos. 9, 24 and 45) and Chicago (picks Nos. 16, 19 and 49) all possess later picks they could package to L.A. to try to move up to No. 7.
Furthermore, there is no downside to working out more players. It is simply gathering information. The Lakers were so impressed with their predraft workout with
Steve Blake
in 2003 that he stayed on their radar until they signed him as a free agent in 2010. Much like the coaching search the Lakers are currently undertaking, the benefit in casting a wide net is it allows them to learn more.
The Lakers won't stop at Wednesday's workout, either. Odds are they will have another group session, if not several more. From there, once they start to figure out which players they prefer, follow-up workouts will be scheduled.
Here's a quick look at the dozen players L.A. invited to workouts this week:
May, 20, 2014
May 20
9:21
PM PT
NEW YORK -- As much optimism as the
Los Angeles Lakers
had coming into Tuesday's NBA draft lottery that they would somehow hit on their 21.5 percent chance to vault up into the top three picks, the reality remained that they had a 34.5 percent chance of moving down from the No. 6 slot they came in with.
And so, like how so many things have gone for the Lakers in recent seasons, the night provided only more disappointment for a franchise that has been riddled by setbacks.
[+] Enlarge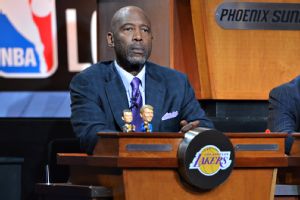 Jesse D. Garrabrant/NBAE/Getty ImagesJames Worthy's presence couldn't bring the Lakers the luck they needed to move up in Tuesday's NBA draft lottery, where they landed with the No. 7 pick.
James Worthy
's good luck troika of bobblehead dolls of Dr. Jerry Buss and Chick Hearn, as well as the memory of a third late Lakers legend, Bill Sharman, "in his heart," failed to bring Magic Johnson's old running mate any magic up on the lottery stage.
The man known as "Big Game" James in his playing days for playing that way in big moments, said he felt "naked" in front of the cameras as it all unfolded.
"When you're sitting over there, you're just a sitting duck waiting," Worthy said. "You're a little nervous. My heart started pounding a little bit when it got to 8. But then when it came up at 7, I was like, 'Damn.'"
Instead of No. 6, they ended up at No. 7. Instead of being bumped up into the top three picks with a chance to either trade the selection for an established veteran (
Kevin Love
, anybody?) or draft a supposed can't-miss superstar (
Andrew Wiggins
,
Jabari Parker
or
Joel Embiid
, anyone?), that dream now belongs to the
Cleveland Cavaliers
, who came into the proceedings with a 1.7 percent chance at the No. 1 pick and ended up getting it.
"We had hoped to get under 6 and get an opportunity, but it's a deep draft," said Worthy, still keeping a smile on his face. "Seven is something I'm sure that Mitch Kupchak and the front office of the Lakers will methodically think about and make the right move. So, even though we didn't get an opportunity to be in the top three, we'll make the best of this situation."
It wasn't just Worthy saving face, either. Although according to most mock drafts, the Lakers will be looking at names such as
Marcus Smart
,
Noah Vonleh
and
Aaron Gordon
instead of Wiggins, Parker and Embiid, there are NBA people who think the Lakers' draft positioning is still enviable.
"They're in a situation where they can take the best available player and not give a s--- about hype," one front-office executive told ESPNLosAngeles.com.
"Also, because they're the Lakers, they could end up getting a player who normally would go higher but will want to force his way to L.A. with the help of his agent."
June, 28, 2013
6/28/13
12:26
AM PT
EL SEGUNDO, Calif. -- When it came time to make the
Los Angeles Lakers
' No. 48 pick in the second round of Thursday's NBA draft, part of general manager Mitch Kupchak wanted to cringe.
"It was dramatic," said Kupchak, a University of North Carolina alumnus, about selecting 6-foot-11 forward
Ryan Kelly
out of Duke. "It was traumatic as well."
[+] Enlarge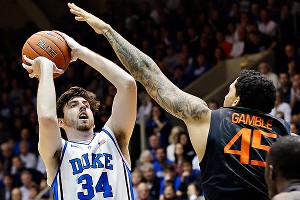 AP Photo/Gerry BroomeRyan Kelly has been recovering from a foot injury that prevented him from working out for NBA teams before the draft.
Kupchak was able to stomach dipping into the other side of the Tobacco Road rivalry if it meant making the Lakers better, which he feels the team accomplished in picking up a stretch four in Kelly who shot 42.2 percent on 3-pointers in his senior season with the Blue Devils.
"He was the player that we had rated the highest still on the board," Kupchak said. "It's unusual to get a guy who's 6-11, 6-11½ that has a skill like he has. So, it's a unique opportunity. A big player that has an NBA frame that can shoot the ball, not only midrange, but he can make some shots [deep]. I think he can become a consistent 3-point shooter in the NBA as well."
Kelly comes with some risk, however. The 22-year-old missed 13 games last season because of complications stemming from surgery on his right foot last summer. He required another surgery after the season was over to put a bigger screw into his foot to fix his fractured metatarsal and is 11 weeks into the 12-week recovery timetable, meaning that Kelly was unable to participate in a pre-draft workout for L.A.
"When you can't work out and you have foot injury, that's something that people are going to have to look at and they may not be willing to take a chance," Kelly said. "But, I certainly believe that I was worth the chance and I'm going to prove anybody wrong that decided not to get me."
While Kelly has been medically cleared to resume basketball activities, Kupchak said he does not anticipate Kelly would play on the Lakers summer league team in Las Vegas from July 12-22.
"I don't think there's any reason to rush him," Kupchak said. "So, keeping that in mind, you're talking about three more months to get ready for training camp. I don't think there will be any problem."