Los Angeles Lakers:

Lakers Images
April, 19, 2010
4/19/10
2:17
PM PT

By Dave McMenamin
ESPNLosAngeles.com
Archive
We had the pleasure of collaborating with Andy to create a great gallery of images. It includes a look back at last year's title run with commentary from the players who experienced it, plus Kobe Bryant reflecting on his career and players who have influenced him, and finally Bernstein's words about his favorite pictures: Lakers in photos »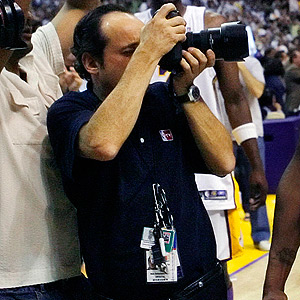 AP Photo
The man at work. Andrew Bernstein has a face, but it's usually behind one of those fancy cameras.
When you see a photo of a Lakers player dressed in his purple and gold on the court in a newspaper, magazine or on a Web site, odds are it came from the lens of the camera of one man:
Andy Bernstein
. Bernstein is the Lakers official team photographer and has been with the franchise for nearly three decades. He is also a senior photographer for the NBA and has chronicled everything from a regular season game between the Los Angeles Clippers and Minnesota Timberwolves in March, to all six of
Michael Jordan's
championships with the Bulls.
Bernstein chatted with ESPN.com/LosAngeles looking back at the pictures that have illustrated his career.
10 Questions with Andy Bernstein …
Q: You've been in L.A. for Showtime and Lake Show and now, this yet-to-be labeled era of the Lakers, can you talk about how your role has changed through the years as the team changed?
April, 16, 2010
4/16/10
11:22
AM PT
By Andy and Brian Kamenetzky
ESPNLosAngeles.com
Archive
As consumers of sports, we now have almost endless means to satisfy our Jones for live action. An ever-growing array of cable channels are bolstered by a seemingly infinite number of entry points on the web. If something happens on the field of play- major, minor, or somewhere in between- chances are high there's video to go with it.
But even with everything at our disposal, with so much access to live events and real people, ironically the best and most compelling stories sometimes get lost in the shuffle. Our eyes are follow the endless action, unable to fully process the significance of moments as they happen. People like us will later try to capture them in words. We'll talk to the participants, add our input, and do our best to tell a story.
Still, try as we might, what we do often isn't as immediate and powerful as a great photograph.
Something about an amazing still image conveys more than any amount of expert analysis, capturing the beauty of athletic performance, the core of a player's personality, the pain of failure and joy of success. Perhaps without even knowing, Lakers fans have enjoyed the incredible gift of having one of the world's great sports photographers focused on their team, preserving those split seconds in time we so often don't see.
Andrew
(we call him Andy)
Bernstein
is the NBA's Senior Official Photographer, and has created what seems like every iconic league image since he started shooting for the Association in 1983. And since the Lakers have created more of those moments than any other franchise over that time, Bernstein's lens has captured those, too. (Anyone with
access to this book
will agree.)
We had the pleasure of collaborating with Andy to create the
gallery of his images you can see here: Lakers in photos »
It contains some of his favorite pictures, many of which you'll likely recognize, and Bernstein tells some of the stories behind them. Meanwhile, there are shots of last season's title run accompanied by comments from the players who produced it.
Kobe Bryant
, a big fan of Bernstein's, adds additional thoughts on the great players who have influenced his game, from
Jordan
to
Olajuwon
.
The images aren't just moments on the floor, but also behind the scenes. Bernstein has been in places most fans (and even media) never get to see, and his photography pulls back the curtain. They get to the core of what we love about the Lakers and the NBA.
"It's personal. It's all personal moments, intimate moments that he collects," says Kobe of Bernstein. "He has a skill and a knack to do that other photographers don't have. Other photographers just take photos. He takes moments."
January, 22, 2010
1/22/10
8:51
AM PT

By Brian Kamenetzky
ESPNLosAngeles.com
Archive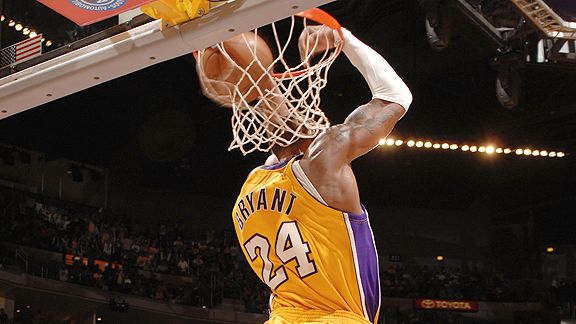 Noah Graham/NBAE via Getty Images
Thursday night in Cleveland, Kobe Bryant became only the 15th player in NBA history to score 25,000 career points. That's like this dunk 12,500 times.
The outcome of
Thursday night's game in Cleveland
... well, it sucked for Lakers fans. Still, it wasn't the only significant event of the evening. History was made when, with a free throw in the second quarter
Kobe Bryant became, at 31 years, 151 days, the youngest player in the history of the NBA
to score 25,000 points.
Only 14 other players in the league's long history have cracked the 25K barrier
.
Last week, we asked you to
help us pick the best 25
of Kobe's then-24-nine-something-something-now-25,012 career points, and were given some outstanding suggestions.
Take a look now at a
photo gallery of our choices mixed with a very heavy dose of yours.