Los Angeles Lakers:

Lakers Offday
December, 26, 2013
12/26/13
6:42
PM PT
EL SEGUNDO, Calif. -- The role of defensive ace on the
Los Angeles Lakers
has been vacated since the team used the amnesty provision on
Metta World Peace
in the offseason.
So with the best basketball player on the planet,
LeBron James
, in town Wednesday, who would have thought that second-round draft pick
Ryan Kelly
would be auditioning for the stopper spot by guarding James in the fourth quarter of a close game against the
Miami Heat
?
[+] Enlarge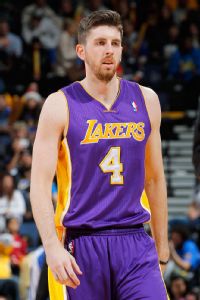 Rocky Widner/NBAE/Getty ImagesRyan Kelly is finally getting a chance to be part of the Lakers' rotation, and he hopes to make it last.
"I was like, 'I got to find a way to stop him.' Didn't. But that's a learning experience and something to grow on, and I'll watch the film and see what I could have done different," Kelly said after practice Thursday.
OK, maybe it's being a tad facetious to suggest Kelly would go from bench warmer and errand-running rookie to the all-defensive team, but even if he didn't have much success against James, he suddenly finds himself part of the Lakers' rotation.
"He knows how to play defensively and offensively," Lakers coach Mike D'Antoni said. "Defensively, he's the first one to get to the right spot. I think going forward he can keep earning more time. I'm pretty excited about it."
Kelly had played only 23 minutes all season in five spot appearances when D'Antoni called for him to sub into the first quarter of the Lakers' road game against the
Phoenix Suns
on Monday.
"There was no question I didn't know it was going to happen, but I just wanted to always be ready," Kelly said of the surprise substitution. "I sit there, if you watch me the whole game, I'm the first one to stand up during every timeout. I run out there just as much [as the players in the game] to celebrate with my teammates, but even more so [to show] that I'm ready to go."
Kelly didn't hesitate when D'Antoni called for him to come in with 1:29 to go in the opening period against the Suns, taking less than a minute of game time to score a 14-foot step-back jump shot with 33.4 seconds left.
"I heard it very clearly," Kelly said with a laugh. "It's the key, you got to hear it on the first time. If you hear it on the second, if they have to call it twice, that means you're probably not listening. So I stood right up."
The 6-foot-11 Kelly is just as eager to shoot, even if he's coming in cold. In the seven games Kelly has played this season, he has made one shot in five of them, even though the most shots he has taken in any game is only four. He prepares by simulating his potential game opportunities in practice.
"You're pretty cold, you kind of sit there for a little bit, waiting in your spot for a little while and be ready to shoot," Kelly said. "That's something that's a skill I have, for a guy my size, to be able to shoot the basketball. I've said that from the beginning. That's one of the reasons I'm here. If I'm open, I'm going to shoot it."
April, 23, 2013
4/23/13
10:24
PM PT
SAN ANTONIO -- If any one thing was established in Game 1 of the
Los Angeles Lakers
' series against the
San Antonio Spurs
, it was the
Kobe Bryant
-less Lakers intend to get the ball inside to
Dwight Howard
and
Pau Gasol
early, often and always.
"We're inside-out now," Lakers coach Mike D'Antoni said Monday. "We're full blown and we're going to keep doing that."
Howard and Gasol accounted for 28 of the Lakers' 73 shots Sunday (38.4 percent). But they also coughed up 10 of the Lakers' 18 turnovers.
[+] Enlarge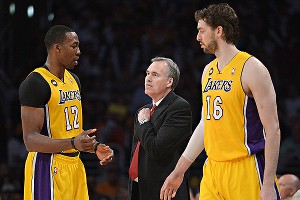 Kirby Lee/USA TODAY SportsThe Lakers still plan to utilize Dwight Howard and Pau Gasol in Game 2, but their approach of how they get them the ball could be different.
It's a good thing L.A. is committing to Howard, a seven-time All-Star, and Gasol, a four-time All-Star, but the problem is if you go to the well one too many times against a solid, well-coached defensive team such as San Antonio, the predictability hurts you.
"Let's see if we can have a little bit better ball movement before we try to get the ball in, because if we try to fight it too much and force it too much is when the turnovers came in, most of them," Gasol said. "So, we just got to move their defense a little bit better and swing the ball, then try to post the ball up into Dwight or myself. Then it won't be as easy for them to front or make things hard for us."
D'Antoni said the goal for the two practices between Sunday's Game 1 and Wednesday's Game 2 was "cleaning up our offense."
That entails cutting down on the 18 turnovers that led to 14 points for the Spurs, but also shooting the ball better. L.A. shot just 41.1 percent overall from the field, and an anemic 3-for-15 on 3-pointers (20 percent). D'Antoni said
Andrew Goudelock
, an undersized guard with a legitimate 3-point stroke who was in the D-League a week ago, could also get playing time.
"A lot of it is just not being familiar with what we're trying to do, putting in new sets, guys not being in the right spots," D'Antoni said. "A lot of it is [the Spurs] are active and they're good. We have to be a little bit smoother in what we're doing in trying to clear out. Again, we're trying to put the ball inside all the time into a tight spot. We got a lot of guys in there, so it's just trying to clean and do a better job. Some of it was we just mishandled the ball. We just got to be a little more careful with the ball."
Gasol was asked to explain exactly what the "new sets" and "wrinkles" that D'Antoni was talking about the Lakers had planned, without giving away too much.
"We're just trying to move the ball and create a couple actions before we dump the ball in the post," Gasol said. "We got to move their defense so the passes are not so forced and it's not so predictable and everybody sees that we're trying to keep that path right now and everybody's looking at it.
April, 21, 2013
4/21/13
12:47
AM PT
After one of the most arduous and pitfall-filled seasons in
Los Angeles Lakers
history, if not in the entire history of the league, the guys in purple and gold find themselves in the postseason with a first-round series against the
San Antonio Spurs
.
L.A. has to feel good about itself, finishing the regular season 28-12 after bottoming out with a record eight games below .500 in late January. They were even better in April, going 7-1, including winning their last five in a row to secure the No. 7 seed and set up their date with the No. 2 Spurs.
However, during that final postseason push,
Kobe Bryant
went out with an Achilles tear in his left foot, requiring surgery that will sideline him for six to nine months.
Can the Bryant-less Lakers upset a Spurs team that finished with the second-best record in the West and third-best record in the entire league?
Here are 10 things to think about heading into the series to determine just how realistic a possibility that is.
1. San Antonio's home-court advantage
Even though the Spurs looked somewhat ripe for the picking, having gone 3-7 over their final 10 games of the regular season, remember that the series opens up at the AT&T Center, where they went 35-6 this season. Meanwhile, the Lakers were just 16-25 away from Staples Center. It will be a major challenge for L.A. to bring the series back home with a split after the first two games in San Antonio.
2. Hamstrings
Definitely the body part that could have the biggest impact on the series for both teams.
Steve Nash
plans to play in Game 1 after missing the Lakers' last eight games because of a bum right hamstring, hip and lower back.
Manu Ginobili
only played one game in April -- an uninspiring 12 minutes in the season finale -- because of his own right hamstring injury. If Ginobili is healthy, he could have a field day carving up the Lakers' perimeter defense that is missing Bryant and has a hobbled
Metta World Peace
out there still less than a month removed from knee surgery. If Nash is healthy, L.A. gets another elite shooter to help open up the floor so
Dwight Howard
and
Pau Gasol
have more room to operate down low.
April, 4, 2013
4/04/13
11:11
PM PT
LOS ANGELES -- It was easy to see coming.
Phil Jackson was at center court Tuesday. He had the microphone in his hand and was speaking at
Shaquille O'Neal
's jersey retirement ceremony in front of a sold-out arena full of fans who wanted to remember the glory days as they were in the midst of muddling through the disappointing haze that has permeated the current
Los Angeles Lakers
season.
"We want Phil! We want Phil! We want Phil!" the crowd cheered. The sound cascaded onto the court and might have even crept into the Lakers' locker room, where coach Mike D'Antoni was addressing the team at halftime.
[+] Enlarge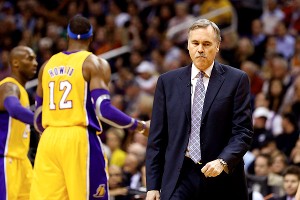 Mark J. Rebilas/USA TODAY SportsTo say Mike D'Antoni's first season as Lakers coach has been a challenge would be an understatement. With the season winding down, he finally seems to have them on the right path.
"He's only won 58 rings, why wouldn't they?" D'Antoni quipped after the game.
As enticing as it might be to wonder "What if?" when considering the team's decision to hire D'Antoni on that Sunday night back in November, instead of giving Jackson the weekend to think about his answer, even the winningest championship coach in NBA history would have faced serious challenges with the Lakers this season.
It might be easy to yearn for Jackson, but it's not so simple as placing the blame on D'Antoni for the fact that the Lakers are fighting just to get into the playoffs with two weeks left in the regular season rather than jockeying with the top seeds in the Western Conference for home-court advantage.
Here are four reasons D'Antoni shouldn't end up being the scapegoat should the Lakers ultimately stumble down the stretch, and one reason he should shoulder some of that responsibility:
WHY NOT TO BLAME D'ANTONI
1. He didn't have a training camp.
Think about it: The Lakers were in such shambles to start the season with new personnel and a new offensive system that even with a monthlong training camp, former coach Mike Brown directed the Lakers to an 0-8 preseason and a 1-4 mark in games that mattered before he lost his job. D'Antoni was thrust into a situation in which he had no familiarity with half the roster, and had to use games to figure out how to divide minutes among
Earl Clark
,
Antawn Jamison
,
Jordan Hill
and
Devin Ebanks
. Or among Ebanks and
Jodie Meeks
. Or among Meeks,
Steve Blake
,
Chris Duhon
and
Darius Morris
. He had to decide whether he liked
Metta World Peace
, Jamison and Clark better at the 4 or at the 3. He had to feel out
Pau Gasol
's game. He had to get to know
Kobe Bryant
's and
Dwight Howard
's contrasting personalities. And he had to do it all on the fly, under the microscope in one of the NBA's biggest media markets while not feeling physically up to par himself as he recovered from knee surgery.
March, 26, 2013
3/26/13
10:42
PM PT
Here we meet again, Lakers season.
At the corner of frustration and disappointment.
Monday marked the team's first three-game losing streak since late January, which led to that
air-it-out meeting in Memphis
.
Tuesday marked getting the last card in a poker hand nobody wants as
Metta World Peace
was diagnosed with a
torn lateral meniscus in his left knee
, making him the fifth out of L.A.'s five opening day starters to miss some time because of injury this season.
"Disappointing obviously and our backs are against the wall once again when we gave ourselves a touch of breathing room,"
Steve Nash
said after L.A.'s 109-103 loss to the Warriors in game they trailed by 23 at halftime. "Now we really got to fight and things aren't looking good in terms of our rhythm is a little off, morale is a little down, guys are banged up and we got to really fight now."
They also have to fight against in-fighting, it would appear.
First, there's the tried and true
Kobe Bryant
vs.
Dwight Howard
score to settle.
Howard has just 17 shots total in his last two games, connecting on 12 of them (70.1 percent). Bryant has 45 attempts in those two games, making 19 (42.2 percent).
"I don't even want to talk about it," Howard said after the Warriors game. "We have to figure out what we need to do to play. If you want to win games, you have to play the right way."
Howard has just three shots total in the fourth quarters of the five losses L.A. has in the month of March.
Bryant spoke up in Golden State, saying that they need to feature Howard more.
"I think he's playing phenomenal," Bryant said. "We have to figure out a way to get him some more looks down low though. I tried to step back as much as I possibly could and allow that to develop. He was in foul trouble and all of the sudden it's a 19-point game and we can't sit around much longer. But we got to figure that balance out."
When told about Bryant's comments, Howard seemed to sniff out the hypocrisy.
"He said what happened?" Howard asked, almost incredulously, before sticking to a diplomatic response. "When we lose, everything is magnified. We just got to play the game the right way, do what we did coming out of All-Star break to get some wins and go from there."
March, 21, 2013
3/21/13
5:38
PM PT

By Ramona Shelburne
ESPNLosAngeles.com
Archive
Count
Jerry West
among those who think the
Los Angeles Lakers
are finally rounding into form.
"I definitely wouldn't want to play them, I know that," West said on a conference call Thursday, when asked about the Lakers' surge since the All-Star break. "I think they'd have a chance against anyone [in the playoffs]."
West, a Lakers legend as a player and general manager, is now an executive with the
Golden State Warriors
, who are in sixth place in the Western Conference.
"I think if the Lakers would have their preference, they probably wouldn't want to play Denver," he said. "I don't think anyone would want to play them. Denver has proven they can win on the road and they just don't lose at home.
"Memphis, they're like a a bunch of pack dogs down there. Defensively they are really good. And to me they've got the most underrated player in the league in
Marc Gasol
. That guy is really a good player.
"But I think they [the Lakers] would have a chance against anybody. If you watch Oklahoma City, to me, they don't look like they're the same team. And I think that they're terrific, but they lose a great player in
James Harden
, and that's going to happen to a lot of teams today, and can they make up for the loss of him? I'm not sure."
March, 20, 2013
3/20/13
7:54
PM PT
Antawn Jamison
is pretty much the definition of an NBA veteran.
The
Los Angeles Lakers
are the fifth team the 37-year-old has played for in his 15-season career, meaning he literally has had hundreds of teammates during his time in the league.
None of them have been quite like
Kobe Bryant
.
"This guy's a different dude," Jamison said of Bryant
while a guest on the "Max & Marcellus Show"
on ESPNLA 710 radio on Wednesday.
Jamison said Bryant has helped create a contentious atmosphere with him and his teammates, but the conflict has helped the team congeal.
"Kobe will tell you," Jamison said. "He's like, 'Look, you guys as my teammates, yell at me. Let me know that you're open because I'm so programmed,' and this guy has told me this, 'I see nothing but that basket. You could be open, there could be three guys on me, but the only thing I see is that basket so you have to tell me, Look, I was open. Or yell at me mid-play. That doesn't affect me at all and I respect that.' "
Jamison said the veteran-laden roster has adapted to Bryant's style and the players have no problem with confronting the five-time champion.
"I think the thing we've seen in the past was most teammates might have been afraid to come to him or express, 'Kob' I was open,' or, 'That's not what we drew up,' " Jamison said. "The thing I like about this team,
Steve Nash
-- who is a Hall of Famer -- and Dwight [Howard] as well, Dwight and Kobe have gotten into shouting matches on the bench because Dwight will be like, 'Kob', that's your rotation. Get there.' And after the game he'll be like, 'Appreciate it, big fella. I needed that.' "
Jamison said he doesn't even have to speak to express his concerns with Bryant, and can just let his big eyebrows do the talking.
"I come in there and I look at him a certain way, he'll be like, 'OK, Jamison, you're right. My bad.' "
March, 19, 2013
3/19/13
8:28
PM PT
By ESPN Los Angeles
ESPNLosAngeles.com
Archive
Pau Gasol
underwent an ultrasound on his right foot Tuesday and results of the test showed continued healing and improvement of the plantar fascia tear that has kept him out of the lineup since being injured Feb. 5, according to a
Los Angeles Lakers
spokesman.
Gasol will continue to increase his work load and return to the lineup when he is ready and pain free.
The Lakers, who don't return to game action until Friday night at home when they host the
Washington Wizards
, have gone 13-7 with Gasol out of the lineup.
March, 1, 2013
3/01/13
7:52
PM PT
LOS ANGELES -- There's no sugarcoating that
Steve Blake
's time with the
Los Angeles Lakers
has been mostly a disappointment so far.
[+] Enlarge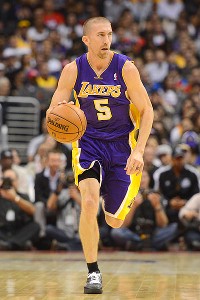 Harry How/Getty ImagesSteve Blake had one of his best games as a Laker on Thursday against Minnesota with 13 points, seven rebounds and six assists.
Blake signed a four-year, $16 million contract with the Lakers in the summer of 2010 and has yet to live up to the expectations as a player that Lakers general manager Mitch Kupchak said the team coveted since Blake's pre-draft workout with the team in 2003.
But it hasn't been all Blake's fault.
First there were schematics that worked against him. Both Phil Jackson's triangle offense and Mike Brown's post-up sets did not allow Blake to play his natural flow-based, read-and-react game. Mike D'Antoni's style finally seems to be a fit.
Blake's body has also been to blame.
Blake has been through enough bizarre injuries in his three years with the team to fill a season's worth of scripts for "House, M.D." He had a case of the chicken pox in 2010-11, then dealt with a costrochaondral fracture (a fracture of the cartilage connecting the rib to the sternum) last season. This season he had his training camp derailed when he stepped on a spike strip in a beach parking lot and punctured his foot, and then went on to miss 37 games because of a groin/abdomen injury that required surgery.
However, now the backup point guard is both healthy and confident, and it's showing on the court.
The Lakers' bench scored 52 points in their 116-94 win over the
Minnesota Timberwolves
on Thursday. Even though
Antawn Jamison
was the Lakers' leading scorer as a reserve against the Wolves with 17 points, he credited Blake (13 points, seven rebounds, six assists) as the key reason L.A.'s second unit was anything but second rate.
"That's nice of him," Blake said about Jamison, in his typically understated style.
Blake is averaging 5.3 points and 3.4 assists this season for L.A. -- both his highest marks since joining the team -- and he was even better in February, averaging 5.8 points in 19.0 minutes per game while shooting 46.6 percent from the field and 45.5 percent from 3-point range.