Los Angeles Lakers:

Magic Johnson
June, 12, 2013
6/12/13
6:26
PM PT

By Dave McMenamin
ESPNLosAngeles.com
Archive
It has been nearly 20 years since Magic Johnson coached the
Los Angeles Lakers
for 16 games in the 1993-94 season*, but the Hall of Famer's opinions about his former franchise are as strong as ever.
Johnson, an analyst for ESPN appearing on KIA NBA Countdown during the NBA Finals, was on a conference call Wednesday with reporters to discuss the Finals and not surprisingly, the subject of the Lakers came up.
Below is a transcript of Johnson's latest thoughts on the purple and gold:
Q: What do you think of Dwight Howard, what is best for him?
JOHNSON:
"I can't tell you what's best for him -- for Dwight Howard. I think that he'll probably make the best decision possible for him.
"I would say that he will probably enjoy playing for
Kevin McHale
, because Coach McHale, not only was he a Hall of Fame player – and I feel with
Tim Duncan
, the best power forwards that have ever played the game – but you have an emerging superstar and a guy that you can definitely play with
James Harden
.
"And I think that the other young players that they have, (Omer) Asik and (Jeremy) Lin, (Chandler) Parsons, those guys are right there too, with Dwight Howard, will take the next step as being one of the elite teams – one of the best four or five teams in the league and definitely will give themselves a chance to win a championship.
"So that's really where it is. The Lakers have to decide what they want to do. Dwight has to decide what he wants to do.
"I don't think you're going to have enough money for Chris (Paul) and Dwight. I think you're going to have to concentrate on one or the other probably, and I don't know if they want to play together; if one will decide to take lesser money. Now, one might decide to take lesser money and join forces there. But if they both command top dollar, that's going to be hard for Houston to pull off."
Q: The state of the Lakers, where you see them now and a year from now?
JOHNSON:
"The state now is really just making a decision on Dwight Howard. I know that the Buss family, Jim Buss, are interested in sitting down and trying to strategize to find out, what do they want to do. And once they make that decision, then the next thing is
Kobe Bryant
, his return. Hopefully he can come back strong and healthy. And then they have to decide if they want to add somebody or not.
"But a year from now, with all the cap space that they will have, I think the Lakers will be able to sign two or three players and I think it puts them right in position to be a great franchise for the next five years if they make the right decisions and the right moves.
"So I'm excited about next summer for the Lakers. I think it's going to be tremendous. The Lakers just can't make dumb decisions right now to mess up that cap space."
November, 15, 2012
11/15/12
8:58
AM PT
You -- certainly including the chanting masses at Staples Center over the weekend -- wanted Phil. Magic Johnson did, too, judging by
some water cooler worthy
Tweets
sent out Wednesday.
Last night, Johnson explained his criticisms of Lakers management, and was particularly blunt on the subject of Jim Buss.
November, 12, 2012
11/12/12
2:20
PM PT

By Arash Markazi
ESPNLosAngeles.com
Archive
LOS ANGELES –
Kobe Bryant
was laughing when he said it, but there was some truth to his words.

When a reporter asked him Sunday evening about the Lakers blowing out their last two opponents after the team fired Mike Brown and named Bernie Bickerstaff as the interim coach, Bryant said: "He's good. He's getting the f--- out of the way."


Enter Mike D'Antoni and an offensive philosophy that will free up the Lakers' attack and allow them to play an up-tempo style of basketball that hasn't been seen around these parts since the "Showtime" era.


For the first time since Steve Nash and Dwight Howard arrived in Los Angeles, we can begin talking about what they can accomplish in a system that could play to their strengths rather than wondering how long it will take them to adapt to one that took them out of their comfort zones.


Nash and Howard seemed like a tantalizing pick-and-roll prospect when they arrived in the offseason – particularly in combination with the shooting talents of Bryant and passing acumen of Pau Gasol – but the Lakers' offense too often looked hamstrung and uncertain under Brown. Watching them struggle through the rigidity of it all, you wished you could scrap the system and just tell them to have fun.


That's essentially what the Lakers did Monday. They simplified things. They made it a game more than a system, and my guess is it won't be long before their players and fans start enjoying themselves again.


Once upon a time, when Paul Westhead, who has a master's degree in English literature from Villanova, took over a talented Lakers squad 14 games into the 1979-80 season, he invoked some Shakespeare (from "Macbeth") with a young Magic Johnson: "If it were done when 'tis done, then 'twere well it were done quickly." Johnson looked at Westhead, nodded his head and said, "I get it, you want me to get the ball and run it down the court and score."


There are wrinkles and nuances to D'Antoni's push-the-pace offense, but its exuberance might be its greatest attribute, given the season he is walking into and the team he is coming to lead. The team is 3-4 and needs to win a title to deliver on the promise of its talent. This isn't exactly the time to learn a new offense, whether it be the Princeton or the triangle.


With D'Antoni, the focus will be on generating possessions and open shots. You know Bryant, who likes to shoot, is going to have some fun. And there's no question D'Antoni's hire will please Nash, who won back-to-back MVPs under him in Phoenix and who will know his role well under his old coach. But perhaps no one will benefit more from D'Antoni's arrival than Howard.



As far as pick-and-roll offenses go, according to ESPN Stats & Information, Howard has been the most efficient "roll" man in the NBA over the past three seasons. During Nash's time with D'Antoni in Phoenix, the Suns were one of the best in the league at running the pick-and-roll and led the league in offensive efficiency for the "roll" man in three of four seasons from 2004 to '08 (the one exception being the 2005-06 season, when Amar'e Stoudemire missed 79 games).


Considering Howard is an unrestricted free agent after this season, the importance of his comfort level can't be overstated, and D'Antoni's style, which should feature him in an attack-the-basket mode, could help secure his future with the Lakers. Although there might not be many traditional low-post opportunities, the young, dynamic center could very well have a field day in a D'Antoni offensive scheme.


And although it might not all come together overnight (unlike D'Antoni's coaching deal), you can't tell me that won't be fun to watch.
July, 31, 2012
7/31/12
10:34
PM PT

By Ramona Shelburne
ESPNLosAngeles.com
Archive
LOS ANGELES -- Magic Johnson has had plenty to deal with as owner of the Los Angeles Dodgers of late, but when you stick a microphone in front of him and ask about the Los Angeles Lakers, he's always going to have an opinion.

Asked whether the Lakers are now a championship team with the acquisitions of Steve Nash and Antawn Jamison, Johnson smiled and said, "I think we still need two to three pieces but if they can add a shooter, as I've told [general manager] Mitch [Kupchak], we've got a shot.

"One thing Oklahoma City still relies on talent. With Steve Nash, what happened to us in the fourth quarter [in two games during the Lakers second-round playoff series] would not happen to us. Especially that second game and we had a seven-point lead in the last two minutes and we turned it over three times. We didn't get good shots. All we had to do was score one time and the game was over. I think Steve helps with all of that."

Johnson is still listed as an executive with the Lakers but said he's not directly involved in team business anymore. He said he wasn't sure if the Lakers would eventually land Orlando Magic center Dwight Howard in a trade.

"I don't know. I can't tell you. I don't know what they're going to do," he said. "If they don't they've got to roll with what they've got and hopefully improve the bench. They've done a good job with Jamison.

"One thing about the Lakers is they're a very smart team. I think they'll give the Thunder a lot of trouble because of their talent, and they're very smart. Steve Nash, man, the shots that we're going to get with him are going to be amazing. Kobe's going to love playing with him. Finally he can have a chance to rest on offense."
March, 10, 2012
3/10/12
11:57
AM PT
Earlier this season,
we commemorated the 20th anniversary of Magic Johnson's iconic press conference
in which he told the world he had HIV. Sunday night,
ESPN Films debuts "The Announcement,
" a documentary examining that day, one enduring not only a landmark moment in Los Angeles sports history, but a signpost moment in American culture generally.
Ahead of the premiere, we had a chance this week to speak with director
Nelson George
. We talked his memories of that day, of returning to the Forum Club with Magic as part of the production,
Karl Malone
, how Magic changed the way Americans look at HIV, and what the world of HIV awareness and prevention might look like had Magic never contracted the virus.



February, 8, 2012
2/08/12
9:38
AM PT
When
Kobe Bryant passed Shaquille O'Neal to become the NBA's fifth all-time leading scorer
, it prompted a flurry of debates about his
place in basketball history
, but also his ranking among great Lakers,
as in this video with ESPN's Tim Legler
.
I don't love his list --
Wilt Chamberlain
(Legler's #4) fits better among the five greatest players in NBA history than the five best greatest Lakers -- and
Jerry West
, excluded by Legler, should be in the top 5. Still, there are two big notables. First, Legler has
Magic Johnson
ahead of
Kobe Bryant
for the top spot, but admits there is subjectivity and historical bias in play. Namely, Magic is elevated not just by his accomplishments but also Legler's respect for the NBA though the 1980's.
Johnson tops my list, too, but I've long thought the G.L.O.A.T debate is generational. For fans, say, 35 and over, it's tough to put anyone ahead of Magic, just as it was likely tough for the previous era to put Magic ahead of West. In time, though, I suspect more often than not Kobe will land at the top, because more "voters" will come the pool of fans who grew up watching him, and only know Magic from highlight reels.
Second, lists like these reinforce the almost absurd levels of success and star power of the Lakers' franchise, historically speaking. Pundits and fans alike routinely assemble Top 5's like this one, and Hall of Famers
James Worthy
and
Gail Goodrich
don't get a sniff. For many -- maybe most -- there's no room to squeeze in
Elgin Baylor
. Elgin Baylor!
Pretty incredible.
December, 21, 2011
12/21/11
7:44
AM PT

By Ramona Shelburne
ESPNLosAngeles.com
Archive
EL SEGUNDO, Calif. -- After two weeks of anger and confusion following the collapse of the
Chris Paul
trade and the inexplicable dumping of
Lamar Odom
, a night of civic embarrassment at the hands of the
Los Angeles Clippers
and a day to let the first wisps of public criticism from his new coach sink in,
Kobe Bryant
coolly emerged from the Lakers' training room Tuesday afternoon with a message.

If there is a solution to what is ailing the Los Angeles Lakers, as far as Bryant is concerned, new coach Mike Brown will be part of it.

For months we waited and wondered whether Bryant would finally give his seal of approval to Brown, who was hired by Lakers owner Dr. Jerry Buss, executive vice president Jim Buss and general manager Mitch Kupchak without any conversation or consultation with the franchise's best player.

Bryant had been left out of the loop, and while he's never publicly said he was miffed at that decision-making process, his silence spoke volumes.

In the first few days of training camp, Bryant paid Brown some light compliments. Then Tuesday, without much prompting, he went all the way and tried to make an ally for however long they are both charged with righting the Lakers ship.

"What I've heard about him [before this season] was he was a pushover, he doesn't say what he's thinking and all this other sorts of stuff," Bryant said. "I haven't seen that at all. He's been the complete opposite. He's been detail oriented, he's been up front and open and honest. He praises guys when they do well, he jumps on them when they're messing up right away."

It was an interesting statement to make on the day after Brown had criticized Bryant's defense in the Lakers' blowout loss to the Clippers in an exhibition game Monday night.

A way of symbolically blessing the Brown hire, and letting his teammates know they needed to buy into the new systems and culture Brown and his staff have been preaching since camp opened almost two weeks ago.
November, 11, 2011
11/11/11
8:33
PM PT

By Dave McMenamin
ESPNLosAngeles.com
Archive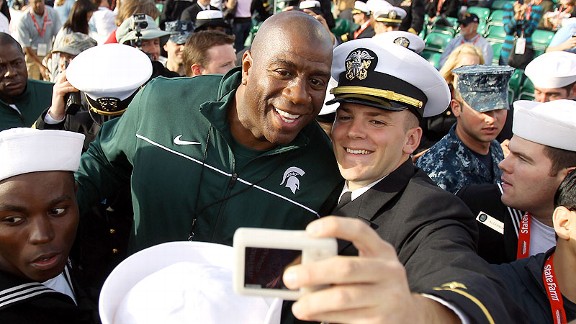 Ezra Shaw/Getty ImagesMichigan State Spartans honorary captain Magic Johnson takes pictures with U.S. military personnel before the Quicken Loans Carrier Classic on board the USS Carl Vinson.
SAN DIEGO --
Shannon Brown
arrived at will call several hours before tipoff for Friday's inaugural Carrier Classic between North Carolina and Michigan State and who was one of the first people he saw waiting in line?
Cleveland Cavaliers owner
Dan Gilbert
.
"That was crazy," Brown said, sharing the tale as he made his way through a throng of U.S. Navy men and women, pausing to take a photo with everyone who asked.
In just about any other year, Brown and Gilbert would have been natural allies entering the historical basketball game aboard the USS Vinson as fellow Michigan State alumni.
At just about any other time, two proud Spartans finding themselves some 2,000 miles away from East Lansing ready to watch their Green and White take on the No. 1 team in the country, would take comfort at the sight of one another.
But Friday they ignored the Spartan ties that bind them because of the NBA lockout line that currently has them pitted directly against one another.
Labor negotiations between the owner's side and players' union broke off once again Thursday and the fate of the 2011-12 NBA season hangs in the balance as the players are taking the weekend to regroup and consider the NBA's offer that's in their lap.
Sitting in the middle of it all on Friday was
President Barack Obama
in his front row seat at center court, taking in the game he loves.
While Obama's appearance was more about supporting America's troops than it was about fixing a basketball, he's already expressed just how dire things are looking for the league.
"I'm concerned about [missing an entire NBA season]," Obama told
Jay Leno
recently. "They need to remind themselves that the reason they are so successful is because a whole bunch of folks out there love basketball."
By letting the lockout reach an apparent impasse -- either the players accept the owner's last-best offer, one that union head Billy Hunter described bluntly as "not the best offer in the world," or choose decertification as their own last-best chance of ever having leverage in these negations -- both sides have bitten the hand that feeds them for so long that the generous spoon of the fans might not be coming back when this thing ever gets resolved.
"I think it's a lot like politics," said former Carolina great
Eric Montross
. "You got to get rid of the posturing. I think ultimately what we'll find, and what my guess is, the points where they began is probably not far from where they'll end. There's been a whole lot of posturing left and right of those points and that's unfortunate because that's where you start to lose your fan base."
November, 8, 2011
11/08/11
10:00
PM PT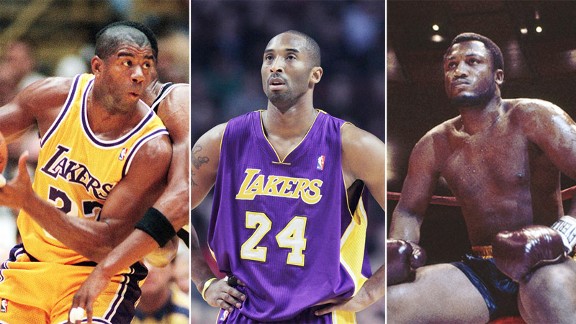 AP Photo
All three are legends, but only two boast a true rival.
The death of heavyweight legend
Joe Frazier
has
naturally prompted considerable conversation about Muhammad Ali
. Intense rivals, the two fought on three occasions, the first a victory for Frazier, and each match is regarded as a classic. The barbs Ali tossed at Frazier were outside the lines and below the belt. Ali's presence overshadowed Frazier's, but ultimately help create a foundation for the latter's legacy. They are permanently intertwined.
Monday also marked
the 20th anniversary of Magic Johnson's HIV press conference,
and while the remembrance of this milestone obviously didn't center around a rivalry with
Larry Bird
, that chapter of Magic's life also wasn't ignored. We've been reminded of how Magic selected few friends to learn about his situation from him rather than the media, Bird among them. Plus, HIV prompted his retirement, which in turn prompted reflection, and it's impossible to remember Magic's career without Bird entering the picture. The two are synonymous, which added a wonderful layer to an already iconic story.
Thinking about Frazier/Ali and Magic/Bird, I was reminded of how
Kobe Bryant
, despite 15 unforgettable seasons under his belt, never really enjoyed a legitimate rivalry. Unless you count the one with
Shaq
, but that hardly qualifies in this context. As teammates, their quarrels were depressing and counterproductive, even acknowledging the championships. As ex-teammates, the war of words has largely been one-sided, with Shaq dragging himself through the mud by refusing to let go. Either way, it's hardly been inspirational.
From there, it's hard to peg exactly who Kobe's rival would be.
November, 7, 2011
11/07/11
4:41
PM PT
There were many standout moments at Monday's Staples Center news conference
commemorating the 20th anniversary of Magic Johnson's retirement
, not the least of which was the check for $1 million presented to his foundation. Johnson spoke of that day two decades ago, when he announced HIV would force him out of the game. He spoke of how he coped and the optimism he felt in the face of what many believed a death sentence. He talked about his health, advancements in treatment and the people to whom he feels indebted for helping him stay healthy. Magic thanked his wife and family, and noted the obligations he feels as the face of HIV not only in this country, but abroad.
But on a day filled with
remembrances
of a
landmark moment
in American culture and sports history, one small moment best defined the magnetism of Magic. After delivering his speech and fielding questions from the assembled media for more than 20 minutes, Magic invited the former Lakers in the crowd to join him on stage for a picture.
Jerry West, Pat Riley, Michael Cooper, James Worthy, Mychal Thompson, Kurt Rambis
and
Mike Dunleavy
. He noticed
Lakers trainer Gary Vitti
in the crowd, and called him up, too.
"I said all Lakers," Magic instructed.
Quietly, Lakers P.R. director
John Black
walked past the stage, and whispered something to Magic. "Of course,
Bill Sharman
," Magic declared, pointing to the legendary former coach and basketball pioneer seated maybe five rows deep. Come on up.
Sharman is 85 years old, and moving from crowd to stage isn't an instant process. It could have been awkward had another man controlled the microphone. Magic, always the floor general, instantly recognized the situation and started into a story about a free-throw shooting competition he once engaged in with Sharman. He hit 15 or 16 in a row, and was summarily dusted when Sharman stepped to the stripe.
It was a quick anecdote, maybe 90 seconds, and I suspect most people won't remember the details. But because Magic so successfully worked the room, they also won't remember the difficulties Sharman had negotiating the steps up to the stage, or the people moving there to help him. Suddenly, he was there in the front row, and the photo op continued.
That's Magic Johnson.
November, 7, 2011
11/07/11
10:49
AM PT

By Andy Kamenetzky
ESPNLosAngeles.com
Archive
Nov. 7, 1991.
I was on USC's campus, taking a walk down Trousdale Parkway. I don't recall whether I was headed to class or the Commons (where students typically congregate) looking for an excuse to ditch. What I do remember is that I hadn't been in front of a television or radio all day.
I ran into a friend, an L.A. native, whose typically laid-back body language had been shattered. I asked what was wrong, and he dropped a bombshell.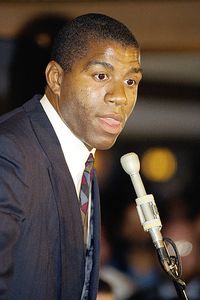 AP Photo / Craig Fujii
Nothing felt the same after Magic's historic news conference.
Magic Johnson
was retiring because he tested positive for HIV. When my friend heard the news earlier from another friend, he'd been wearing a No. 32 Lakers jersey.
For a few minutes, it felt like the world stood still and my school had grown quiet.
I was a sophomore and had only been living in L.A. about a year, meaning I'd yet to become fully engulfed in my Lakers fandom. I also grew up in St. Louis, a city that lost the now-Atlanta Hawks four years before I was born, meaning it was hardly a hotbed of NBA culture. Obviously, I'd seen
Magic Johnson
play many times. But geography dictated more football, baseball and hockey watched than basketball as a kid and teenager.
Still, the news absolutely rocked me. The gravity of this moment was about more than the premature end of an iconic athlete's career. It was a cultural and societal game-changer. A new face had just been attached to a disease still carrying so many unknowns and prejudices. At the time, HIV and AIDS were thought of as afflictions primarily reserved for gay men, drug users and those outside the mainstream. For many, it was easy to cast those types aside and dismiss any vulnerability toward a similar fate. HIV may have been taken seriously, but for many, it remained somebody else's problem.
Magic, however, was beloved, so much so that some of the reporters covering his news conference actually cried. America had no choice but to view the disease with a sobering new perspective. As Johnson said that day, if he could test positive, we were all susceptible.
I've always felt that Magic's announcement was my generation's JFK moment, powerful enough to make the world feel different, and you don't forget where you were upon such a realization.
I recently talked with longtime Lakers trainer Gary Vitti,
who had been assigned the task of herding Magic's teammates to a meeting where he would reveal his illness. Unable to share details, he simply said the meeting was "gonna change all our lives."
Vitti was right.
Amazingly, what felt like an announcement of death in 1991 has evolved into a signpost for inspiration. He's done important work as an HIV and AIDS activist, while providing an example of how the disease can be managed and lived with. The advantages provided to a man of Magic's economic means are apparent, as well as the battle still ahead for millions dealing with this disease. But there's no denying the hope he's provided over the last 20 years. Initially viewed as living on borrowed time, he's since flourished in health and wealth, launching successful businesses across previously ignored areas of L.A. and turning virtually everything he touched into gold.
He may be remembered first with a basketball his hand, but I'd argue Magic's life has been far more influential after his career ended.
November, 6, 2011
11/06/11
3:03
AM PT

By Andy Kamenetzky
ESPNLosAngeles.com
Archive
"Listen, I can't tell you what's going on. Just be there. This is gonna change all of our lives."
These were the words of Lakers head athletic trainer
Gary Vitti
as he instructed members of the 1992 Lakers to attend a mandatory meeting at the Forum on November 7, 1991. Among a select few sworn to secrecy, Vitti couldn't reveal the reason:
Magic Johnson
needed to tell his teammates about testing HIV-positive. Shortly after, Johnson would tell the world.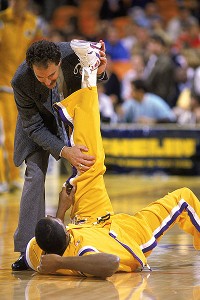 Mike Powell/Getty Images
Vitti and Johnson go back a long time in their working and professional relationship.
The day did change lives, and well beyond those in the Laker family.
With Monday marking the 20th anniversary of Magic's unforgettable press conference, I met with Vitti at the Lakers' training facility in El Segundo for his thoughts on the day and its significance. The two have been close friends since 1984 and despite having talked about this period countless times, Vitti still gets choked up reliving it. The details and emotions shared make this podKast truly worth a listen.
You can hear the entire show here,
and below is a breakdown of talking points:
(:08) - Vitti's and Johnson's relationship was initially distant, then a bit contentious after the trainer felt the point guard gave him a "snotty answer" to a question. Johnson quickly explained via a smile and a bear he was only kidding around. "That was the moment we bonded," explained Vitti of a friendship now grown exceptionally strong.
(3:13) - Vitti actually figured out Magic contracted the HIV virus before being formally told. The Lakers were in Utah for an exhibition game against the Jazz, and Magic, who'd been experiencing fatigue, was told he urgently needed to return to L.A., no questions asked. Everybody was in the dark and the mystery ate at Vitti. "I just couldn't let it go," says the trainer of the undisclosed issue. "All of a sudden Magic has to go home. It can't be good, right?"
After wracking his brain for days, he suddenly remembered during a game against the Jazz that Magic had taken a physical for a life insurance policy. The light bulb went off, and keeping it together while on the job was a nightmare task.
"That game,
Tony Smith
, was a second year guard," recalls Vitti. He was having a great training camp and he severely sprained his ankle. Third degree ankle sprain. And he's laying on the table in the training room at the Delta Center and he's very, very upset. He's in tears. And I grab him by the shirt and I say, 'What are you crying about? Because the injury hurts? Or are you crying because you're depressed?' And he just sort of shakes his head. And I said, 'Well, you're gonna get better. You're gonna get better. Some people aren't.'
"No idea what I'm talking about. He looks at me like I've got three heads."
In many ways, however, knowing was just as bad as not knowing. Vitti could tell
nobody
-- even his wife -- which meant lying to the faces of people like then-head coach
Mike Dunleavy
about Magic having the flu. Thus, he often had to carry this emotional weight alone.
"We thought it was a death sentence," admits Vitti. "At some point, I'm gonna lose one of my close friends. And not just lose him, but he's gonna whither away in a horrible death."
-(10:15) Thankfully, Magic was around to talk Vitti off the ledge. Crazy as it sounds, that's essentially what happened when the two finally discussed Johnson's diagnosis. Vitti was "a wreck" and Magic remained positive, promising his friend he'd be just fine.
"I don't want you to worry about me," Johnson told Vitti. "When God gave me this disease, he gave it to the right person. I'm gonna do something really good with this. I'm gonna beat this."
Vitti collected himself enough to pledge unwavering support.
"I said, 'I'm with you
all the way.
To the end. Whatever it takes. If I have to leave the Lakers or whatever you need me for, I'm your guy.' "