April, 4, 2013
4/04/13
11:11
PM PT

By Dave McMenamin
ESPNLosAngeles.com
Archive
LOS ANGELES -- It was easy to see coming.
Phil Jackson was at center court Tuesday. He had the microphone in his hand and was speaking at
Shaquille O'Neal
's jersey retirement ceremony in front of a sold-out arena full of fans who wanted to remember the glory days as they were in the midst of muddling through the disappointing haze that has permeated the current
Los Angeles Lakers
season.
"We want Phil! We want Phil! We want Phil!" the crowd cheered. The sound cascaded onto the court and might have even crept into the Lakers' locker room, where coach Mike D'Antoni was addressing the team at halftime.
[+] Enlarge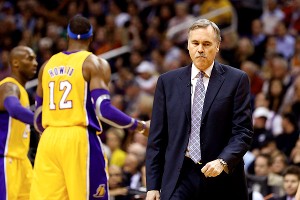 Mark J. Rebilas/USA TODAY SportsTo say Mike D'Antoni's first season as Lakers coach has been a challenge would be an understatement. With the season winding down, he finally seems to have them on the right path.
"He's only won 58 rings, why wouldn't they?" D'Antoni quipped after the game.
As enticing as it might be to wonder "What if?" when considering the team's decision to hire D'Antoni on that Sunday night back in November, instead of giving Jackson the weekend to think about his answer, even the winningest championship coach in NBA history would have faced serious challenges with the Lakers this season.
It might be easy to yearn for Jackson, but it's not so simple as placing the blame on D'Antoni for the fact that the Lakers are fighting just to get into the playoffs with two weeks left in the regular season rather than jockeying with the top seeds in the Western Conference for home-court advantage.
Here are four reasons D'Antoni shouldn't end up being the scapegoat should the Lakers ultimately stumble down the stretch, and one reason he should shoulder some of that responsibility:
WHY NOT TO BLAME D'ANTONI
1. He didn't have a training camp.
Think about it: The Lakers were in such shambles to start the season with new personnel and a new offensive system that even with a monthlong training camp, former coach Mike Brown directed the Lakers to an 0-8 preseason and a 1-4 mark in games that mattered before he lost his job. D'Antoni was thrust into a situation in which he had no familiarity with half the roster, and had to use games to figure out how to divide minutes among
Earl Clark
,
Antawn Jamison
,
Jordan Hill
and
Devin Ebanks
. Or among Ebanks and
Jodie Meeks
. Or among Meeks,
Steve Blake
,
Chris Duhon
and
Darius Morris
. He had to decide whether he liked
Metta World Peace
, Jamison and Clark better at the 4 or at the 3. He had to feel out
Pau Gasol
's game. He had to get to know
Kobe Bryant
's and
Dwight Howard
's contrasting personalities. And he had to do it all on the fly, under the microscope in one of the NBA's biggest media markets while not feeling physically up to par himself as he recovered from knee surgery.