Los Angeles Lakers:

Polls
July, 4, 2012
7/04/12
12:37
AM PT
UPDATE (8:11 pm PT) - Obviously this was written before tonight's bombshell, with the Lakers acquiring Steve Nash from Phoenix. How it impacts the possibility/probability of a Bynum-for-Howard deal I can't say. It could make it more likely, it could make it less. Ultimately, it's still on the Nets to put together a viable deal. If they can't, though, and the Lakers have a chance to pull the trigger, my thoughts regarding what's below don't change. Assuming his back is on track, you do that deal, even if Howard won't commit right away to an extension.
Put Dwight Howard with that crew, erasing mistakes defensively and the Lakers become a terrifying group.

On the winds of epic-level wishy-washiness, Dwight Howard has officially sailed his S.S. Destiny into an offshore barrier reef. Now that Brooklyn has re-upped with
Deron Williams
, traded for
Joe Johnson
, and so on, the simplest, cleanest paths for Howard to his preferred destination have been gummed up. He can still join
Jay-Z's
crew, but between their financial constraints and a lack of high-end options to send back, as John Hollinger notes (Insider required),
squeezing Howard onto their roster could be difficult
for the Nets on a few levels.
Brooklyn still must form a deal satisfying the Magic while navigating the CBA's arcane mathematical demands. If they can't, the landscape changes and Howard's "Plan B" cities are back in play. With
Andrew Bynum,
the Lakers, not a team in which Howard had expressed much (if any) interest, can still offer Orlando the single best player known to be available in the endless trade conversations surrounding Superman over the last couple years.
That's always a good place to start, but would the Lakers move him without a firm commitment from Howard on an extension? Should they?
Without it, the Lakers would risk sacrificing Bynum for what amounts to a one-year rental. Still, assuming Howard's surgically repaired back is healing up and won't be a long-term problem -- a major issue, obviously -- there are compelling reasons to take a shot, even without securing assurances from Howard on the front end:
February, 15, 2011
2/15/11
6:10
PM PT
When it was announced
Kobe Bryant
missed shootaround with flu-like symptoms and would be a game-time decision for Tuesday's contest against Charlotte, I joked with Brian about "game-time decision" being purposely tossed out for dramatic effect, because everyone knew where this was going. We've all seen this movie before.
Act One:
Kobe catches the flu for the billionth time in his career. (On a side note, why is this guy constantly sick? Is it because he has kids, and children are little more than germ factories? A refusal to get a flu shot? An unknown, debilitating allergy? This development has always perplexed me.)
Act Two:
Kobe play through illness with an effectiveness somewhere between "solid" and "flat out brilliant."
Act Three:
Fans ponder whether this performance equals Jordan's "flu game."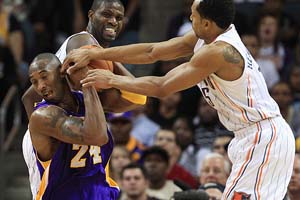 Streeter Lecka/Getty Images
Nothing came easy for Kobe against the 'Cats.
As it turned out, there was no attempt at theatrical flair. Kobe was dead sick -- which may also explain a lack of oomph against Orlando -- and it showed on both sides of the ball and in nearly every facet of the game.
Offensively, he missed 12 of his 20 shots, with ten bricks in succession. He turned the ball over five times, and the tally could have been higher. The attempt to check various Charlotteans proved futile and two frustration fouls were picked up bowling over Bobcats. Just hanging onto the rock was a struggle.
There were bursts of energy and effectiveness, but on the whole, Bryant didn't look like himself. At all.
Lest anybody flip out, I'm
not
putting this loss on The Mamba's shoulders. Period.
Similar to my thoughts about the lagging backcourt against the Magic
, I'm much more disappointed by the failure to pick up for Kobe than Kobe himself. Especially considering the inferior competition, the Bobcat curse acknowledged. It was a group effort (or lack thereof) and everybody who stepped on the floor had a hand in the mess.
(As long as we're handing out demerits, I have no idea why
Phil Jackson
opted to play the starters -- particularly his sick one -- so far into a game so out of reach. That's just begging for an unnecessary injury. If this was a message or punishment of sorts, I'd have preferred a locker room riot act or running them silly during today's non-existent practice.)
Plus, Kobe wanted to compete and felt a responsibility to his team and even those in paid attendance to lace 'em up. I admire that professionalism and wouldn't ever criticize the urge in and of itself.
February, 6, 2011
2/06/11
11:41
AM PT
When
Kobe Bryant's L.A. Times Magazine photo shoot
was revealed last May, the consensus response was, shall we say, unfavorable. The Internet jokesters went crazy mocking the Mamba, and sanctuary wasn't even found on his own turf. Bryant has been, from my vantage point, the Laker least likely to get poked fun at among teammates,
but this shoot provided the rare exception
. To my awareness, only two Lakers expressed admiration for the pictures. One was
Ron Artest
, and the jokes here basically write themselves. The other was
Lamar Odom
, whose questionable taste in photo spreads was recently reinforced by his questionable taste in unisex fragrance ads filmed with spouses.
PODCAST
The K-Bros talk about the commercial for Khloe Kardashian and Lamar Odom's "unisex scent" fragrance.

Podcast

I give you
the new commercial for "Unbreakable."
Sweet fancy Moses!
But it actually got me to thinking: Which was more awkward: Kobe's pics or the "Unbreakable" ad? By no means an easy call, one of those classic "there is no wrong answer" questions. But at the end of the day, I gotta go "Unbreakable."
Make no mistake, Kobe's pictures were an epic "fail." By his own admission, the finished product isn't exactly what he had in mind. But there appeared to be an attempt at an artistic statement. The concept swung for the fences and missed wildly but still, with ambition comes the risk of failure. And mockery from
Derek Fisher
.
The "Unbreakable" ad, however, feels like a spoof of a perfume commercial. The stereotypical smooth jazz. The blown kisses and finger shushes. The glimmer of light bouncing off LO's wedding ring. The couple (who admittedly register a palpable chemistry) writhing around shirtless.
Plus, the premise. "There's something sexy about a couple sharing a scent."
No, really, there isn't. I fell in love with my wife in very large part because she smells nothing at all like me. Not that a unisex fragrance can't work, but labeling it an aphrodisiac would be a major stretch. Oysters are losing no sleep over unisex fragrances.
I have tons of respect for Lamar as a player and a person, but he nonetheless shares my vote. Feel free to voice yours in the poll below. And if it's any comfort to Kobe or Lamar/Khloe, both still have a long way to fall before reaching the depths of
Sasha Vujacic's "walk on the beach."
January, 27, 2011
1/27/11
9:37
AM PT
The debate, to me, is cut and dried: Of course
Shaq
gets his number retired by the Lakers. To the point it's not actually a discussion. (
Or, as ESPNLA's Ramona Shelburne writes in this debate, "Duh.
") Three titles, three Finals MVP's, a garden variety MVP, and eight seasons of consistent dominance. Sure, he left the team on poor terms. He did the whole "Pay me!" thing, made a bid for the Mt. Rushmore of Selfish Athletes with his "injured on company time/heal on company time" declaration following toe surgery undertaken just before training camp back in '02, and has since become something of a caricature of himself. Among other things.
PODCAST
Andy and Brian talk about Shannon Brown in purple and gold, Shaq in green, and which players belong in the Laker rafters. How 'bout Fisher?

Podcast

But c'mon, how is this a conversation?
Still, according to the poll data on ESPNLA.com (vote by clicking the link above), over 40 percent of respondents believe the Lakers
shouldn't
raise his 34 to the rafters. Really? Not at all? Want to add some stipulations? I can live with that. Wait until he's officially inducted into the Hall of Fame, for example. Reasonable enough. Some suggest the Lakers should wait until Kobe Bryant is up there first. Seems unnecessary, but fine. Or, as 710 ESPN's Steve Mason suggests, "Because he went and played with the Celtics, you have to wait until he's dead... That's officially the rule."
Undoubtedly extreme, but hey, we're talking about the Celtics, right?
It's a bit of a moot point, since the Lakers have said repeatedly they will retire Shaq's number. To me, the reasoning is patently obvious. I'm much more interested in the opinions of those who think they shouldn't.
Why?
April, 20, 2010
4/20/10
2:39
PM PT
Anyone have a problem with that?
Besides Artest
, I mean?
In a landslide,
Orlando's Dwight Howard won his second straight Defensive Player of the Year award
, trailed in the voting by, in order,
Josh Smith
,
Gerald Wallace
,
LeBron Somethingorother
(a real up-and-comer, I hear), and
Rajon Rondo
. Artest was next, a scant 547 points behind Howard in the voting.
Kobe Bryant
, for the record, finished 12th.
Given the award is (or at least should) be reflective of a season's worth of defensive impact, I certainly wouldn't argue with Howard winning the award. Whether Artest should have been ahead of Smith, Wallace, James, or Rondo is, to be perfectly honest, hard to say. I saw 77 games worth of Ron this year, far more than any of the other guys. It's hard to compare. (This, by the way, gets to a larger problem with DPOY voting; Given how hard it is to quantify defense statistically, it puts an extra premium on taking in more game action than most writers can reasonably put in. Reputation, then, can play far too large a role in the results.)
But there is a reasonable question to be asked here. Were you pleased with Artest's defense this season? This is no empty query.
You can vote on it below. As always, your comments are welcome
.
February, 28, 2010
2/28/10
9:58
AM PT
January, 22, 2010
1/22/10
4:21
PM PT
Andrew D. Bernstein/NBAE via Getty Images
Should Chris Kaman get an invite to Dallas?
In particular, as a center. And
really i
n particular, over
Pau Gasol.
On the heels of
the announcement for the All-Star starters
,
Chris Kaman
, omitted from the ballot altogether in what ultimately proved a glaring mistake, was asked if he'd be upset if El Spaniard,
currently fourth among Western Conference forwards
, was named a reserve via the "slide over to center" treatment. As NBA Fanhouse's
Chris Tomasson
reports,
nary a bush was beaten around with Kaman's response
:
"I don't think Gasol should be in it at all,'' Kaman said when asked if he would be disappointed if Gasol, who starts at power forward for the Lakers, is slid over to be the backup center when West coaches vote for All-Star reserves. "He's only played like 20 games (he played Thursday in his 25th out of 42 Lakers games) this year. I think there should be a number of games you should play. I think you should have to play like 80 percent of the games.

"It shouldn't be 50 percent (of games a player has logged) over a guy who plays 90 percent and who has better numbers. Not just me. Zach Randolph, a power forward, he has better numbers (than Gasol). But he's not on the Lakers.''
December, 28, 2009
12/28/09
1:03
PM PT
December, 27, 2009
12/27/09
4:14
PM PT