Los Angeles Lakers:

Question of the day
March, 20, 2012
3/20/12
12:23
PM PT
Via ESPN.com's Marc Stein:
"The Miami Heat and Oklahoma City Thunder have emerged as the early leaders in the race to sign veteran guard Derek Fisher after he clears waivers on Wednesday, according to sources close to the situation.

With the Chicago Bulls needing another big man more than another guard and the San Antonio Spurs still hopeful that they can complete the signing of guard Patrick Mills by week's end, sources told ESPN.com that Miami and Oklahoma City are the current frontrunners to land Fisher, who was formally waived Monday night by the Houston Rockets."
To help facilitate his buyout, Fisher reportedly dropped a $3.4 million player option for next season, kissing goodbye a significant amount of money -- no level of performance the rest of the way earns him anywhere near that next season -- to play for a contender now. The trade may have been a necessary second step following the acquisition of
Ramon Sessions
, but nonetheless instantly created the possibility of Fisher joining a high-end team the Lakers could meet down the stretch and into the playoffs.
Bad as he's been on the floor (and he's been bad), if some of the Tweets and emails we've received are any indication, the idea of getting down to crunch time and seeing Fisher in the other team's uni makes a lot of fans nervous. Particularly given how motivated he'd be to stick it to Lakers management.
So with that in mind, I ask
: Are you scared at all of Derek Fisher?
January, 4, 2012
1/04/12
9:13
PM PT
Before Saturday's win against the Nuggets
, head coach
George Karl
was asked if he has felt a sense of L.A. becoming more of a "Clipper town." The coach's response hardly painted a city's colors shifting from purple and gold to red, white and blue, but it was nonetheless interesting:
"I saw the game last night and before the game, the place was packed," Karl said. "I hadn't seen that in Laker Land in a long time. I'm talking back to the Forum, probably. The Forum wasn't packed when the Lakers started at the Forum. And I actually said to someone, the Clipper fans are a little [Oakland] Raider-like. A little Raider-like. A little rowdy. A little out there. ... You kind of see a little more blue collar than Hollywood. ... That was the feel on TV."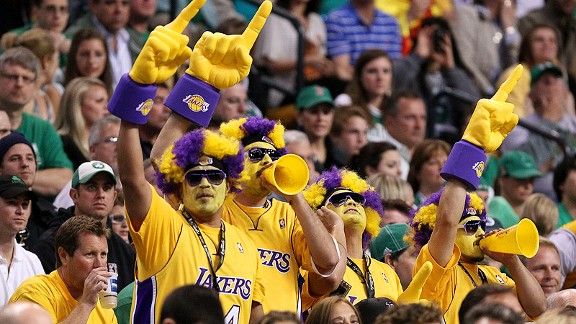 Elsa/Getty Images
When you think of Laker fans, do these fellas come to mind?
Truth be told, there is a bit of a Raider-esque quality to Clippers fans. Not necessarily the most extreme members of the Raider Nation, those cats who always appear on the verge of starting a brawl. (Before any Raider fan gets their spiky shoulder pads in a bunch, if you're not that guy, don't take this depiction personally. But please don't pretend such fans don't exist, because we both know you're lying.) But having attended many a Clipper game, I can attest to that vibe Karl noticed.
Despite decades spent as perennial doormats, Clipper fans are loud, rowdy and mindbogglingly loyal. They seem banded together by outsider status as (this season aside) permanent underdogs, through a communal belief against logic and history. This existence also doesn't lead to rooting with a tail wedged between their legs. On the contrary, Clipper fans wear this reality on their sleeves. Second-lass citizenry is embraced without a hint of apology. There's no affected hipster irony as "justification" for backing the town's B-squad. Nor do the fans laugh at themselves to beat the rest of the basketball-watching world to the punch.
Clipper fans rally around the Clippers because, well, they love their team.
And like Raider fans, this love is offered while acknowledging dysfunction and drama looming around every corner. There's considerably less outward aggression, and I've yet to see anybody at a Clipper game in a Darth Vader mask. But I can see where Clipper fans might see elements of the "Raider" in themselves.
Which got me to wondering, how exactly do Laker fans see themselves?
September, 6, 2011
9/06/11
10:47
PM PT
In addition to being sports fans, Brian and I are really into pop culture. Movies. Television. And of course, music. Some might even call us "music geeks" or "music snobs," both labels difficult to deny. These passions made it quite fun having
Steve Gorman
on as a guest. He's got the "music" end covered, having spent 20+ years as the drummer for
The Black Crowes
. He's also a sports junkie who even has own sports podcast,
Steve Gorman Sports!
It was only natural that a marathon podcast would ensue.
PODCAST
Andy talks with Steve Gorman, drummer for The Black Crowes and host of Steve Gorman Sports!, about his abandoned love of the Lakers, LeBron James, the state of music in 2011 and the Gods of drumming.

Podcast

On the music front, Gorman shared his thoughts on the state of music in 2011, the touring lifestyle and what it's like to share a stage with
Jimmy Page
. He also talked about wearing musical influences on your sleeve, and why his two drumming gods (
Ringo Starr
and
John Bonham
) are actually more similar than your ears might think. Great stuff for anybody who takes their CD collection seriously.
We also talked a lot of NBA, and Gorman offered takes on topics ranging from "The Decision" to the Dallas Mavericks to the mental focus required of an elite athlete. He also discussed
Kobe Bryant
, and like many folks who don't cheer for the Lakers -- and even, frankly, some who do -- Gorman's not a fan of The Mamba's personality. But unlike some who never warmed up to Kobe, Gorman doesn't use this as an excuse to deny the future Hall of Famer his props:
"I don't want to know him. I don't ever want to have dinner with him, but man, you can't take a thing away from him. You know what I think about him? I think he's somewhere in the world right now working really hard. At this very moment you and I are speaking, he is enraged and he's dribbling a ball with his fingers taped together. Or he's got ankle weights on and he's running through some swamp somewhere holding onto a ball and people are throwing things at him, because he's gotta get ready for the season. I mean, I love that he is as maniacal [as he is]. On the maniac scale, I'd say he's up there with
[Michael] Jordan
. He's just obsessed with winning and competing. And I love that."
Besides, when it comes to Lakers, Gorman has bigger fish to fry than Kobe, literally and figuratively. From childhood ("Before
[Kareem Abdul-]Jabbar
," as he notes) until 1996, Gorman was a rabid Laker fan. Ginormous. More than any other team in sports. While working on the Crowes' second album (
The Southern Harmony and Musical Companion
), Magic Johnson held his press conference to announce his retirement and HIV-positive status. The drummer flat out lost it.
"I had to leave that day," reveals Gorman. "I cried for three hours. I couldn't take it. It was the saddest thing in my life at that time."
With this said, it stands to reason a lot would be necessary to make Gorman turn in his back on the Lakers. Unfortunately,
Shaquille O'Neal
not only accomplished mission impossible, but on his first day as a Laker:
"They signed Shaq, who I was not a huge fan of. But it was okay, because I appreciated getting another dominant big man. He gets to his press conference. One of the questions comes to him about how many championships do you want to win, or do you see a championship in your future. He sidestepped the question and said,
'I just want to be young, have fun and drink Pepsi.'
That was a quote. Look it up.
"That turned into the representation of everything I hated about professional sports in the 90's. It really did. And now it sounds so ridiculous saying it. The truth is, this is another way of saying I didn't have kids yet, because I was still living and dying with adult millionaires that I'll never meet. It wound me up so much that my only response that I felt I could live with was to swear off the Lakers for life.
"That was it, because I couldn't stand the thought [of rooting for Shaq]. And then I made myself feel better every time I saw his free throws down the stretch in the fourth. I was like, 'I made the right choice.' And they didn't win a ring for a few years, so it wasn't like right away, it came back to haunt me. I had a few years to get over it. Or at least pretend I was over it and move on before they truly ascended yet again."
Strong sentiments from Gorman, which prompt the
Question Of The Day
: Could the Lakers ever sign a player that would make it impossible for you to continue rooting for them?
As a purple and gold card-carrying fan, my answer is no.*
April, 11, 2011
4/11/11
2:09
PM PT
Whenever I watch the Lakers, I do it from a divided perspective: Lakers fan and basketball fan. While I always try to report the action objectively, I've never made my purple and gold blood a secret. I rooted for this squad well before I covered them, and the gig doesn't change my heart. However, I'm also a basketball fan, which allows me to appreciate excellence from the opposition, along with great basketball purely for it's own sake. Many times I've walked away mad after a highly contested Laker loss, but invigorated from the privilege of witnessing it.
With that in mind,
last night's loss to the Thunder
was undoubtedly disappointing for a championship squad in need of righting a suddenly faulty rudder. But in a vacuum, the exciting game drove home what was already obvious: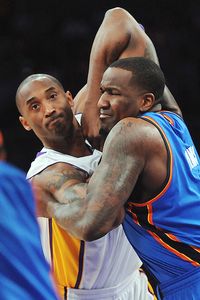 Jayne Kamin-Oncea/US Presswire
And with this bit of nonsense, Kendrick Perkins added to his "enemies" list.
A Lakers-Thunder series would be
fantastic
.
Even better than last year's excellent opening round showdown. Quite possibly the best the conference has to offer the Lakers from a standpoint of pure entertainment. Among the oodles of story lines and matchups...
- The arrival of
Kendrick Perkins
, who automatically hates anybody not wearing his uniform, and
especially
hates anybody wearing a Laker uniform.
The center made perfectly clear his thoughts about Pau Gasol
, who responded with a terrific performance. Perk also inexplicably decided to put
Kobe Bryant
in a head lock during the game. Same response, second verse. Whether or not you think it's wise for Perkins to run his yap and rile the enemy, he brings an edge to an OKC team with a confidence more quiet than confrontational.
(Oddly enough, the camera actually caught Perkins laughing on the bench, and as I tweeted, I was seriously intrigued by what punchline could crack up he of the permanent scowl. @stevewarmerdam offered this suggestion: "And then the kitten died." I laughed.)
Oh, and Perk happens to play some of the best interior defense in the league, lest we paint his presence purely about bad blood.
February, 18, 2011
2/18/11
2:25
PM PT
I won't complain about my job on a normal day, and certainly not on those delivering genuine "wow" moments. Such was the case Thursday night outside Staples at the
unveiling of the new statue honoring Jerry West
. On the stage, lined up left to right, were
Magic Johnson
,
Bill Russell
,
Elgin Baylor
, West, and
Kareem Abdul-Jabbar
.
At worst, we're talking about five of the, what, 15 best players of all time? If you
really
want to stretch the envelope and get all contrarian?
Even cooler, if you're willing to take the liberty of sliding the 6'9", 215 lb. Russell to the four in order to accommodate Cap, it's a ludicrously good starting five. All sitting next to each other. Talking through it with my boss, we tried to come up with a better one, settling on
John Stockton
at the point,
Kobe
and
M.J.
divvying up the shooting guard and small forward spots,
Tim Duncan
at power forward, and
Wilt
at center.
I would watch that game.
Here's your challenge: Come up with a different, better five than the group all assembled within 15 feet of each other Thursday night. I'll allow a little bit of fudging (like I did with Russell), as long as it makes sense.
Nothing like clocking out early on a Friday, even if you're still at the office, right?
August, 21, 2010
8/21/10
1:54
PM PT
Our recent chat on Wednesday provided oodles of food for thought
. Topics included the Miami Heat's chances against the Lakers, the projected minutes for everyone from
Theo Ratliff
to
Kobe Bryant
, and
Pau Gasol's
neck beard. A smorgasbord of interesting, trenchant and funny queries. But there was one I felt compelled to highlight in a separate post.
From
Darnell
in Los Angeles: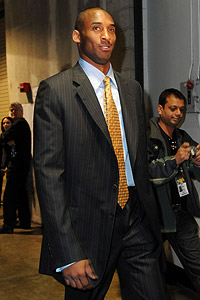 Andrew D. Bernstein/NBAE/Getty Images
If this was Kobe's uniform at games, would the Lakers remain
competitive?
If Kobe somehow was out the whole year, including the playoffs, how would the Lakers place in the west?
This scenario has been posed to Brian and me over the years, whether during the
Kwame-Smush-Cookie
era, The Radio Tour, or the current championship incarnation. But to the best of my recollection, I've never formally analyzed the question. Seriously speaking, how successful would this team be next season without arguably the best player in the NBA, much less on the purple and gold roster?
After mulling the premise, I've provided my answer, along with my thought process. To further clarify, I'm viewing the hypothetical with a team-wide clean bill of health. Or at most, minimal games missed. Yes, those parameters may not be entirely realistic, particularly with
Andrew Bynum's
history. But you also don't need to be
Dr. Jack Ramsey
to predict what happens if there are additional major injuries
on top of
Kobe missing 82 games: The Lakers won't win very often. Period. End of story.
Thus, I'm analyzing a scenario containing some degree of intrigue and mystery. With that in mind...
- In the nine games Kobe missed last season due to injury, the Lakers managed a record of 6-3. A respectable record on its face, and even better upon a closer look at the details. The first loss was by one point to the Boston Celtics. Another was by two in Denver, with no Bynum to boot. The third was a home court blowout at the hands of the Clippers, but
Jordan Farmar
had joined Kobe and Drew on the shelf, and no starter played over 30 minutes. Clearly, the outcome was being treated as trivial by
Phil Jackson
. All in all, no truly embarrassing stinkers.
In the meantime, there were victories in Salt Lake (no Bynum), Portland (their Kryptonite town) and against San Antonio. Solid wins in a vacuum, much less within these specific parameters.
June, 15, 2010
6/15/10
2:46
PM PT
I have no idea what's coming
tonight
. None whatsoever.
As I
wrote this morning
, it's easy to picture the Lakers pulling together as they have for so many big games over the past two seasons, cracking the Boston defense, stifling their offense, and recording a resounding win. Like a lot of people, I believe if the Lakers can get to Game 7, they'll win it. But it also wouldn't surprise to see them continue struggling with ball movement, leaving
Kobe Bryant
and
Pau Gasol
on an island while the Celtics run a layup drill at the other end.
PODCAST
The season hangs in the balance heading into Tuesday's Game 6. How will the Lakers respond? Andy and Brian preview the action.


PODCAST

Anything seems possible.
Of course, the context takes normal Finals anxiety and cranks it up to the
n
'th degree. It's the Celtics, an opportunity to avenge the loss in '08. This is the series fans- and in more honest moments, players- wanted. To win two straight after the ragged performances of Games 4 and 5, earning Kobe's fifth ring and Phil Jackson's 11th? Against Boston? It would give L.A. its 16th title as a franchise, and easily rank among the best. For the generation of Lakers fans who didn't quite experience the Showtime Era (or earlier), it would likely be
the
best.
Or it's another in a series of crushing losses to Boston, made worse by the fact Lakers fans would have to watch the Celtics celebrate on the Staples floor.
On one level or another, we're looking at an epic week for Lakers basketball. Epic failure, or epic victory. There is no middle ground.
But- and here's the Question of the Day- isn't this why as sports fans we invest so much in our teams? This is the bargain, right? Wouldn't you risk the disappointment to have a shot at the joy?
June, 3, 2010
6/03/10
10:18
AM PT
A few days back, we
ran a series of poll questions on the blog
, just to help get people get into a Finals mood and take the temperature of Lakers fans on a few important issues. One question read as follows: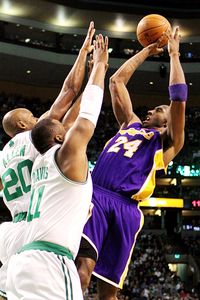 Jim Rogash/Getty Images
Beating the Celtics in the Finals is tough, but something Kobe must do to be the G.L.O.A.T., so say Lakers fans. Or the kind who answer poll questions, at least.
"To be considered the Greatest Laker of All Time (G.L.O.A.T) does
Kobe
need a title over Boston?"
About 15 percent said he's already the G.L.O.A.T, another eight percent have decided he'll never pass (insert ultimate Laker here), and six percent said no. That leaves a full 71 percent of those responding- and given our demographic I presume we're talking predominantly Lakers fans- believing yes, he does. For all his accomplishments already banked and those yet to come, now that he'll have had two cracks at the Celtics for a title, if Kobe wants to stick his flag at the summit of Mt. Purple and Gold, he have to vanquish The Green.
I'll admit, I found that number surprising.
Growing up in St. Louis through the 80's, I assumed the Lakers and Celtics played about seven thousand times a year, because those are the only two teams I remember seeing on TV. Even with my semi-casual relationship to basketball and the NBA, I was able to develop an understanding of the rivalry's importance. But I don't have that visceral hatred for the Celtics running through the veins of die-hards and native Angelinos. It's the sort of thing that changes fans on a molecular level, like being bitten by
an irradiated spider
or
exposed to gamma radiation
. I get that.
At the same time, even if the Lakers don't win a second straight title this month, the window doesn't close on Kobe. He could certainly add a couple more rings, giving him a larger jewelry collection than
Magic
or
Kareem
(with the Lakers, at least). In terms of Lakers records, Kobe owns a ton of them now, and by the time he's done will be
near or at the top of just about every counting stat available
, in some cases by a mile or six. The resume is already impressive, putting him in rarefied air. As ESPNLA.com's
Dave McMenamin notes in his feature on Bryant, there aren't all that many mountains for him to climb
.
So my question, and the
Question of the Day
, is this:
If you think Kobe has to knock off the Celtics to be the G.L.O.A.T., why? If you don't, why not?
Is it a major consideration? More of a tiebreaker?
Icing on an already impressive cake?
May, 24, 2010
5/24/10
3:54
PM PT
Since
Andrew Bynum
suffered the tear in his right meniscus last month in the series clinching game against Oklahoma City, on again/off again performances have been the norm. He opened the series against Utah with a pair of productive games (on), then fell completely off the radar in Games 3 and 4, averaging only three points and 5.5 boards (off).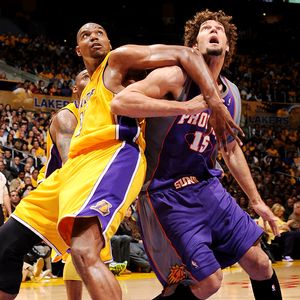 Noah Graham/NBAE via Getty Images
In the battle of starting centers, Andrew Bynum has lagged behind Robin Lopez. Should Phil Jackson sit him down Tuesday night?
In Game 1 against Phoenix, Bynum logged a mere four points and four boards in 19 minutes (off). He followed that with 13 points and seven boards on a perfect five-of-five from the floor in Game 2 (on).
Sunday night, though, had to mark his low point for the postseason. Two points, two rebounds, and four fouls in eight minutes. He picked up his second foul three minutes into the first quarter, his third three minutes into the second, and his fourth barely a minute into the third. (
As C.A. Clark of Silver Screen and Roll put it
, "
Travis Knight
thinks that's awful.") As a result, L.A.'s rotations were scrambled from the start, a problem only exacerbated by
Lamar Odom's
foul trouble.
After the game,
Phil Jackson
said he's
considering resting Bynum for Tuesday's Game 4
. Bynum acknowledged the weak showing Sunday night, but wants to stay on the floor. "(Sitting out) is not going to do anything," he said. "The surgery is going to do something." Bynum has already made it clear he'll put off any procedure until the end of the season.
I have respect for the way Bynum has approached the injury. He badly wants to contribute to a title run in any way he can. He understands the value of his presence, even if he's not fully able to do what he's otherwise capable of. This isn't about focus or misplaced priorities or anything else for which Bynum has been criticized to this point in his career (save criticisms he's injured all the time). The guy is hurt, needs surgery, and after two years of non/limited participation in deep playoff runs, is trying to give something to his teammates while proving something to himself.
Even
Kobe Bryant
showed this season discretion can be the better part of valor, but if Bynum begged out or made excuses, it would be a lot worse.
Almost none of the hand-wringing over Bynum is related to the current series with Phoenix, where Drew's presence is more luxury than necessity (though he's hardly incidental), but has everything to do with a potential Finals matchup against the frontcourt heavy, physical Celtics. Memories of 2008 . . . linger. Lakers fans look at Bynum's absence as a major reason L.A. couldn't get over the hump against Boston. This year, things can be different, if Bynum is capable.
So should the Lakers shut him down, and save whatever he's got left for the presumed trip to the Finals?
May, 6, 2010
5/06/10
12:43
PM PT
The worlds of politics and sports tend to intersect only when there's a vested interest for the interested sporting party. Lobbying for a new stadium, for example. In part, this is by design- there's a reason politics is one of only two categories generally forbidden at non-D.C. bars. One of the big reasons people enjoy sports is precisely to get away from more serious matters. Meanwhile, most athletes prefer to keep their political views private, whether to avoid offending potential customers/endorsers, or simply because they're not all that interested in the issues. Teams are almost always apolitical.
Almost always.
Wednesday night in Phoenix when the Suns took the floor for their Game 2 matchup against San Antonio in their "Los Suns" jerseys (the ones worn as part of the NBA's Noche Latina program), simultaneously a celebration of the Cinco de Mayo holiday and a statement of disapproval for Arizona Senate Bill 1070, the controversial illegal immigration legislation signed by governor Jan Brewer last month.
Suns owner Robert Sarver, along with GM Steve Kerr, both spoke with unusual candidness on their disapproval of the law. Said Sarver in a statement from the team: "The frustration with the federal government's failure to deal with the issue of illegal immigration resulted in passage of a flawed state law. However intended, the result of passing this law is that our basic principles of equal rights and protection under the law are being called into question, and Arizona's already struggling economy will suffer even further setbacks at a time when the state can ill-afford them."
Major League Baseball's Players Association has also spoken out against the legislation, as have individual players like Padres first baseman Adrian Gonzalez. There have been calls for economic boycotts of Phoenix teams, including for next year's MLB All Star Game set to take place in Phoenix, resulting in Brewer filing a column with ESPN.com in response. My point isn't to start a debate on illegal immigration, but ask a larger question: As a sports fan, are you comfortable with your team taking stances and making statements on political issues?
In California, there is no shortage of hot-button matters on the agenda. Would you want the Lakers as an organization to declare a position? Do you want to see individual players be more active in political causes?
March, 15, 2010
3/15/10
5:20
PM PT
Ron Artest
shared an interesting thought about
the whirlwind that is a title defense season during yesterday's practice.
Pegging the experience as "one hell of a storm," he mentioned feelings like "anxiety," "anxiousness" and "excitement" accompanying this "roller coaster ride." However, he thinks the team is over the hump and there are "brighter days ahead." I asked if the emotions make it sometimes easy to forget you still have to play well leading up to the time when Larry O'Brien is actually defended:
"You can probably forget why you're here. Everything's so easy. It was so easy-- we played the right way at the beginning of the season. We have. It's not like for the whole season we've been playing bad. We did play that way, and the games were so easy. That was the conversations we had earlier. It's so easy, it's too easy," he said. "We kept saying that instead of, "We have to get better."
Artest is right, by the way. The Lakers do in fact have to get better, and their next four games theoretically present the most ideal time to build towards the catching of fire: At Golden State and Sacramento, then in L.A. against the T-Wolves and the Wizards.
Four teams with a combined 76-187 record, the left side of the standings just 28 wins better than the Lakers by their lonesome. Save my final chance to see
Darko Milicic
play in person, should he make good on a vow to return to Europe next season, I'm reaching to find any reason these opponents provide intrigue of any sort. (Yeah,
Tyreke Evans
is awesome, but I also have League Pass, so tomorrow hardly feels like "Must See TV.") Bottom line, these are crappy games on paper and all four opponents should fall even if the purple and gold operate below par, much less display the consistently crisp execution fans are dying to see.
From there, however, the schedule gets decidedly more difficult.
February, 26, 2010
2/26/10
11:43
AM PT
While analyzing Wednesday's loss in Dallas.
Brian discussed the danger of poking the basketball Gods one too many times before getting burned. Along those lines, Land O' Lakers blog regular "Exhelodrvr," equally concerned about repeating past failures, expressed the following opinion and kicked off a lively debate in the comments section of my brother's post:
"I think that the answer is relegating (Andrew) Bynum to a bench role, and putting Lamar (Odom) back in the starting lineup. The team just doesn't "flow" with Bynum in. For whatever reason, it's just not working out with him.
The ensuing back and forth among LO'L readership got me thinking on the matter, and while I'm not positive it's truly "the answer" (as Ex phrased it), I'm starting to wonder if a swap is worth trying.