It's time again to empty out the Land O'Lakers mailbag. Just because we're in the dry, forbidding summer months doesn't mean there are no issues to kick around. After all, training camp is just around the corner.
So without further ado, let's get going.
Q: Yo Kamenetzky Bros! I'm splitting season seats for Lakers/Clippers/Kings this year, and I have to go to this draft next week to select my games. Its a snake draft but I wanted to have my picks ready to go. So for time's sake, can you at least give me your guys top 10 games of the season, in order from best to worst? Also I really don't want to pick any Clipper games in the top 10, but do you think I need to select Clippers/Heat that early?
--Danny, Earth
A: Clearly Danny doesn't want to be tracked down.
Without knowing exactly where you draft, here are the 10 games/opponents I'd target (keeping in mind that if you decide you want to go to a Clippers game... let's be honest, you'll be able to find tickets) in some sort of vague, totally debatable order:
1) Oct. 26 vs. Houston: Opening night/ring night. I realize there are higher profile opponents on the way, and it's by definition early in the year, but the spectacle and energy of ring night is a must for fans. High profile games don't always meet the hype, but watching a banner go up will never disappoint.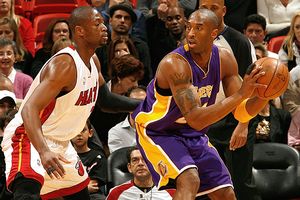 Issac Baldizon/Getty Images
Kobe vs. Wade (and LeBron and Bosh) on Christmas is the Glistening Shiny Jewel of the '10-'11 schedule, but there are 41 other home games to think about. Which are the best?
2) Dec. 25 vs. Miami: If I need to explain this to you, why are you in the draft?
3) Jan. 30 vs. Boston: The rivalry, the addition of Shaq, two Finals meetings in three years, and a very underrated chance at a third, despite all the Miami hoopla.
4) March 20 vs. Portland: If healthy, the Blazers represent a major challenge to the Lakers in the Western Conference. This is their last visit before the postseason.
5) March 14 vs. Orlando: The forgotten team in the Eastern Conference, the Magic (rightly) think they're being unfairly discounted. Howard and Co. will show up motivated to beat the west's best.
6) April 10 vs. Oklahoma City: There's the outsidest of chance the game could impact the W.C.'s #1 seed, but either way it's absolutely a potential WCF preview. Kevin Durant is a player worth paying to see.
7) April 3 vs. Denver: There's some risk here, because if the wheels come off Denver's wagon the Nuggets could be busted up before their only visit to Staples. But assuming 'Melo and Co. are still together, Denver represents a great- and angry- rivalry game, always creating a buzz inside the building.
8) Feb. 3 vs. San Antonio: For how many more seasons will we be able to watch Tim Duncan? Get while the getting is still good.
9) Nov. 14 vs. Phoenix: For how many more seasons will we be able to watch Steve Nash? Get while the getting is good.
10) Dec. 8 at Clippers: There's certainly a chance the LAC could be competitive this year, and if so it's best to see them relatively early in case it all falls apart. Eric Gordon is legit, and if Blake Griffin adapts quickly, this will be a fun game in front of a (semi) partisan Clippers crowd.
Don't like those? John Wall visits Staples on December 7. Games against Utah and Dallas are always fun. And if you can't get X-Mas tickets for the Miami game and have a hankerin' to see them live, I'm afraid one of those slots will have to go to a Clippers game. Because that'll be one of the games this season where ducats for the red, white, and blue will be tough to find.
Q: Celtics signed Delonte West, now they have a terrific roster, especially the depth of substitution. I was concerned about Lakers, cuz the health of [Andrew Bynum and Kobe Bryant], the deterioration of [Derek] Fisher, sounds like a problem for our team.
--FJY24, Beijing, China
A: It's hard to know exactly what the Celtics will get with West, who isn't eligible to play until Nov. 17 thanks to a league suspension. Beyond his legal troubles, he has well documented mental issues as well. From a basketball standpoint, though, West only makes the Celtics better. He can play both guard spots, will fit in with their defensive schemes, and most importantly gives Doc Rivers more of what every coach wants: choices. He'll now have West for those situations where Nate Robinson, a true diminishing returns player in longer minutes and hardly a guy who organizes an offense, isn't an ideal option. Add Marquis Daniels and Von Wafer to the mix (which includes starters Rajon Rondo and Ray Allen) and Boston has some legitimate guard depth.
The playoffs are all about matchups, and even with the addition of Steve Blake, the backcourt beyond Kobe will still be seen as a weakness for the Lakers. Boston added a chip without subtracting value. Is it a game changer? No, but given how close last year's Finals were, the scales don't have to tip all that much.
It's a good move for the C's.
Q: Hey guys! Great job as always...My question:I noticed that the Lakers have accumulated 4 picks in next years draft- 3 being 2nd Rounders. While I realize it's highly speculative, what are the chances that some of these picks are moved with maybe Sasha [Vujacic's] expiring if he can't crack the rotation? I just can't imagine the Lakers actually KEEPING all of these draft picks... hopefully Mitch will move a few or all and get some value back.Just a thought.Keep up the great work! :) I love the Saturday show!!!
-Bryan Boatman, Rancho Cucamonga, CA
A: The Saturday show? You mean ESPNLA.com On Air, which can be heard on 710 ESPN Radio from 10-12 PT? That show? Thanks, Brian!
(Thus endeth shameless self-promotion time...)
The Lakers will have their first and second rounders next year, along with second rounders from the Knicks and Miami. Barring something fairly apocalyptic, the first round pick will be in the high 20's or 30's, and L.A.'s second rounder in the high 50's. Miami's pick will likely be somewhere in that range, and even New York's could be a middle second rounder, now that Amare Stoudemire is on board. So none of them have all that much appeal as trade sweetener. If the Lakers end up moving Sasha, it's certainly possible some of those picks could be part of the package, but Vujacic's expiring contract (worth a hair under $5.5 million) will be the main draw.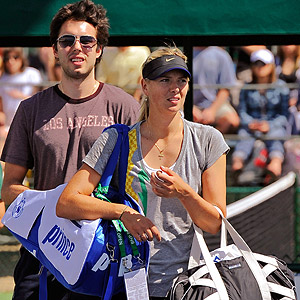 Kevork Djansezian/Getty Images
Everyone is all wrapped up in the value of Sasha Vujacic's expiring contract, but what of love?
But you're right- given the structure of the roster, it's a near-certainty the Lakers don't use all four picks next summer on players intended for training camp. They'll sell the choices or pick guys able to be stashed in Europe for a few years (or forever). There's just no room, given how their current contract obligations shake out.
Q: After Sasha gets traded, is that the final straw for [Maria] Sharapova? She obviously isn't bothered by the whole third-stringer thing, as long as he is local, but she lives in Manhattan Beach. She also makes a lot more money than he does. Do you see their relationship working out long distance?
--Steve Sharer, Santa Barbara, CA
A: Cross Steve off the list of world's remaining hopeless romantics.
But you have hit on perhaps the most important aspect of any deal involving Vujacic. Personally, I don't believe the long distance thing works. Over the long term, people need to be in the same place. Relationships are hard enough.
Fortunately for those pulling for Sashapova (Mariacic? Sharapujacic? Marsha?), while both my call the beach cities home- perhaps you've seen Sasha walking along the ocean, or perhaps playing volleyball?- Vujacic and Sharapova already live many aspects of the long distance lifestyle. He plays a winter sport, her circuit comes in summertime. They're probably not in the same place at the same time all that much, anyway. And since both are rich and don't exactly have conventional 9-5 jobs ("Hey Mitch, I was hoping to get a little vacation time this month. My girlfriend is playing a WTA event in Cincinnati..."), they can afford to globetrot together.
All in all, they have a better chance then most. But just in case, here are some tips on making long distance relationships work, courtesy of wikiHow.
Q: What do you see Andrew Bynum averaging if healthy?
--Jerry K., Glendale, CA
A: Let's assume good health for both Bynum and Pau Gasol, because (as stands to reason) the presence of Gasol has a major impact on Bynum's numbers. In the 15 games Bynum played last season without Gasol available, he averaged 19.8 points on 14.7 field goal attempts, plus 11.8 rebounds in 39.1 minutes. In the 50 games they played together, those numbers drop to 13.6 points on 9.4 shots, plus 7.3 rebounds in 28 minutes.
The two are still learning to play together, but assuming some growth in that department, Bynum can improve on his numbers teamed with Gasol and get near the 15/8.3 he averaged last season. As I noted in his writeup for our roster breakdown series, Bynum has a real shot to make the All Star team. While there aren't enough touches, points, and boards for him on a stacked Lakers team to produce monster numbers, given the relatively shallow pool of opposing centers and the location of this year's game (Staples Center), that could be enough to get him on the squad.
Q: I have an unnatural excitement about Derrick Caracter. I am looking forward to a Lakers team led by he and Andrew Bynum after the Kobe/Gasol era is over. I feel like they both have huge potential to be all-world talent. Not that I'm looking forward to Kobe and Gasol getting old but it's just good to have young talent waiting in the wings.
Thoughts?
--Haik, Los Angeles, CA
A: You have an unnatural excitement about Derrick Caracter.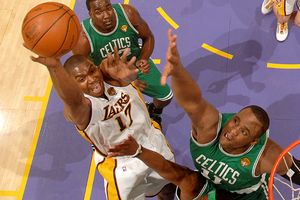 Andrew D. Bernstein/Getty Images
Andrew Bynum's status as future franchise cornerstone isn't exactly set in stone.
Don't get me wrong, I like the kid, was impressed by what he did in Vegas this summer, and think the Lakers did extraordinarily well in drafting him with the 58th pick. Let's slow down the express train to Springfield a little, anyway. There's a lot of space in between "great value pick who should have been drafted 30-ish spots higher" and "huge potential to be all-world talent." For that matter, Bynum still has a lot to prove, especially as it relates to being part of the team's long-term future. The skill is obviously there for him to be a dominant player, but can he stay healthy? We saw the heart in last year's playoffs, but can the motor run like that for the 82-game grind, as well?
It's far too early to project Caracter into any grand future plans for the Lakers, but Bynum represents one of the more interesting dilemmas the Lakers will face in the next couple offseasons. If he can't quite stay healthy this season and next, do the Lakers pick up his option (worth almost $16.5 million) for 2012-13? How much do you invest in a guy with a checkered injury history? Even if he stays healthy for the next couple seasons, can he comfortably be given what would likely be a big-money extension?
If the answer to any of those questions is no, how much can the Lakers get in return for Bynum, with the understanding any GM taking him on will have to answer the same uncomfortable questions?
(Did I just totally ruin Haik's day? Sorry about that.)
Q: Do you think Jerry Buss/Mitch Kupchak see Brian Shaw as the replacement to Phil, assuming PJ really does retire after this season? And secondly, do you think he would ever be officially announced as the heir apparent, or would it be more a wait and see type deal? It seems like most of the fans are behind, Shaw, and importantly so is Kobe. Yet, while he knows the system and has paid his dues as an assistant, it's hard to get past the fact that he has very little (none, to be exact) head coaching experience- seemingly a bit of a problem for a championship caliber team.
--Gabe, Pasadena, CA
A: Given multiple opportunities this summer to name Shaw as Jackson's successor, Kupchak passed... but don't read much into it. The Lakers don't want to lock themselves into anything, but while it can't be said unequivocally Shaw will be the next coach after Phil Jackson, he's definitely the current clubhouse leader. By a lot, especially with Byron Scott set up in Cleveland and Kurt Rambis in Minnesota. Circumstances would have to change a great deal to get a different result.
Is Shaw's lack of head coaching experience an issue? Sure, his familiarity with the system combined with a talented, veteran roster featuring a great deal of continuity and the fact he's served under the game's greatest coach helps compensate. There's no guarantee Shaw will be a great head coach, but how great ones could they hire instead?
To me, he's as good, if not a better choice among the guys the Lakers will likely find available.