As part of our look ahead at the Lakers' projected roster this season, we continue to work our way from the bottom to the top of the rotation. Next up...
Player
Kobe Bryant
Salary
$24,806,250
Role for the Lakers in 2010-11
Oh, a little of this, a little of that. Couple buckets here and there. Sell a few tickets, kiss a few babies.
C'mon, now, he's Kobe Bryant. At this point, his role on the Lakers isn't exactly tough to define: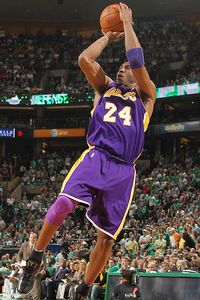 Nathaniel S. Butler/NBAE/Getty Images
Last season was a tough one for Kobe physically, but he caught fire in the playoffs. This year, will he get less face time with Gary Vitti?
Be Kobe Bryant.
Of course, there's being Kobe, and then there's being Kobe. The former utilizes his ability to define a game without necessarily dominating every statistical category. The latter means plenty of heavy lifting, sometimes dragging teammates along and bailing them out in the end.
Last season, it seemed every other day Kobe buried another game-winning shot. Fans were treated to some incredibly thrilling moments, while the Kobe Time Capsule had scads of video stuffed into it. For The Legend of Kobe Bryant, it was a very bullish year. But exciting and healthy aren't the same, and the extent to which Bryant is asked to repeat last year's heroics -- particularly during the regular season -- could have a major impact on the team's ability to Threepeat.
The math is simple: More heroics = lower odds.
While the end result was sweet, the 2009-10 season was a difficult one for Bryant, as he battled through a laundry list of injuries extensive and painful enough to make him basketball's equivalent of the Operation guy. Pick a body part, and there's a good chance Gary Vitti logged hours -- many, many hours -- nursing it back to form. Finger, back, left knee, ankle, elbow, right knee (partridge, pear tree...). Those are just the injuries we knew about. It was enough to land Bryant, who hadn't missed a game for anything other than suspension for nearly three seasons, on the pine for nine games.
Nine more than anyone expected, given how he'll seemingly play through anything.
So it's no surprise Kobe also suffered among his worst seasons statistically in a while, particularly when measured by advanced metrics. Bryant's PER, true shooting percentage, effective field-goal percentage, and win shares all declined while his turnover percentage increased. Don't get me wrong, the guy was still nails, but nobody, even someone with Bryant's indomitable will, can completely cheat physiology. Fortunately for the Lakers, Bryant shed whatever dirt people tried to toss on him during a fantastic playoff run, and despite the near-nightmare in Game 7 against the Celtics found himself again hugging the Larry O'Brien.
So it turns out Kobe isn't bionic. In the NBA, it's not a question of if a player will get hurt, but almost always of when. Last season was hardly the first in which Bryant experienced injury issues. Over a six-year stretch between '99-'00 and '04-'05, he played 66 games or fewer in four. Obviously context matters: It's one thing when injuries occur in a guy's low-to-mid 20's, and entirely different if those same injuries come after 30. Especially when that guy has added over two seasons worth of extra games, thanks to frequent extended playoff runs.
But even if Kobe shows a few more rings (not those kind, unless he celebrates by eating his hardware) when cut open, it's still a mistake to assume last year was the definitive beginning of the end for him physically. What could look like the start of a worrisome pattern for the Lakers and their fans could just as easily have been more innocuous. Painful, but innocuous. Kobe wasn't going to play 82 games a year forever, was he?
Just to be safe, though, the Lakers would love for Bryant's game-to-game burden to shrink. Kobe wouldn't mind, either. Last year, he averaged 38.8 minutes a game vs. 36.1 the season before. Just shaving those 2.7 minutes back off his workload would save Kobe 221.4 over the course of an 82-game campaign ... about 4.6 full 48 minute tilts. Getting down to 35 would be even better. Basically like sending him to this place for a year.
It's not just the sheer number of minutes, but their quality. There are nights when Kobe plays 42 minutes but really only does 24 minutes of work. Other nights he might bust tail for 37. The former is a lot better.
He's still Kobe Bryant, a cosmically elite NBA player. The man has little, if anything, to prove these days, and absolutely nothing to gain by risking his (relative) freshness come playoff time by overextending himself in the regular season. Hopefully he won't have to.
Best Case Scenario
Kobe continues the run he started in last year's postseason. The guys around him stay healthy and productive, helping him stay fresh. Even while playing a handful of minutes less each game, Kobe ratchets up the efficiency, posting better numbers in shorter PT. Rather than hoping to heal during the playoffs, he enters them healthy as can reasonably be expected. He then can go from being Kobe Bryant to being Kobe Bryant, should the need arise.
Worst Case Scenario
Last year's physical problems represent the start of a pattern. Kobe's surgically repaired knee doesn't hold up well, giving him trouble almost as soon as the season opens. His pop is missing, and Kobe struggles to find space to create off the dribble or explode off a screen. Soon other problems pile up, forcing Bryant into street clothes for longer periods. When the playoffs roll around, last year's renaissance doesn't happen. Kobe isn't Kobe. Not even close.
No Threepeat.
Previous Roster Breakdowns
Luke Walton
Matt Barnes
Steve Blake
Lamar Odom
Ron Artest
Derek Fisher
Andrew Bynum