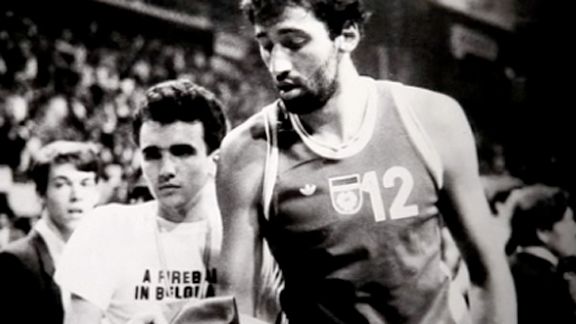 ESPN Films
Vlade Divac, right, and Drazen Petrovic were teammates on Yugoslavia's national team during the 1980s.
Earlier this summer, our colleague Dave McMenamin caught up with former Laker Vlade Divac to speak to him about his involvement with the documentary "Once Brothers," part of ESPN's 30 for 30 series. The film tells the story about the broken friendship of Divac and Drazen Petrovic, who were on opposite sides of the civil war in Yugoslavia. Here is Dave's Q&A with Divac.
By Dave McMenamin
ESPNLosAngeles.com
Back in August, I met Vlade Divac at composer Joel Goodman's studio in Calabasas, Calif. where Divac was recording the final voiceovers for the narration of "Once Brothers," the latest 30 for 30 documentary by ESPN, debuting Tuesday, Oct. 12 (8 p.m. ET/5 p.m. PT).
Divac took a break from the session to answer a few questions and it was just like any halftime of a game during his playing days, in a way -- he smoked a cigarette before sitting down to chat.
You can read my review of the film here.
How did this documentary come about?
I'll be honest here, it was [executive producer] Dion [Cocoros's] idea. He knew about my life and relationships with the players from that generation. He came up with the idea and said it would be nice to give people the opportunity to see not just basketball from my career, because everybody knew about that, but nobody knew about what was happening behind closed doors.
Hearing you go through take after take [in the recording studio] just saying Drazen's name, has it made you think about things you haven't thought about in a long time?
Especially with Drazen, because he's not with us anymore, it's tougher. It bothers me so much after all these years that I never had the opportunity to sit with him and go through our problems that we had. Before everything happened, we were roommates on the [Yugoslavian] national team. We had the same goals and we supported each other for the first couple years of the NBA. Basically, we opened the door for all those internationals because we had some trust as European players. Before, it was very tough to break through.
Read the rest of the Q&A after the jump
Is there a sense of pride when you see a guy like Dirk Nowitzki getting MVP or Tony Parker being named Finals MVP?
It's definitely something that not just me, but all those guys as the first wave of Europeans, should be proud because we made a path for them.
A lot of people would say that European influences have helped the American game of basketball, but was there anything about the American game that improved how you play basketball?
In the early '80s there was a big gap between the NBA and the international game and when we started making our careers here in the NBA, obviously, we became better players. When we used to play each other on the international level, that gap became smaller and smaller. When we started beating USA teams, they got more serious about it than before. They would send college teams, now [they send pros]. It's all about the pride.
As you've traveled the world through opportunities presented through basketball, is it truly a "global game"?
Absolutely. I think the NBA is the most popular league in the world. Even though football [soccer] is the most popular sport worldwide, the NBA is the most popular everywhere because of that mix between American players and international players.
I want to ask you about actually playing the sport. In this country, the youth in our AAU system get involved in a lot of up-and-down play, over-dribbling, one-on-one while it seems like over in Europe, there's more emphasis on teaching passing, on teaching pivoting …
That's what Europe brought to the NBA: the passing skills, the shooting skills. Like you said, the kids here, they want to do crossovers and dunk, that's it, but we brought fundamental things to basketball.
What was the strongest part to your game, do you think?
Well, I had good hands. Playing with Magic, I took advantage of it because he was a guy who made everybody on the court a better player. Later on, in my career, I used that tool to kind of be a big guy with a good sense of making assists. I was so proud of it. I didn't make a lot of points, but I made passes.
You may be could be considered one of the top 10 big-men passers of all time …
That was my game. Make other players involved.
Did that become infectious later in your career in Sacramento? There was Jason Williams who could pass the heck out of it, Chris Webber was a very good passer, Corliss Williamson …
I think when you play with someone, you tend to pick up their game and try to develop something together. I'm sure those guys learned something from me and I learned from them. It's beautiful.
I cover the Lakers and you were drafted by them and ended your career there, can you talk about what it means to play for the Lakers and what that time in your career was like?
I have to tell you, I was lucky to be drafted by the Lakers because I always said that if I ended up somewhere else, I don't know how quickly I would adapt. The whole organization was there to help me out, from the players, coaches, management and Jerry Buss, the owner. I always say, I've played for a lot of teams and I think he's the best owner in all of professional sports because he really loves his organization and he really respects all the people that work for him, including players. That's why I came back to retire with them. I remember like a year before we had a game in Vegas, Kings-Lakers and I went to say hi. He said, 'Kid, I want you to come back and retire with the Lakers.'
And you spent some time with the organization afterward as a scout, correct?
Yes. I tried to help. I lived in Europe so I had access to see what's going on there and even though I'm now President of the Olympic Committee of Serbia, I'm always going to be there for the Lakers if they need me.
Now, the first time you left the Lakers, you were traded to the Hornets. Now, you'll always be known as a great player for your days with the Kings, but a part of your history will always be that you're the guy who was traded for Kobe Bryant.
It was a good trade (laughter). Back then, a lot of people were skeptical about it because Kobe was very young and coming from high school. I was sent to Charlotte, first of all, to clear the cap for Shaq to sign, but they got Kobe in the deal. I wasn't happy. I was actually at one point thinking to retire because I looked at basketball as a game of joy and I didn't want to play basketball just because I had to play. I felt like going somewhere that I didn't like, it wasn't fun.
What turned it around for you?
My talk with Jerry West and the coach of the Charlotte Hornets, Dave Cowens, who was there. He told me, 'Why don't you come here and give it a shot? If you don't like it, you can always retire.' I went there and I fell in love with Carolina. Actually, that move extended my career. I found some other challenges in my life. That's why I started thinking about when I became a free agent and I chose Sacramento, it was first of all to get back in California and second of all, I wanted to go somewhere where there was nothing and make it happen.
Now, this documentary is basically your life story and a lot of people in this business say that basketball is a metaphor for life. What can you say about that statement and what has the game brought to you?
You have so many players all around the world in the NBA, a lot of different generations. If you don't take basketball as a tool in your life, you can get lost. I know a lot of teammates, a lot of players that had a great career and after that career, they just get lost. I think you have to be very serious about that because it's not just about professionalism. It's about the society. You have to have the responsibility to be a good role model for all those kids that follow the NBA. I was working very close with the international department of the NBA and kind of spreading the story outside of the USA. Now we have a lot of different camps for youth around the world and I was so proud to work with [NBA executive] Kim Bohuny, she's the main woman in the NBA's international department that started Basketball Without Borders. Now it's all over the world.
What's the message from your life story that people watching can learn or take away?
We take life … we should take it more seriously, because you never know what's going to happen tomorrow. In this movie, everything seemed nice with our team and our relationship and our country and in one second, everything went upside down. It was a lot of manipulations, a lot of politics. You can definitely learn from the experience that I had.
You're one of the rare athletes these days that took that platform and wanted to spread a message and wanted to give back. What was in you to make that decision?
First of all, you have to understand that not too many players that play basketball have the opportunity to play in the NBA. That first step that you are a part of, it's not just yours, it's God's too, or whatever. You have to realize that you have to give something back to the kids, the community or whatever because you're in the position to do that with the right message and the right energy.
Dave McMenamin covers the Lakers for ESPNLosAngeles.com. Follow him on Twitter.