Here we are folks! One win away from the coveted Staples Center shootout trophy, followed by a champagne bath in the locker room! Or maybe not. I'm pretty sure there is no trophy awarded to the tourney's winner, and either way, I'm absolutely positive Dr. Buss won't rubber stamp a champagne bill to commemorate a mid-October victory. We're in the midst of a recession and he's already footing a payroll pushing nine figures as it is. A joke's a joke.
(On a related note, they didn't even drop the standard post-victory streamers after Saturday's 102-95 win over Denver. Again, lean times, people. Every bit of savings counts. Bottom line, do you want Derek Fisher re-signed or preseason streamers?)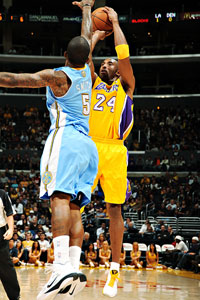 Win McNamee/Getty Images
Kobe displayed quality bounce against Denver on Saturday. Can he remain as lively 24 hours later?
Still, you play the games to win, with or without bubbly or hoopla. Tonight, the Lakers have a chance to bump their exhibition record above .500 at the expense of the Utah Jazz. As you watch the game and take part in tonight's chat, here are a few things to keep an eye on:
Kobe Bryant's play in a back-to-back
As mentioned in Saturday's postgame report, Kobe is fresh off his best effort while recovering from offseason knee surgery. So fresh, in fact, the timeline could give pause as to how he'll perform this evening. Back-to-backs can be draining while competing without any notable injuries to speak of, much less when you're still feeling the effects of a doctor poking around inside your knee. I'm certainly not the only person curious to see how Kobe holds up in his first go in these settings.
"We'll be interested to see how that back-to-back activity [effects Bryant]," Phil Jackson said after Saturday's game.
I asked Phil if he'd given any thought to sitting Kobe on the second end of the shootout purely as a precaution. Nope. Unless Kobe approached him with a request, the plan has always been to put Bryant on the floor, and nothing happened last night to rethink the situation. For starers, Kobe's run (24 minutes) wasn't excessive. Plus, as Jackson explained, the game's pace was favorable along these lines. "It was a very slow game with an awful lot of free throws in the moments he was out there, so there wasn't a lot of continuous running or pounding."
Kobe has been increasingly lively throughout the preseason. Yes, shots are still stubborn to fall -- Saturday's five-for-13 clip from the field represents his best effort -- but according to my Google research, Bryant has a real knack for scoring. At this stage of his recovery, makes and misses are irrelevant. What matters is how he looks physically and if he looks steadily more active and fluid on the court. Thus far, all signs have been positive, and tonight's action hopefully won't result in a hiccup.
Pau Gasol vs. Al Jefferson
As assignments go, this would be Pau's biggest challenge of the preseason. Jefferson is often a eyebrow-raising sieve on the defensive end, and Pau should find success filling a bucket against him. But that aside, time matched against Utah's new seven-footer ain't a picnic. Big Al is among the more talented big men in the league at the art of scoring, with two 20+ ppg campaigns on a resume only six seasons old. He's also averaged 11 rebounds -- including 3+ on the offensive glass -- between 2007-2009, making him quite the load to keep off the glass. Working against Nene on Saturday was a nice prelude, but Jefferson probably has the edge in terms of keeping Gasol continually engaged. And that's something his coach would like to see.
Jackson has been prodding Pau throughout the preseason, even going so far as to describe El Spaniard as "still on vacation" after Wednesday's win in Vegas. Before Saturday's game, Jackson clarified his assessment, citing factors like missed free throws, poor focus and a flashy-but-illogical between-the-legs pass to Derrick Caracter with six seconds to go instead of simply running out the clock. While Jackson isn't trying to make a mountain out of a preseason mole hill, it's pretty obvious he'd like to see Gasol step up to the challenge of setting a tone with Kobe still on the mend.
Raja Bell in the house!
Before this summer, Bell remained hated as always, with Lakers fans still angry about the 2006 clothesline heard 'round the world. But that sentiment appeared to shift when Kobe began recruiting his one-time nemesis to don a purple and gold uni. Suddenly, "over the hill cheap shot artist Raja Bell" became "savvy veteran with three-point range and a defensive attitude perfect for the Lakers Raja Bell." Then, with Kobe's chopper gassed and ready to pick up the free agent, Bell canceled the meeting and signed with one of his old teams.
In your face one last time, Kobe!
Well, not really. Bell's decision made perfect sense. He received more money and years from the Jazz than he ever would have gotten here, and likely more PT, too. I seriously doubt this was all a big rouse so Rah-Rah could punk The Mamba (as the ESPNLA.com B-Ball staff joked). Plus, Bell out of the picture cleared the way to sign Shannon Brown, who I'd rather have in the first place. You could actually argue the journeyman shooting guard did the Lakers a favor with the about face. But just as old wounds die hard, they're easily opened. I'm curious to see if, after a brief flirtation with the Lakers and what appeared to be fan approval, Bell is back to square one when announced by Lawrence Tanter.