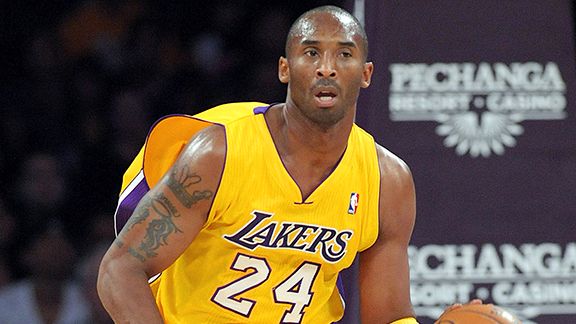 Jayne Oncea/US Presswire
Kobe Bryant's 19 third-quarter points Sunday were the best evidence yet his knee is improving.
They say second place is the first loser, which leaves a capital "L" across the entire Laker roster's foreheads. (Even Drew Naymick, who didn't even remove his warmups.) A 99-94 loss to the Utah Jazz means the purple and gold must settle for runner-up status in the much-ballyhooed Staples Center Shootout. The loss takes the Lakers to 3-3 in the exhibition season, with three more chances to secure a clip above .500 before the title defense officially begins. Here's the box score. Here's the game chat link. And here are a few thoughts, positive and negative.
Three up:
Kobe Bryant's third quarter: Ever since the preseason officially kicked off, fans and media alike have engaged in a pastime unofficially known as "When is Kobe gonna start making baskets again?" Sure, the 12-time All-Star has looked steadily more fluid and active with each game as he has recovered from offseason knee surgery, but his shots haven't followed suit at the same rate. Practically speaking, we're a long way from actually needing to worry about Kobe's proficiency from the field but rarely is anything involving Bryant analyzed with a practical mindset. The Lakers often goes as Kobe goes, and for those seeking signs of "He's baa-ack," four misses in as many tries and zero points over the first half provided nothing of the sort.
His third quarter, however, may have done the trick.
For 11 minutes 28 seconds, the vibe at Staples felt decidedly "vintage Mamba." Seven of eight from the field. Two of three from beyond the arc. Perfect in three tries at the stripe. Nineteen points in all, often created with the flair Lakers fans have grown accustomed to from Bryant. Pull up threes. Catch-and-shoot purity. A baseline J after backing down C.J. Miles, then spinning right to go left, with the southpaw absolutely faked out of his shorts.
Does this mean Kobe is definitely operating at 100 percent again? Probably not, but it was as close to the real deal as we've seen in October. Great stuff and a nice building block moving forward.
Pau Gasol: Throughout the preseason, Phil Jackson has needled Gasol to play at a more dominant, assertive level. 28 points, nine rebounds, four assists and four blocks later, I would figure this evening is along the lines of what PJ had in mind. After a slow start, Gasol really kicked it into gear, and beyond simply the production, he also played with a focus and accountability Jackson has deemed missing. Down the stretch, he worked hard to keep the Lakers in the game, earning nine trips to the line (seven good) and scoring a baker's dozen.
Ron Artest: 17 points in all, including a pair of triples to maintain a very effective preseason flow from deep. I also liked how Artest often moved without the ball to get his buckets, his instincts to drive the lane, and the way he participated in some sequences of fantastic passing. Fingers crossed, the comfort level hoped for after a season in the Lakers' system is becoming a reality.
Three down:
Steve Blake's shooting: When Blake was signed during the offseason, his presence was expected to improve two areas generally lacking for the Lakers last season: second unit leadership and overall outside shooting. In the former category, Blake has taken little time to prove himself. His instincts and ability to set up teammates in the triangle are readily evident, particularly for a guy who has played so little in the system.
His touch, however, was A.W.O.L.
Seven shots. Seven misses, four of which came from the downtown area where Blake has often made his money. With about seven minutes remaining in the fourth quarter, the Terp ended up traveling after passing up a three and trying to step inside the arc on a Utah fly by. You have to wonder if the bricks were getting to him.
Oh, and for those keeping score, Blake is currently shooting 26 percent from the field and just 18 percent from downtown. I have no doubts about an eventual turnaround, but for the time being, ouch!
Defense: Without uber-point guard Deron Williams on hand, the natural inclination would be to wonder how well Utah would generate points. As it turned out, more easily than expected. While their point total wasn't gaudy, The Jazz shot 50.7 percent overall for the game, and weren't held below 50 percent during any frame except the fourth. Perhaps the element of surprised worked in their favor, as rookie Gordon Hayward, more or less un-scouted at the NBA level, poured in 26 points off the bench. Then again, three other Jazz men joined the kid with double figures. Moreover, the visitors were adept at getting to the line. Thirty trips in all, drained at a robust 86.7 percent rate.
There were moments of lockdown, particularly down the stretch as the Lakers clawed their way back into the game, and I don't think effort was lacking as much as execution. But for a team with a decided pride in its consistently stout basket protection, I doubt they'll be thrilled while watching film tomorrow.
Turnovers: The same sloppiness also reared its ugly head in ball control and care. Twenty turnovers, offsetting several sequences of highlight reel-worthy ball movement. Shannon Brown (who played probably his worst contest of an otherwise very strong preseason) led the way with a quartet, and Derek Fisher was the only clean Laker who played a dozen minutes or more.