Earning a win and adding a win to your column are sometimes two very different things. This W over Toronto falls into the latter category.
Three Up:
Derek Fisher
Double digit scoring (11) on a super-efficient four-of-six from the floor, but the positives stretched well beyond the stat sheet. As is often the case with El Presidente, it was the proverbial "little things" adding up to make an impact. Charges were drawn. Four steals decorate his line, but there were also Toronto possessions interrupted by Fish breaking up a passes in proximity of the Laker basket. It's an uncanny ability Fisher boasts, and put on crucial display when he tipped the ball out of bounds off DeMar DeRozan during an otherwise uncontested attack, protecting a 93-90 lead from further vulnerability.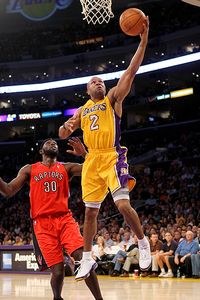 Stephen Dunn/Getty Images
Fisher shot the ball well, but his impact measured beyond the box score.
Mind you, the vet also did the proverbial "big things" as well. A baseline runner with 2:40 remaining pushed the lead to seven, prompted Toronto to burn a full time out, and helped bring the crowd as listless as its team back into the game.
The bench
As a unit, they didn't consistently jell until late in the third quarter, when Matt Barnes, Steve Blake and Shannon Brown helped convert a one point deficit into a four point lead to close the frame. But even discombobulated (particularly on defense), the reserves found ways to make a difference.
Blake drained four shots from behind the arc during the first half. Brown, who chipped in a dozen points, made up for a second quarter turnover by chasing down Sonny Weems from behind and blocking his layup. He also drew a foul behind the arc and sank all three charity chances. Barnes created a three-pointer by faking his own trey after Pau Gasol kicked him the rock, then firing a cross-court bullet to Shanon in the corner. (Generally speaking, the second unit was fantastic at making the extra pass.)
All in all, the reserves provided considerably more energy than the starting five, and arguably outplayed them in the process.
Turnovers/Free Throws
As Brian and I have noted many times, you can overcome bad play by taking care of the ball and capitalizing at the stripe. A dozen turnovers is acceptable, and 84.4 percent on freebies is even better. This is often the difference between a win and a loss when cruise control threatens to bite a team in the butt.
Three Down:
Defense
In "The Big Lebowski," The Dude is referred to as "quite possibly the laziest [man] in Los Angeles county." As a collective, the Laker defenders appeared dead set on giving Jeff Bridges' iconic character a run for his money. Whether you're talking defense in the paint (58 points for Toronto), in transition (24 fast break points) or on switches, the Lakers sometimes looked confused (particularly on pick and rolls), but more often unfocused and in low gear. The second quarter was especially slack, as Toronto shot nearly 58 percent, but even down the stretch with the game in jeopardy, the urgency felt A.W.O.L.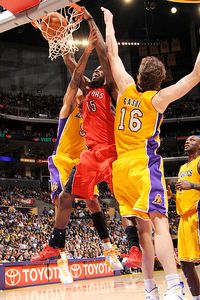 Andrew D. Bernstein/NBAE/Getty Images
The lane was far too vulnerable under Gasol's watch.
Pau Gasol (scoring aside)
By definition, 30 points on better than 50 percent shooting means you didn't show up to the table empty-handed. As an offensive source, Pau enjoyed more than a few quality moments. But in every aspect beyond scoring, I thought it was a pretty mediocre showing for the reigning Western Conference Player of the Week.
Seven rebounds is pedestrian by Gasol's standards, even more so when you consider he didn't even record a board until the third quarter was well underway. El Spaniard's defense in the lane was often noticeably ineffective, hitting its lowest point when Reggie "28 percent from the field" Evans racked a bucket of startling ease against him. And on two occasions after getting blocked, he was extremely slow getting to the other end of the court.
A redemptive moment along these lines came when he snagged the offensive board and put back a miss from Kobe to push the Lakers' lead to 99-94 with four minutes remaining. More sequences like this could have prevented the Raps from growing so close to begin with.
(For what it's worth, Phil Jackson expressed little unhappiness after the game with Pau's work on the glass. For starters, Toronto shot very well during the first half, which by definition doesn't leave many rebounds to grab. Plus, the Raps' style of play also kept Pau away from the basket at times.
"This team has a lot of outside, exterior screening going on, where you're on the outside and a lot of times you're on a rotation and may have taken him away from the hoop," explained PJ. "I can't remember a lot of opportunities where he could have gotten a rebound, when I think about it. It just wasn't coming his way.")
Lamar Odom
To his credit, he worked the glass to the tune of nine rebounds. To his detriment, he missed eight of his ten shots -- plus four free throws -- and was often as slow to react on defense as any Laker. It was LO's first poor showing of the regular season and perhaps even since camp broke, so slack should be cut. But this outing sticks out like a sore thumb in an otherwise spectacular start.
An amusing moment
In the closing moments, Kobe Bryant uncharacteristically dribbled the ball off his knee near the Laker bucket. The rock bounced to Linus Kleiza, who drove to the lane, only to get swatted in spectacular fashion from behind by the 12-Time All-Star.
Dude went from zero to "Mamba" in 3.9 seconds.