Here are your 10 additional things to take away from the Lakers' 121-96 win over the Trail Blazers Sunday:
1. Back in April 2009, the Houston Rockets were playing the Blazers in the first round of the playoffs and it was Ron Artest's job to try to stop Brandon Roy.
Houston won the series in six games, but the beginning didn't go so well as Roy scored 21 in Game 1 and then 42 in Game 2 to earn a 1-1 split.
After taking a 40-spot on the chin, Artest told TNT's Craig Sager: "Roy's probably the best player I ever played against. To me, he's the best shooting guard ..."
When Sager followed up by asking pointedly if Roy was better than Kobe Bryant or LeBron James, Artest only reiterated his statement, repeating, "He's the best player I've played against."
Artest got to tangle with the best he's ever faced again Sunday and either he played one of the best defensive games of his life or something's not quite right with Roy. The 6-6 guard came into the game averaging 22 points a night but was held to just eight points on 1-for-6 shooting from the field, and four of those points came when Artest was out of the game. In fact, when Artest checked out with 2:08 remaining in the second quarter, Roy had zero points. Some chest-puffing is in order when you hold the best player you've ever played against scoreless for a half, right?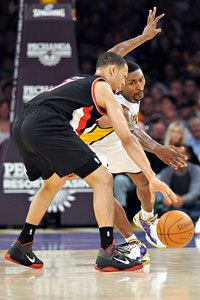 Jayne Oncea/US Presswire
Artest considers Brandon Roy the toughest guard in the NBA to defend.
"I want to keep my mouth shut," Artest said after the game. "I'm not saying nothing. I'm not touching that subject right there. I want to say some funny, stupid stuff, but I'm just not doing that today."
Maybe he didn't want to brag about beating a player who wasn't 100 percent.
"I think he was hurt," Artest later said. "Back, or knee or something. He wasn't himself. I've played against Brandon Roy a lot of times. He wasn't himself."
Phil Jackson wouldn't totally credit Ron's defense for the Roy disappearance either.
"I'm not sure that's all our making," Jackson said. "He looked to me like he was not ready to attack as much as he normally is. It looked to me like he was a little bit hesitant out there."
Artest's teammates were more generous with praise than PJ was. Bryant said, "Ron was ready to go, he took it as a challenge to get after him so I think individually he did a great job," while Pau Gasol said "[Ron] set the tone for us as a team."
Roy could have just been fatigued after playing 37 minutes on Saturday night. Then again, he's only six months removed from knee surgery that limited him to averages of 9.7 points on 30.3 percent shooting in the Blazers' first-round exit from the playoffs last spring.
2. Gasol already came super close to a triple-double this season when he finished with 21 points, eight rebounds and nine assists against the Suns. He went all the way with the triple-dip Sunday, racking up 20 points, 14 rebounds and 10 assists.
It was Gasol's second triple-double as a Laker (he did it against Atlanta on Feb. 17, 2009) and the fourth of his career and it came just two games after Kobe recorded the 17th triple-double of his career against Sacramento.
Gasol had already logged four points-rebounds double-doubles in six games coming into Sunday, so not surprisingly, it was his dimes that had everybody talking afterward.
"I liked his passing," Jackson said. "I always admire the fact that you get the ball inside and the guy can make passes out of the post and get easier shots for his teammates."
Said Bryant: "Pau's right up there with Shaq. Shaq was a great passer off the post, so is Pau. In this offense, that's everything -- to be able to make plays from the post. Pau does a great job, he's very patient with making his reads and puts the defense in jeopardy, big time."
(The triangle offense is a nickname for the "triple-post" offense, after all.)
Pau's passing was contagious, as Steve Blake passed up a fast-break layup for himself late in the third quarter, opting instead to feed a trailing Gasol by tossing an alley-oop pass off the backboard.
"I wasn't really expecting it," Gasol said with a smile. "I thought, you know, 'You're by yourself, finish it off,' and all of the sudden it's off the glass. I had to go get it and try to finish it. So, it worked out fine."
It seemed a little razzle-dazzle for a game that the Lakers were already leading by 25 points, but Jackson had no problem with it.
"That play's fine with me," Jackson said. "Steve can go in and lay that up himself if he wants, but it's just a team play. I think he wanted to honor Pau's game and give him an easy basket, so that was nice."
3. Blake spent three and half of his first seven seasons in the league playing for Nate McMillan and the Blazers so when the Lakers were preparing for Portland the normally reserved guard spoke up.
"[Steve] volunteered what he felt was important," Jackson said. "That's definitely something that we solicit from ball players that have been on other teams – is there something specific that we need to mention, or is there something that you want to add? Some players have nothing to add. Steve did. He's obviously a guy that's a little bit of a gym rat and has an idea about it."
Blake downplayed the discussion.
"I helped the team out the best that I could," Blake said. "At shootaround everybody talks about the team we're playing against and I just had a little bit more things to say, pretty much … Coach McMillan has his strategies of defense and offense and stuff like that, so I kind of know all those little things."
After the game PJax was asked if Blake's information won them the game and Jackson credited the Lakers assistant coach whose actual job it is to scout Portland all year long.
"I'm going to give [the credit] to Chuck Person," Jackson said. "He's the one that was on the ball tonight."
4. Speaking of Person, Here's a connection between the two teams you probably didn't know about: McMillan offered him a job on his bench this summer and Person came very close to leaving L.A. for an assistant gig with the Blazers.
"I thought was a great opportunity to work with the world champions and work with Phil and gain that experience, that's something that's certainly going to help him throughout his coaching career," McMillan said. "I thought maybe we had an opportunity, but they wanted him back and it was the right move for him."
The two go way back. Chuck's last season in the league, 1999-00 with the Seattle SuperSonics, was Nate's second season as an assistant coach in Seattle.
"I think he's a very good assistant coach," McMillan said. "I thought he was a coach when he played and I had the opportunity to work with him then … I just feel that the things that he brought to the floor, his communication skills with players not only players but the stars, he will approach any guy and work with him. You saw times last year when he and Kobe were communicating during the playoffs. Chuck is just that type of guy that will pull a guy to the side, star or best player [included], and talk to them about what they need to do and won't be afraid or intimidated by that player."
(I wrote about the Chuckster and Kobe during the Finals if you're interested in reading more.)
5. Lamar Odom has accomplished a lot in his 12-year career. But he's never made the All-Star team. After the way Odom has opened up '10-11 with averages of 15.9 points, 11.1 rebounds and 3.4 assists on 62.7 percent shooting from the field and 69.2 percent shooting from 3, maybe this will finally be the year.
McMillan thinks L.O. is on his way.
"Lamar Odom right now is playing [like] he's an All-Star," McMillan said. "His numbers and what he's doing for that team, shooting the ball, rebounding, handling the ball -- he's playing great basketball for them."
Odom finished with a team-high 21 points as well as 12 rebounds Sunday, to register his fourth double-double in seven games to start the season.
"I'm not sure [if I'll make the All-Star team]," Odom said. "When Andrew [Bynum] comes back when he's healthy, it's going to be a challenge because I'm going to come off the bench. It's something that I look forward to as far as a feat. I don't know how many guys make the All-Star team and come off the bench. But, if I can keep playing at this level and stay focused, confident, then I'll give it a shot."
6. Staples Center happens to be the host arena for the All-Star game this season and while Odom could be playing in his first mid-season classic on Feb. 20, Shannon Brown could be involved in All-Star Saturday night on Feb. 19.
Only not in the dunk contest, after last year's letdown in Dallas.
How about the 3-point contest?
Brown went 3-for-6 from deep against Portland to push his season total on 3-pointers to 11-for-21 (52.4 percent) -- good enough for the 11th best percentage in the league.
"It'd be fun," Brown said with a big grin on his face as he contemplated the idea as he walked out of the arena late Sunday night. The fifth-year guard said he was in several 3-point contests in high school, but never won one. "Dunks and threes, back-to-back ..."
Somebody needs to start working on LetShannonShoot.com.
"I'm really enamored with Shannon's ability to shoot the ball," Jackson said after the game. "He's shooting the ball great. He's got a good base, he has great lift and he's practiced those 3-point shots, he's very confident."
The Lakers as a team have the No. 1 3-point field goal percentage in the league at 45.0 percent with Odom ranking No. 1 individually and Derek Fisher (66.7 percent) ranking No. 2.
(Aside: Kobe, the 1997 dunk contest champion, was supposed to complete the dunk and 3-point contest set in 2008, but pulled out of the shootout in New Orleans because of a pinkie injury. Off the top of my head, I can't think of anybody else in the past who has competed in both.)
(Aside No. 2: Jackson is already thrilled as can be at the prospect of coaching the West in the All-Star game ... Not. "I asked my coaching staff if they were and they said they all wanted to participate in it," Jackson shared. "I said, 'Well, good luck, guys.'" When reminded that it could be worse because at least he won't have to travel, Jackson replied, "That is the nice part of it, but your weekend's shot. It's a mess anyway.")
7. Rookie Derrick Caracter had the most productive game of his nascent NBA career, racking up six points and three rebounds in 17 minutes against Portland, but don't expect the playing time to continue consistently all season. Jackson has other plans for Caracter and fellow rook Devin Ebanks.
Ebanks was deactivated from the 12-man roster for the second straight game with Luke Walton back from a hamstring strain.
"Both our young players we hope to get some time on the floor, hopefully playing with our team [or] maybe going to the D-League and playing with the D-Fenders ... and getting some reliable experience and playing time," Jackson said. "So, we're going to move them around a lot, hopefully getting them some experience but until Andrew comes in and [when] we have that full roster, no."
I kindly reminded Phil that the D-Fenders have suspended operations for this season and the Lakers' current D-League affiliate is the Bakersfield Jam.
"Oh, right, the Jammers," Phil said.
I'm not sure why, maybe because it sounds like what a kid calls pajamas, but Phil's name for the team really cracked me up.
8. It's easy to write about what happened on the court Sunday, but what about what didn't happen? Check out what I wrote about the game's missing big men -- Bynum and Greg Oden -- for the Daily Dime (item No. 9).
9. Quotes of the night: "We were [a big team in the past] and it seems like we continue to just get shorter. It's just been amazing some of the things that have happened over the last couple years." -- Portland head coach Nate McMillan on the shrinking of his lineup thanks to injuries to centers Oden, Joel Przybilla, Jeff Pendegraph and Fabricio Oberto in recent seasons.
"The European trip ... Totally to blame for it." -- Lakers head coach Phil Jackson when asked what the reason has been for the Lakers' undefeated start. L.A. lost its two games in London and Barcelona, dropping one to the Timberwolves and then losing to FC Barcelona, 92-88.
10. Stats of the night: The Lakers 7-0 start is the fifth in the last 25 years for the team and second in three seasons, for more on the fast start here's my news story ... L.A. nearly doubled the Blazers on the boards, 49-25, a game after being outrebounded by the Raptors by 18.
Dave McMenamin covers the Lakers for ESPNLosAngeles.com. Follow him on Twitter.