Sunday's game against the Blazers was billed as the first major test for the Lakers. Then they blew the doors off Portland by halftime, at which point the flaws in the whole test theory -- missing big men for the visitors, a less-than-100 percent Brandon Roy, the Blazers on the wrong end of a back-to-back- came more into focus.
Tonight's game against the Nuggets, then, becomes Big Test 2.0. On the other hand, the Nuggets are short some size, with Kenyon Martin and the Giant Neck Tat Connected to Chris Andersen's Body in street clothes. And they've lost two straight, leaving the Nuggets at 4-4.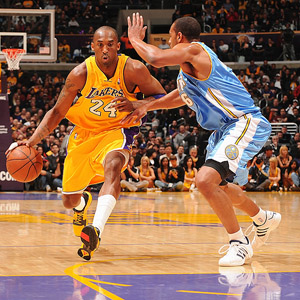 Evan Gole/NBAE/Getty Images
Arron Afflalo gives Kobe as tough a run as anyone in the league.
Any game at the Pepsi Center, with its Lakers-hating fans and high-above-sea-level location, is tough, but do Denver's problems knock this game down from serious test to open book quiz? We'll find out.
Here's what to watch...
Arron Afflalo: He's a hard kid not to root for, even for Lakers fans. Not blessed with with overwhelming athleticism, Afflalo has carved out a space for himself in the NBA through hard work and a commitment to defense, something he displayed nightly during his UCLA days. These days, though, his game has grown beyond scrappy defensive stopper status. Tuesday at practice, Kobe Bryant praised the former Bruin's total floor game, saying if given the chance, Afflalo could do more offensively for the Nuggets. Kobe may want to double check Afflalo's numbers through Denver's first eight games, because he's already on his way: 13.6 points on 57.4 shooting, both career highs.
Phil Jackson was free with his praise for Afflalo Tuesday afternoon, as well. "He's got good length. He likes to get up in a passing situation that makes it tough for Kobe to catch and not have easy access for the ball. He contests well on shots, he's got good help from the backside from the type of defense they play," Jackson said. "Offensively, he stays active and busy and keeps Kobe occupied defensively, too, so on both ends of the court he has been effective."
Last season, in three games against Denver, Kobe averaged 22 points on 37.5 percent from the floor. Is that all Afflalo? Of course not, but he's about as effective on Bryant as anyone around, and more importantly, isn't scared of him. On national TV against the two-time defending champs, guarding arguably the planet's best scorer, is no easy task, but it'll be fun for the rest of us to watch.
Al Harrington: "Obviously he's a versatile player. A guy who can get hot, and is an offensive threat. He makes shots, and stretches your defense out. If he's sharp, he can do some damage," Pau Gasol says of Denver's highest-profile free-agent acquisition. Thus far, the Nuggets are getting their money's worth. Harrington has been on bad teams for long enough now it's easy to forget what he can bring to a good one -- 14.5 points a night, along with nearly six rebounds and two assists, and a very respectable 40 percent mark from behind the arc, all in 28.5 minutes a night off the bench.
His ability to force defenders to honor his shot will put pressure on the Lakers to rebound, as someone, whether Gasol or Lamar Odom depending who else is on the floor, has to leave the paint to either close on Harrington, or prevent him from shooting in the first place. Fewer bigs around the rim mean more chances for the Nuggets to slide in and snare an offensive rebound or two. Or three, or 11, if you're Kevin Love on Tuesday night. "We're going to have to make sure we're extra active, and just putting bodies on people and protect our lane from penetration," Gasol said. "I think we have to do a better job collectively protecting the rebounding end." In a lot of ways, this game stands as a litmus test for the Bynum-free Lakers.
Against Toronto and Minnesota, the Lakers played poorly but at least could say those teams are among the better rebounding groups in the league. Denver, on the other hand, doesn't do much on the offensive glass. If they start hauling down miss after miss, it'll be a bad sign.
Obviously they need to box out -- too often the Lakers don't put a body on a body -- but slowing down penetration will help. So will handling Carmelo Anthony with one defender. Ron Artest did a number on him at Staples Center last year, in one of Ron Ron's more iconic defensive performances of the season. If he can do something similar tonight, it'll be much easier for everyone else to stay home. Fewer rotations to help mean fewer holes under the basket, which means fewer offensive rebounds surrendered.
Schedules: On the one hand, the Lakers are the team getting on the plane and landing in altitude to play in a hostile building. I wouldn't call it a purely cosmetic advantage, but home court may not mean as much for the Nuggets Thursday night as it could on another evening. The Lakers will be Denver's fifth opponent in seven days, a stretch including a three-game road trip and two back-to-backs. Fatigue may not explain why the Nuggets allowed Indiana to shoot 95 percent from the floor during the third quarter of a looks-like-a-misprint 144-113 loss to the Pacers at Conseco, but it does help explain the loss itself.
The Lakers, meanwhile, have adhered to a tidy schedule with games every other day. Denver has had a day to recoup from the blowout in Indy, but the Lakers could still be the team with more energy at hand, even though they're on the road.
On the other hand, nobody likes being on the wrong end of the stort of statistical Halley's Comet serving as an early Christmas for the folks over at Elias, as the Nuggets were against Indiana the other night. Between that, the natural rivalry with L.A., and the national TV audience, Denver should be pretty motivated.