After last week's relative ease, things could turn mite trickier for the Lakers. Nothing they can't necessarily handle, but definitely more complicated than a string against Milwaukee, Detroit, Minnesota and Golden State minus David Lee. The Lakers won games they're supposed to by all rights. This week may require a little more earning.
Game of the Week
Friday @ Utah Jazz, 6 p.m. PT
The Jazz have garnered much buzz these days for a string of come-from-behind wins. Five in succession, the final four on the road, battling double digit deficits at some point in every case. There was even an OT win in South Beach with Deron Williams fouled out. Clearly, this showing is proof of their resiliency and mental toughness. And as someone who's always questioned Carlos Boozer's heart but never his desire to build stats and get paid, I find the timing anything but coincidental.
No doubt the now-Bull is talented (on one side of the ball, if nothing else), but he's never struck as a player I'd want on my side with the chips down.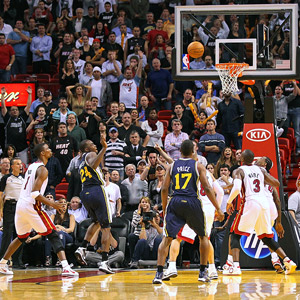 Mike Ehrmann/Getty Images
Paul Millsap came up huge against Miami, and has always challenged the Lakers.
Conversely, I think Paul Millsap taking over for Boozer makes gritty success this season no accident. Beyond his 20 points and nine rebounds per game, and beyond specifically his crunch time heroics during the Miami win, I think there's something infectious about an All-Star caliber player with a lunch-pail attitude. It reminds me of Kobe's effect on the Lakers, in that nobody lower in the food chain can lay claim to outworking him.
There's a reason the Jazz never appeared threatened by Boozer's last few seasons with one foot out the door, and paid a pretty penny to retain Millsap's services off the bench. On a few levels, the latter is an upgrade, and Phil Jackson recently noted how Millsap used to provide more fits than Boozer. If anything, they wish he stayed in Utah.
Interestingly though, the Jazz's typical mark while playing at the Energy Solutions Center hasn't been as strong. Admittedly, the season is young, but they're only 3-3 at home. Granted, losses against Phoenix, Oklahoma City and San Antonio aren't disgraceful, but nonetheless games you expect this home court advantage to carry. (Oddly enough, the Jazz have traditionally struggled on the road, but are 6-2 as we speak. Go figure.) The Salt Lake crowd is loud and nasty, and gets particularly fired up when the purple and gold (and Derek Fisher, unfortunately) come to town. It wouldn't surprise me if this energy goosed a strong home performance from the Jazz, so the Lakers better be on their toes.
Other Games
Tuesday vs. Bulls, 7:30 p.m. PT
Despite the absence of splashy free agent acquisition Boozer (hand injury), the Bulls have been chugging along, even without a slew of games in the underwhelming Central Division as a cushion. Guys like Luol Deng, Taj Gibson and Kyle Korver are doing their part to fill the gaps in Boozer's absence, but at the end of the day, the Bulls are built around Derrick Rose and Joakim Noah, the former a shoo-in to make the All-Star team and the latter smart to at least hold off making vacation plans for that weekend.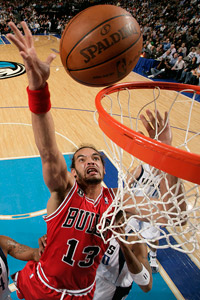 Glenn James/NBAE/Getty Images
Have fun with this cat, Pau.
Fourth in the league in the scoring (25.2 ppg, 1st among point guards) and eighth in assists (8.5), Rose isn't just the Eastern Conference's best point guard not named "Rajon" or "Rondo." He's arguably as integral to his team's overall offense as any player in league. He's also ridiculously fast. Ron Artest and Matt Barnes did nice work bottling up a similar assignment in Monta Ellis on Sunday, but Rose represents an upgraded challenge. Better dust off the track shoes.
Even more intriguing is Noah's matchup with Pau Gasol. El Spaniard is coming off a perfect game against the Warriors, but Golden State's front line was described by Matt Barnes as "midgets," and not just out of spite over Pau stealing his thunder. Recreating similar success would truly be eye-opening against Chicago and Noah, who isn't massive in size but plays as big as any center in the league. Noah's general activity is off the charts and keeping him out of the paint and off the board will require Pau's head on a well-lubed swivel. (To a lesser but still notable degree, the same goes for Lamar Odom against Gibson, who's questionable for the game. Chicago's starting bigs play with as much energy and hustle as any tandem in the league.)
Sunday vs. Indiana, 6:30 p.m. PT
For me, the most interesting part of this game is my parents in attendance. The folks are in town for the holiday, and for Mom's birthday, Brian and I are surprising her with tickets. The last time she attended a game was as a member of the media -- she even interviewed Coby Karl! -- so it'll be nice to be able to kick back as a fan this time around. She loves spectacle and celebs, and is guaranteed to have a blast regardless of opponent quality. Which is just ducky, because the Pacers don't offer much in the way of a challenge.
Sure, Danny Granger is making a strong case for All-Star votes. Roy Hibbert is balling at a level likely to garner "Most Improved Player"chatter, presenting another solid matchup for Gasol). Should Darren Collison's ankle heal up by Sunday, he's a blur to stick. And we all remember the 54-point quarter against Denver. But as a team they leave a lot to be desired. If Mom ends up entertained by a barn burner, it's likely more indicative of "Disrespectful Part II" than anything Indy did right.
(FYI. I can post this tidbit about Mom's birthday gift without ruining any surprises, because she never reads the blog, despite her Lakers passion. Nothing personal, of course. She just doesn't "get" blogs in general, nor her kids' place in this world. As she once put it, "You're not famous and these people don't know you. Why would they care what you guys think?" I've been searching for years and still haven't come up with an answer.)
Player to watch
Gasol. Three games. Three frontcourt players highlighted. A deep read between the lines isn't needed to pick up on a common theme. I'm guessing it's a week where Pau has his hands full. He's been logging a lot of minutes this season and at least against Chicago and Utah, I sense no change afoot. No rest for the weary.
A final observation
Barnes' and Gasol's back-to-back perfection from the line brought to my attention yet another reason this year's team is enjoying success: They're taking advantage of free throw opportunities. As a collective, the Lakers connect at nearly 82 percent, second just to Oklahoma City, and up from last season's 76 percent. Only one rotation regular (Lamar Odom) is shooting below 73 percent and when Andrew Bynum (74 percent last last) returns, he adds another player reliable at the line. You can never have too many of those guys, even for a team that doesn't live at the line.