From the outset of this season, it's been obvious if the Lakers were going to trade anybody, it would be Sasha Vujacic. He's in the last year of a moderately priced contract. An injury or a severe slump from a Killer Bee would be required to crack the rotation. And the lack of future as a Laker beyond 2011 is plainly evident. The problem was finding a workable deal. The Lakers understandably have no desire to take on additional salary, which means facilitating a deal with a team under the cap or bringing in a third team, which can be complicated.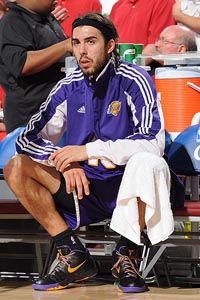 Andrew D. Bernstein/NBAE/Getty Image
Sasha was every bit as happy about his situation this season as he looks here.
To paraphrase Han Solo as he's about to enter an asteroid field, never tell Mitch Kupchak the odds. He took the latter route, and managed to find the right formula. According to ESPN.com, Sasha will head to the New Jersey Nets along with a future first round pick in exchange for veteran big man Joe Smith. They'll also receive second round picks from Golden State (2011) and Chicago (2012), plus the rights to Ukrainian big man Sergei Lishouk, originally drafted by Memphis in 2004. (As part of the deal, the troubled Terence Williams heads from Jersey to Houston in exchange for another first round pick, fueling speculation the Nets are stockpiling draft assets to entice a trade for Carmelo Anthony. )
So how did the Lakers and Vujacic make out? In my mind, both parties come out ahead in the wash.
I'll start with the Laker haul. Smith makes the veteran's minimum and his arrival is as much -- more, really -- about saving approximately nine million bucks (counting the luxury tax hit). This cash off Dr. Buss' books can only enhance the odds of resigning Shannon Brown and/or Matt Barnes, should they opt out as anticipated if their strong seasons continue. Or make quality replacements more feasibly inked, should both bolt. Either way, money was a driving element.
From a basketball perspective, I pegged Smith during the summer as a sensible acquisition to play the D.J. Mbenga/Josh Powell role. Recent campaigns in New Jersey and Atlanta hint he's no longer the player he was a few seasons ago, much less the guy the Wolves risked their entire franchise to pay under the table. But assuming Andrew Bynum, Pau Gasol and Lamar Odom stay healthy, Smith won't be asked to do much besides enhance practices and provide his famously good locker room presence. Should periodic frontcourt injuries surface, Smith will be asked to provide what Theo Ratliff offered before getting hurt: A breather for the bigs in the rotation, veteran smarts and a willingness to do what he's told.
If more is asked for over long stretches, the Lakers are likely in deep trouble, but that's more about the A-list talent lost than Smith's inadequacies. But in a pinch, he can probably get by and I doubt a better option would have been available within the same cost-effective parameters.
As for Sasha, it may feel bittersweet leaving the only team he's known and a franchise he loves for an eastern conference bottom feeder, but the move is positive. His stock has plummeted and a showcase platform is needed. It's by definition impossible for him to play less in New Jersey. And perusing the Nets' weak bench and generally unimpressive backcourt, there is a chance to earn some decent run. Plus, as much as Sasha demonstrated more restraint this season about complaining over minutes -- if for no other reason than the media basically stopped asking -- he was clearly unhappy. Vujacic wasn't an important enough player to torpedo the season through moodiness, but that doesn't mean the situation couldn't become problematic on some level. Better to rid the problem now than let it fester.
The only downside? Reuniting with Jordan Farmar for another go as the NBA's least cooperative backcourt. It was something of open secret these two didn't particularly enjoy playing together, and I couldn't help but find twisted amusement in them two side-by-side once again. I'm only half-kidding in predicting an ESPNNewYork headline reading "Nets backup demands trade, bottle of Jack Daniels" in the very near future.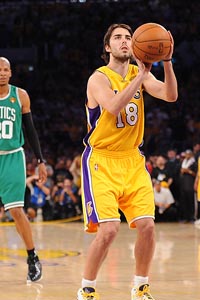 Noah Graham/NBAE/Getty Images
Sasha will always be remembered for these freebies.
As for Sasha's six-plus seasons in L.A., they were a pretty mixed bag. 2008 was the high point, when he helped anchor the team's surprise run to the Finals. His opportunity was in large part the result of Trevor Ariza's injury, but Sasha nonetheless played dependably and under control. And there were two iconic free throws sealing Game 7 against the Celtics, a seriously impressive feat between the pressure and how rarely he visits the charity stripe. Laker fans will forever owe Vujacic a hearty handshake for the ice water in his veins, and it was nice to see his minimal playoff presence culminate in a meaningful contribution.
But while these highlights mattered, the rest of Sasha's time in L.A. was equal parts underwhelming, erratic and exasperating. From the time he arrived, Vujacic's high strung, hyperactive personality has served to undermine his career rather than assist it. More often than not, the results were rushed shots, ridiculous fouls or juvenile retribution against Goran Dragic, headstrong behavior making Sasha hard to rely on.
There was also a maddening inability to learn from mistakes. Always PT obsessed, Sasha had a terrible habit of trying to "play his way" into a bigger role -- as opposed to just playing -- which meant trying to cram 25 minutes of production into 13 minutes of run. Predictably, this selfish mindset led to fewer minutes and a decreased role. By the time the lesson took in any tangible way, the damage was done. Shannon Brown emerged a more talented (and coachable) two-guard, while a lack of playmaking skills meant Steve Blake would be Derek Fisher's backup.
The writing, as they say, was on the wall.
In any event, wherever Sasha's career takes him, I wish him the best. I've long questioned whether he has the skills to be more than a marginal NBA player, but it's not for a lack of effort. If anything, he often worked too hard for his own good. That Brian and I have capitalized on Sasha being an easy target for jokes doesn't change the fact he's also a nice kid. When he arrives in L.A. on January 16 as a member of the Nets, I hope Staples patrons greet him with warm applause. Whatever disappointment some may feel about his time in purple and gold or inability to live up to a bigger contract, he earned that much appreciation.