After winning a game against the Clippers they deserved to lose, the Lakers took their lumps in Chicago. Happily, they quickly righted the ship on the season's first long road trip, ripping off five straight wins in generally impressive fashion. Not exactly against top notch competition, but you can only play the teams on the schedule, right?
Given how they'd played going in, no game could be considered a shoe in.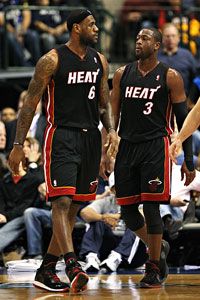 Matthew Emmons/US Presswire
The long awaited arrival of Dwyane Wade and LeBron James to Staples Center comes Saturday. Just as an FYI, for those just re-entering civilization.
Now, though, things are looking up. Andrew Bynum is back, a welcome sight for Pau Gasol. The bench remains an asset, and, finally, after a great deal of hype...
...it's beginning to look a lot like Christmas.
GAME OF THE WEEK
Saturday vs. Miami (Saturday, 2 pm PT, ABC)
No disrespect to the Bucks or anything...
It's been talked about since the schedule was released and, shockingly enough, the Lakers and Heat were paired together for the marquee matchup of Christmas Day. Fortunately, despite the long build up and accompanying hype the game itself has the potential to be as intriguing and exciting as a regular season game can be. Setting aside momentarily legitimate criticisms about the process of forming the team (perhaps you heard LeBron James made his announcement on television!), from the moment Miami inked their Big Three there's been an intense push to figure out how this high cost, high stakes experiment in franchise construction would work.
And if it would create a rivalry between the teams. To the point more than one Laker was asked opening night, after the Heat fell to Boston, if it felt weird to be rooting for the Celtics so soon after the Finals. The Lakers, not surprisingly and quite rightly, found the line of questioning bizarre (at best).
An actual rivalry -- something akin what exists between the Lakers and Celtics or Nuggets -- will have to wait, because it doesn't exist right now. Interest and debate about the teams make them something, but the players don't call it "rivals." Called by any name, Saturday's game most definitely represents a potential Finals pairing, and a measuring stick for both teams. The Lakers match up as well as any team in basketball with Miami. In Ron Artest, they have a defensive specialist with the size to deal with James. Dwyane Wade has to face Kobe Bryant. Pau Gasol is a brutal matchup for Chris Bosh on both sides of the floor. Particularly with Udanis Haslem sidelined, the Heat don't have a natural match for Lamar Odom.
Meanwhile the questions of whether Miami's slapdash non-Bosh front court -- Zydrunas Ilgauskas, Joel Anthony, and Erick Dampier -- can handle L.A.'s versatile, talented trio of Gasol, Odom, and Andrew Bynum are legit.
After their initial problems, surprising on an emotional level but less so intellectually (an entirely reformed team, no matter how talented, takes time coming together) the Heat are rolling, winners of 12 straight heading into their game Monday night with Dallas, and welcome Mike Miller back to the lineup, a high end shooter, ball mover, and rebounder who should elevate the Heat even higher once fully integrated into the lineup. While they figure out how to thrive at full potential offensively (they're already pretty good), Miami is already an elite defensive team, only a few tenths of a point behind NBA leader Boston in defensive efficiency.
Strip away all the externals, and you're left with a game between two incredibly talented teams. Should be fun to watch.
OTHER GAMES
Tuesday vs. Milwaukee (7:30 pm PT, FSN)
Call them the opening act.
Before the Lakers can get to Saturday's game, they''ll need to deal with the Bucks. In mid-November, the Lakers took care of Milwaukee at their place, with relative ease behind 31 from Kobe Bryant, 21 from Shannon Brown, and 18/10/4/3 from Pau Gasol. The Lakers shot almost 54 percent from the floor, and hit 24 of 29 from the stripe.
Before the season, I pegged Milwaukee as the likely fifth seed in the Eastern Conference, behind Miami, Boston, Orlando, and Chicago, but also as the team nobody would want to play once the playoffs rolled around. Scott Skiles gets his guys playing hard. While Brandon Jennings can fly, they tend to grind, sporting the league's 23rd ranked pace factor. Except if the postseason tournament started today, beyond really messing with season ticket holders, it would also not include the Bucks, currently sitting in ninth with a 10-15 mark. Shows what I know.
That the Bucks are slumping is at least a little surprising, though they've seen a run of significant injuries. Not exactly a team with heavy firepower, it's not surprising the Bucks aren't effective offensively, ranking 29th in efficiency thanks in large part their league low 41.3 field goal percentage. The Bucks are also bottom third in three pointers made, and free throws attempted.
They are, however, a strong defensive squad, so the Lakers will need to mind their offensive principles Tuesday night, as they generally did on the trip.
Milwaukee, 3-9 on the road, plays Monday night in Portland, meaning Tuesday's tussle will put them on the wrong end of a back to back, yet another advantage for the Lakers. Moreover, Jennings didn't make the trip to Portland, thanks to an foot injury suffered in Milwaukee's loss to Utah Saturday night. He's very questionable for Tuesday night.
UPDATE: From questionable to out. It was announced Monday Jennings will miss the next four-to-six weeks following surgery to repair a fracture in his left foot. Those of you hoping for more Keyon Dooling, congrats! This game is for you.
PLAYER TO WATCH
Andrew Bynum
After Tuesday's game the Lakers get three days of practice, something Bynum desperately needs to get himself back into high form. Sunday's game, in which Bynum scored 16 points and hauled down seven boards, was definitely the strongest in his very brief season and points to positive things to come, but Bynum needs as much time on the floor as possible in order to hone his timing with the baby hook, and everything else in his toolbox.
He doesn't have to be spectacular -- from Pau Gasol's POV, he just needs to be available -- but is certainly capable of being a force once his sea legs are fully under him.
Phil Jackson says at some point Bynum will return to the starting lineup. Whether it happens by Saturday or not (with the extra practice days, I suspect it might), Bynum will have a valuable role against Miami's centers. Joel Anthony is undersized, Erick Dampier is overrated, meaning Bynum will be seen as a man with an advantage near the basket.