Phil Jackson mentioned after the Christmas debacle his hopes for a strong 2010 finish. Were Santa open to a second round of letters, there would be a boatload of purple and gold stationary en route to the North Pole echoing these sentiments. Hopefully, the Lakers won't count on the power of leftover elf magic to get the job done.
Game of the Week
Tuesday at San Antonio, 5:30 p.m. PT
Some might argue Phil Jackson, one step removed from a doctor's note excusing his team from the Christmas game, did little to motivate a group already in cruise control. Still, PJ was correct in downplaying the importance of the Heat matchup compared to the back-to-back roadies around the corner, games within the conference and holding playoff seeding in the balance.
In particular, Tuesday's game has some marbles at stake.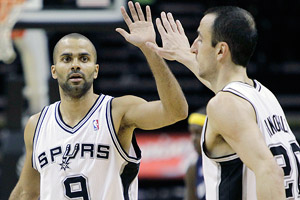 AP Photo/Eric Gay
Are these guys too much to handle in a road
playoff series? The Lakers don't want to find out.
Brian recently laid out numbers illustrating the potential difficulties facing the Lakers in a Three-Peat quest as a two-seed or lower. (I don't personally value the home-court advantage as heavily, but would still rather have it, given a choice.) As it stands, the two-time defending champs sit five games behind the Spurs for first place in the Western Conference with 52 games remaining. Is this an insurmountable hill to climb? No, but we've also officially reached the "no more dillydallying" point. The gap will increase or decrease one full game after the final horn and the Lakers can't afford to be on the bad end of a big swing.
You know how certain apartments are listed as "Beverly Hills adjacent," because that sounds more glamorous? Well, this game may not truly be "must win" for the Lakers, but it is certainly "must win adjacent" in the grand scheme of locking up the best seed possible.
Other games
Wednesday @ New Orleans, 5 p.m. PT
The Lakers aren't the only team plummeting to earth these days. After a summer of front office turmoil, trades and rumors of Chris Paul-Carmelo Anthony-Amare Stoudemire power play in the works, the Hornets shot out of the gate. They were the last team to remain undefeated and sported an 11-1 record on Nov. 21. Since then, they've gone 6-11 and played like the team everyone assumed CP3 wanted to bolt.
As for the hardwood action, Trevor Ariza could be intriguing on both sides of the ball. I've written countless times -- most recently in regard to Jordan Farmar -- of my fascination with players competing against former teams. In particular, how often they try to bury their former team, which often results in burying their current team. I nicknamed this "the Ariza Syndrome" in honor of his hyperactive floundering last season against the purple and gold: 25.9 percent from the field over four games, 11.3 points average on nearly 15 shots per contest. These showings were an extreme microcosm of Ariza's struggle as a third option in Houston last season.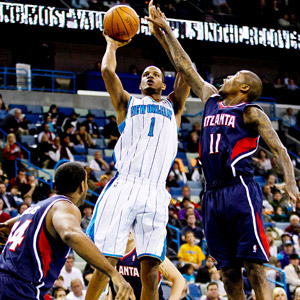 Derick E. Hingle/US Presswire
Will Trevor Ariza hurt the Lakers more with his D or the Hornets with his O?
Erratic as Ariza was last season, that was Swiss watch stuff compared to his current campaign: 10.3 points on 10.1 shots, with respective field goal and three-point percentages of 36 and 26 percent. Combined with a nearly even assist-to-turnover ratio, his PER sits at a lowly 9.4, barely above D.J. Mbenga's.
Still, At The Hive recently crunched some numbers to demonstrate just how outstanding Ariza's defense has been. Wing players have continually remained in check, which bodes well as Trevor draws the likely assignment of 24. The Hornets can endure Ariza firing away like a shotgun with a faulty sight if he induces an equally inefficient night from The Mamba.
Friday vs. Philadelphia, 7:30 p.m. PT
After 30 games, the Lakers have demonstrated a consistent inability to get up for regular-season games against mediocre competition. On Christmas, they demonstrated the same inability in a hyped contest that happened to fall on a holiday. As I noted while predicting a Heat win, I feel the home team is at a considerable disadvantage during holiday competition. There are plans to juggle and families to appease, all of which makes focusing on the task at hand that much more difficult.
On a related note, the Lakers will be playing the 12-18 76ers (4-12 on the road) on New Year's Eve.
Do you see where I'm going with this?
Sunday vs. Grizzlies, 6:30 p.m. PT
Over the past few seasons, Kobe has destroyed the Grizzlies and this meeting shouldn't be an exception. O.J. Mayo has proven himself wholly incapable of containing Bryant (particularly in the post). Tony Allen was brought in specifically to slow elite wings, but is too big a train wreck offensively for long stretches on the floor. (See: Brown, Kwame.) Xavier Henry is a rookie and rookies typically don't bottle up Kobe. On paper, the matchups remain strongly in the Mamba's favor.
Having said that, results also can't be forced.
During the teams' November meeting in Memphis, Bryant came out gunning like a mad man who was supposed to bury these hapless challengers. Unfortunately, the ball didn't cooperate. Sixteen of 25 shots failed to drop while Bryant seemed determined to prove his dominance against the Griz rather than run an offense. Kobe never got on a steady track and, as is often the case during Mamba-centric outings, his teammates failed to discover any rhythm, either.
If I had to guess, this was more fluke than a sign of things to come. It is, however, the umpteenth example of what can happen to the Lakers without balance, even against an opponent traditionally owned by Kobe.