Apparently, whatever motivational tactics Kobe Bryant had in mind following the Miami game didn't take.
On a night far more important when it comes to practical, how-the-West-will-eventually-be-won implications, the Lakers once again laid an egg, squandering a nice second-quarter run to once again lose by double digits. The Lakers are now six games behind San Antonio for the top seeding in the Western Conference but have far more to worry about. Their offense, so potent at the start of the season, has fallen off a serious cliff. Meanwhile, their defense couldn't pull them through.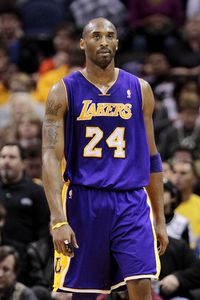 AP Photo/Eric Gay
I have had to use WAY too many pictures of unhappy Kobe lately.
The Lakers lost going away, despite quiet nights from both Manu Ginobili (nine points), and Tim Duncan (one field goal). Why? They shot 35 percent as a team, had critical turnovers, and couldn't control guys like DeJuan Blair (17 points, 15 boards). Still, San Antonio shot a manageable 42.5 percent, and left the door open. The Lakers just kicked the door jamb -- repeatedly -- as they tried to go through.
As it stands, the Lakers, facing another tough game Wednesday in New Orleans, will either need to play dramatically better basketball over their final 50 games in the face of a brutal schedule, or hope San Antonio comes back to the pack. Credit the Spurs -- they played a strong team game and don't look the slightest bit ready to backslide. The Lakers will improve as the season goes along (it'll take some time, though, because what ails them is far more than simple boredom), but the context of this season has very likely shifted for good.
Here's how it broke down, bad news first...
Three Down:
1. Kobe Bryant. He came out hot early, going glass on Ginobili on his first shot of the game, popping to the free throw line away from the ball to hit another jumper, and finishing another possession with a brutally tough, fadeaway jumper over Manu. All told, it was a 4-for-5 start for 24, and it looked as if he was going to roll. Or maybe not. He'd finish the first quarter 4-of-10, and go to the half 4-for-14. In the third, he managed to hit a shot. Singular, ending a streak of 13 straight misses (a personal single-game record, no surprise). Heading into the fourth, Bryant had missed 14 of 19. A brief flurry in the fourth brought up his point total, but in the end he finished 8-of-27.
For those keeping score at home, that's 16 more attempts than any of his teammates. Nineteen more than Pau Gasol, 18 more than Lamar Odom. And, as Bryant will often do after going cold, he spent much of the game trying to shoot his way back into form, despite ample evidence ball movement and inside touches were an effective strategy for the Lakers. Bryant grew, rightly at times, frustrated with his inability to get a whistle -- he went to the line only twice -- but too often left the context of the offense to try to do the Superman thing even as San Antonio defended him aggressively. Even at the start, when he was hot, it was a bad tone.
Too much Kobe early threatens to take everyone else out of the game, unless he can reverse course and take less upon himself as a shooter. 10 shots in the first quarter -- and he didn't play all 12 minutes -- doesn't qualify.
Moreover, he turned the ball over five times overall, helping fuel opportunities the other way for the Spurs. This against one assist (could have been more, in fairness, had teammates knocked down a few jumpers). Kobe is a remarkable player capable of doing great things, but when he shoots with this sort of volume, he absolutely cannot miss 19 of 27 -- eight more misses than any teammate had attempts -- and can't give the ball away. It leaves the Lakers with no other outlet.
This is a team that thrives on balance.
2. Derek Fisher. It was nice of Fisher to show some solidarity with Bryant by having a poor night, but probably not necessary. One field goal, two points, four fouls. The low point came in the third quarter, when at the 4:11 mark Fisher took an unnecessary 3 on the wing with about 12 seconds left on the shot clock, and tried to draw contact on Tony Parker in the process. The hoist missed, no whistle came, and the Spurs had a run out the other way. Parker missed the layup, and Richard Jefferson bumped Fish out of the play, grabbed the ball and scored. Frustrated at the contact (or not getting the call at the other end), Fisher trailed Jefferson to half court and got in his face, picking up a technical foul.
Bad shot leads to points, which Fish makes worse with the T. A six-point deficit swells to nine.
A couple of plays later, Fisher came off a baseline screen to take a pass from Matt Barnes at the top of the key. Slowing down because he didn't think the pass would be contested, Fisher had the ball tipped away by Parker, who went the other way for two more. All in all, a poor showing from a guy the Lakers depend on to be, well, dependable.
3. Backup Backcourt. At least Fish had company. Give Shannon Brown credit for nine rebounds, but between Brown and Steve Blake, the reserve guards shot 2-for-16, with 11 of the bricks belonging to Brown. (Again, if you're keeping score, Lakers guards were an abominable 11-of-46. Yeeps!) Blake seemed oddly tentative with his passes, and Brown's shot selection, so strong for most of this season, was periodically questionable.
Three Up:
1. The Second Quarter. After nine-ish minutes of Kobepalooza to open the game, the Lakers found balance in the second quarter with Bryant on the bench, and roared back from a nine-point deficit. It started with a patient sequence in which the ball cycled through all sorts of hands. Gasol gets a quick entry at the left elbow, and makes a quick feed to a cutting Barnes. Barnes drives and kicks to Blake in the corner, who makes the entry to Andrew Bynum. A Matt Bonner foul sends Drew to the line. More good stuff followed. Bynum with good recognition and patience in the face of a double from the right midpost, kicking to Brown for 3. Gasol with a quick flip from the elbow to Blake, delivering a nicely timed pass and simultaneously setting a screen. Moral of the story? The more the Lakers moved the ball and made sure the bigs touched it, the more success they found.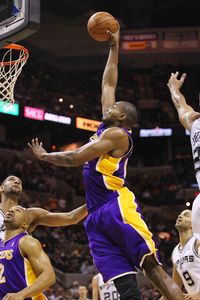 Ronald Martinez/Getty Images
Looking for a silver lining? Andrew Bynum played his best game since returning to the lineup on Tuesday.
Gasol had seven points in the quarter, Odom five (jumpers off plays where the Spurs dared him to shoot), the Lakers shot nine free throws (after earning nary a freebie in the first 12 minutes) and drew eight fouls on the Spurs, many coming as San Antonio was forced to foul on entry passes.
2. Andrew Bynum. Easily the best game he has played since returning to the lineup after offseason knee surgery. He had 10 points, plus seven rebounds. More important, he was active. Seriously active, both offensively and defensively. He moved well in the post to make himself available for entry passes and offensive boards. On the other end, he made himself a major factor. Perhaps his best sequence came in the fourth quarter, when on San Antonio's first possession Bynum went from the right block all the way to the corner to alter Gary Neal's 3-point shot, and less than a minute later made a strong contest and block of Ginobili as San Antonio's star created penetration off the dribble.
He rose up to dunk in the first half, hit a couple of nice hooks, and generally was a presence. Had Drew managed to hit a few more free throws (he was a hideous 2-of-8 from the stripe), it would have been a truly great night. As it was, Bynum still played a very strong game.
3. Punt. Barnes was active, Ron Artest had moments, and I thought Gasol played a very strong first half on both sides of the floor ... but really, they don't deserve to have this slot filled.