Sweet fancy Moses! The Lakers won a game! And in dominating fashion no less! To say this victory was needed would be a massive understatement. Does this showing mean the kinks have all been worked out? Not by a long shot. But this was a breath of fresh air, both in result and execution.
Three good
Balance/Ball movement/Big men
(Pretty clever use of alliteration to maintain the "three formatting," huh?)
After a San Antonio debacle featuring Kobe Bryant (by his own admission) hucking the ball too much and the ball moving too little (especially in the direction of anybody on the tall side), the Lakers got back to what works best for them: All hands on deck. The rock changing said hands at a steady rate. And the biggest hands (those belonging to the frontcourt players) were typically full.
The first quarter ended with all five starters on the board and six points apiece for Kobe, surprise starter Andrew Bynum, and Pau Gasol. It set the tone as every Laker who played 10-plus minutes entered the scoring column, hitting at 58.6 percent against a host talented at the lockdown. Even more indicative of the balance, nobody took more than 15 shots. Patience was exercised in search of quality looks. Three-pointers were generally created from the inside-out and, in no bit of coincidence, were wet.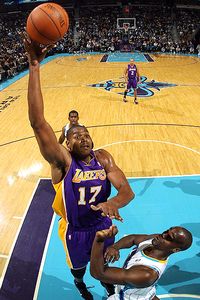 Chris Graythen/Getty Images
Andrew Bynum reentered the starting lineup and made his presence felt.
As for the Lakers triple towers, size indeed mattered. Pau and Drew accounted for 31 points. El Spanaird, after initially struggling to hang onto the ball, dished out a quartet of assists and was extremely aggressive despite the rugged presence of Emeka Okafor. For his part, Bynum logged a season-high 30 minutes and sported lively legs, especially when Kobe set him up for a third quarter alley oop. These are the moments Lakers fans live for, the ones signaling Bynum moving closer to "all the way back" status.
In the meantime, if Lamar Odom minded his move back to the bench, he has a funny way of pouting. Dude put up 24 points off the bench (10-for-15 shooting), accounting for nearly one point per minute in under 30:33 of run. He also provided the night's best SportsCenter moment. After a wild sequence where the ball was turned over between teams, LO wound up with the rock. The floor was run, then Odom went behind the back, threw the ball to himself off the glass, then threw down. The southpaw earned it on a night like this.
And by the way, Kobe still managed to get 20 points on just 14 shots, plus four assists. Funny how that works.
Derek Fisher
NBA fans typically love to celebrate beards. Baron Davis. Ronny Turiaf. James Harden. (Gasol often gets "second-tier" love of sorts for his hirsute face.) Well, Derek Fisher took the court today jarringly clean-shaven, which would normally be a cause for mourning in the Laker Nation. Well, if Wednesday's performance was an indication of things to come, they'll demand Fisher bust out the razor and Barbasol at halftime. The exposed cheeks weren't the only reason I barely recognized Fisher.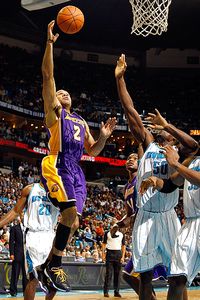 Chris Graythen/Getty Images
And he did it without a beard!
This was El Presidente's best all-around game in quite some time. December has been an erratic month shooting for Fisher, but he couldn't miss during the first half. He was perfect on three tries, including a 3-pointer launched from roughly Baton Rouge. He was also dishing like the traditional point role he typically doesn't take on. Five dimes in the first half alone (eight in all), including a bullet to Odom in transition for an easy layup. If you had asked me before the game who'd finish with more assists between the old man and Chris Paul, my (lost) money would have been on the Hornets All-Star.
In the meantime, Fisher's defense was all about the little things, where he often makes the biggest difference. Three steals. Charges drawn. And as often as I've marveled at Fisher's propensity for deflections and breaking up passes, he pulled a move I've never seen from him before: Blocking a sideline entry pass from Paul on the Hornets' final possession of the first half. The feat was remarkable for someone of Fisher's stature, and crushed any chances of the Hornets bringing some positive momentum into the locker room.
Defense
Let's see. The Hornets were held to 41.8 shooting, with just four triples in 16 tries. After CP3 (20 points), the most prolific Hornet was Marco Bellinelli with 15, but he needed 16 shots to get there. New Orleans got out-rebounded by a margin of 20 and turned the ball over 14 times (and it felt like more). Yeah, I can get behind that.
Three Bad
Turnovers
Generally speaking, if you turn the ball over 20 times on the road, you ain't gonna win. Somehow, the Lakers managed to play with serious fire and escape without even a first-degree burn. In particular, Kobe struggled, turning the ball over seven times, including back-to-back ball-handling violations. The Lakers were lucky every other part of their game was on point, because care of the ball was anything but.
Matt Barnes getting tossed
There were only 43.2 seconds remaining when he apparently said something NSFW after jostling with Jarrett Jack for a loose ball. (Ironically, Jack was the one called for the foul.) As an isolated incident, not a huge deal. But while it's Barnes' dough to waste, I'd rather blow money on something more fun.
Punt
If you really wanna nitpick, you could cite Steve Blake picking up three first-half fouls in just 5:20 of run. Shannon Brown's shot selection was occasionally wonky. But in the grand (or even minor) scheme of things, this was pretty insignificant stuff.