There are bad losses (Christmas against Miami). There are bad losses (Sunday against Memphis, one week ago against Milwaukee). And then there are "stock up the canned goods, gather the family and find shelter, because an apocalypse is nigh" losses.
The third category is how I'd peg a fall to the 11-23 Pistons (playing the second end of a back-to-back) on Lakers soil. Frankly, anything short of a decisive trouncing, even acknowledging the Lakers' funk, would be disappointing. But a loss would leave them staring up at rock bottom.
For a quick look at the Pistons, who are struggling on a multitude of levels, we turned to Patrick Hayes of the TrueHoop Network's PistonPowered blog.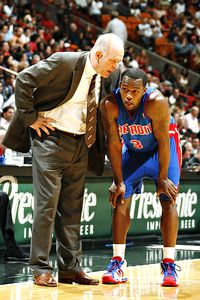 Issac Baldizon/Getty Images
Whatever "Q" is saying to Rodney Stuckey, chances are the point guard didn't appreciate it.
Q: Detroit has lost 14 of 21 since the Lakers left town on Nov. 17. What is the recipe for a winning game from Detroit? Is there a specific player or combination you see as critical for the Pistons to have a shot at upsetting the Lakers?
Patrick Hayes: The Pistons' locker room issues seem to be affecting the on-the-court chemistry. Rip Hamilton recently lost his starting spot to Ben Gordon and was not particularly happy about it. Gordon and Charlie Villanueva hinted strongly that the coaching staff does a poor job of making in-game adjustments. John Kuester (understandably) didn't exactly appreciate that. Tayshaun Prince and Rodney Stuckey have had public disagreements with Kuester this season as well.
But just when the Pistons look as though they're going to completely pack in the rest of the season, they tantalize with really efficient stretches of competent play against good teams. They beat Boston and Atlanta rather convincingly. They were leading Oklahoma City most of the game before blowing a lead in the final minutes. They've had two heartbreaking losses to Chicago in games when big leads were lost, and they played very well against Utah last night.
Reasons for Lakers fans to be optimistic, however, are abundant. The Pistons have routinely followed good performances with bad ones. Opposing bigs, even mediocre ones, have been able to get whatever they want this season against Detroit's small front line, and the Lakers certainly have far from a mediocre frontcourt, so Pau Gasol, Lamar Odom and/or Andrew Bynum all should have big games if L.A. is focused on getting them touches. (Odom and Gasol combined for 40 points and 26 boards the first time the teams played.)
The Pistons are is a jump-shooting team, so if more than one of their scorers (Hamilton, Gordon, Prince, Stuckey, Villanueva) has an off night, they can't generate enough offense to beat a team like the Lakers. They'll get virtually no scoring from frontcourt rotation players Ben Wallace and Jason Maxiell, but when the guards are active and shoot the ball well, they are competitive. Also, Tracy McGrady looks healthier than he has in years. He's not explosive anymore and won't attack the basket, but he's rapidly become Detroit's best point guard. The offense has run really smoothly two of the past three games with him starting in place of Stuckey, who was out with an illness.
AK: As I noted in my Week in Preview, T-Mac at the 1 is a subplot I'm quite interested to watch play out.
From here, I offer two elements specifically regarding the Lakers. At the risk of sounding like a team whose games don't mean as much to it as its opponents' games, this contest really is more about the two-time defending champs than the Pistons.
Focus
I realize focus as a category is vague. It can mean so much and apply to different players in different ways. That's also my point. On several levels, focus has emerged as an issue with the Lakers.
On the court, players have been disengaged, out of sync with one another and the game plan. As a result, lazy passes beget turnovers, which beget transition opportunities the other way. Big men with good position fail to get the ball in lieu of a long 2. Defensive rotations are late, and shooters are left open. Players appear unable (or even unwilling) to maintain concentration for whatever duration on the court.
For all the talk about how little the team exerts physically, its brains are causing me the most worry. The disconnect between players is obvious and rapidly increasing.
Perhaps it's a matter of life away from the court bleeding onto the hardwood.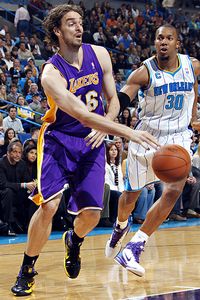 Layne Murdoch/Getty Images
Pau Gasol has been as guilty as any Laker of bad focus during the recent struggle.
Kobe Bryant has emphasized the need for players to prioritize the game much more and find ways to motivate themselves. Phil Jackson reiterated Monday his concerns about distractions breeding a lack of professionalism:
"We're a little afraid that some of the outside activity is an element that may be distracting them. I never thought that would happen. I thought we had professional guys, but maybe it is. People bring reports in, or talk about it, but I just don't usually weigh that.
"I won't name names, but I think that really one of the markings of what we do is try to get people that are professional, which is really about business and about attending to basketball first."
The way Phil phrased his words (purposely, no doubt), every Laker could wonder whether he's among the problematic. And that's exactly the way they should react. Assume Jackson is referring to you. Even if he's way off base, assume he thinks you're the problem and work to alleviate it. That way, everybody takes the court from here on out with an elevated focus.
Phil Jackson
Monday's practice was described by Dave McMenamin as a return to basics and fundamentals (and a grueling "Basketball 101" at that). After the wipe out against the Griz, Jackson, normally content to let players work through issues on the court, said the penalty for missed defensive assignments could be a seat on the bench. Combined with remarks about professionalism and distractions, the proponent for letting problems work themselves out could be moving toward Plan B.
If the writing is in fact on the wall, I hope he doesn't wait too much longer before reading it.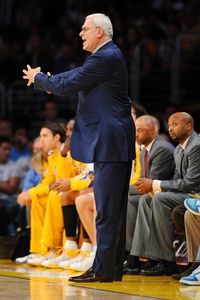 Noah Graham/NBAE/Getty Images
Phil Jackson may need to alter his approach as well.
Last week, in addressing various elements going wrong for the Lakers, I noted it doesn't appear Jackson has been as successful connecting with the team compared with seasons past. His biggest strength is his ability to motivate players. Typically, the approach is a combination of messages sent through the media while still empowering players, creating a stronger, wiser team when the postseason rolls around.
It's a tactic I find fruitful, but for whatever reason, something appears askew. I don't think Jackson needs to throw out the baby with the bathwater and completely reinvent himself as a coach. In the same way he believes in letting players be who they are (within reason), he has to be himself, too. Still, I do think tweaks of some kind are in order. No matter how successful the template, a carbon-copied approach is simply an extension of what's not working as we speak.
If the Lakers don't come out of the gate strong tonight, I'll be watching for Jackson's willingness to think outside his own box for solutions.