Neither BK nor I are totally up with the new look Phoenix Suns, but in fairness, neither are the Lakers. Those players we asked last night hadn't got much of a glimpse of Phoenix in the "J.Rich/Hedo out-V.C./Gortat/Pietrus in" era. After all, the newbies have only been eligible to play in five games, and Carter missed the first two of them with a bad knee.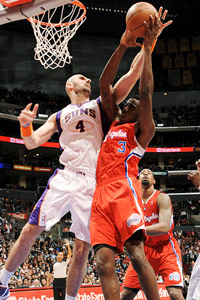 Andrew D. Bernstein/NBAE/Getty Images
Marcin Gortat has done a nice job fitting in on both sides of the ball in Phoenix.
Thus, I thought it was best to get the skinny from someone deep in the know. True Hoop blogger Michael Schwartz (Valley of the Suns) certainly fits the bill. Check out his take on the newest phase of what feels like a non-stop transition:
Andy Kamenetzky: What's your impression of the new additions so far?
Michael Schwartz: Individually they've been about what the Suns expected. Vince Carter has largely replaced Jason Richardson's scoring by averaging 18.0 points per game, although he's shooting just 42.6 percent from the field and has certainly lost a step or two. Marcin Gortat has gotten the bulk of the minutes at the center position coming off the bench and has proved to be the Suns' best big man, averaging 9.6 points and 5.8 boards per game while adding a defensive presence in the middle. He has showcased his athleticism in the pick-and-roll game and played better post defense than we're traditionally used to in Phoenix. Mickael Pietrus has contributed quality perimeter defense and his sniper shooting behind the arc (like when he hit five treys and scored 25 points against the Clippers), but he shot the Suns out of Sunday's loss to Sacramento by taking some bad attempts late.
They are fitting in just fine as individuals, but that chemistry just isn't there yet as a team. We have seen cutters zig when the passer think they will zag, which leads to turnovers. We have seen some forced shots from the newcomers that seem to be out of their comfort zone as they adjust to the new-found freedom in Alvin Gentry's system. And we have seen an overall lack of cohesiveness that's a stark contrast to the Suns team from a year ago.
AK: What's changed about the team with the roster shakeup, if anything, in terms of approach/game plan?
MS: I'd say this looks like the same team with different players that is just struggling to adjust. After yielding 123 to an Andre Iguodala-less Sixers team averaging 87 points in its previous six games, Gentry simplified this defense to make it more like the attack that helped the Suns roll to the conference finals last year. As Valley of the Suns' Mike Schmitz explains, this new defense involves trapping the ball handler hard off the pick-and-roll, then rotating. The Suns had been using different coverages in different situations, which led to lots of confusion and blown coverages in the Philly game in particular as the new guys struggled to adjust.
After a strenuous practice following the Sixers game, the new defense helped the Suns hold Detroit to 75 points, which ended a streak of 388 Phoenix regular-season opponents scoring more than 75, according to the Elias Sports Bureau. The Suns then held Sacramento to 75 points halfway through the fourth quarter before collapsing down the stretch.
Offensively, Steve Nash will still run his fair share of pick-and-rolls, with Gortat showing some proficiency in those situations. The Suns still rely on jump shots and really lack any kind of a go-to presence, so in that sense not too much has changed offensively.
AK: Gortat has been ripping the D, and I've read a few articles recently about it being terrible. Is this a function of the new guys and needing to adjust, or has the D grown worse? In either case, why?
MS: The Suns have played a mere three games with all their new guys, and they were very solid in two of them. The way they bottled up Detroit would be impressive for any defense. On paper, this team got better defensively with Gortat providing a presence inside and Pietrus locking things up on the perimeter. Especially since the Suns rely so much on help defense, everybody needs to be in sync for them to be even adequate.
Gortat spouted off after the Philly game, one of the worst defensive performances you will ever see, and it was stunning to hear him speak with such candor. He thoroughly ripped his new teammates, made reference to how much different things were in Orlando and said everything that players never do. There were no cliches, no BS to sift through. It was just the honest truth about a defense that had much to improve on.
The Suns certainly still have a ways to go after playing good D against a pair of bad offenses, but the defense has improved personnel-wise when you consider two good defenders (Gortat and Pietrus) and a mediocre defender (Carter) will be getting minutes previously played by a bad defender (Hedo Turkoglu) and a mediocre defender (Jason Richardson). The last two games leave me optimistic that the early struggles were the result of rebuilding synergy with guys not yet comfortable with the system.
AK: Do you think Nash will ever ask for a trade or the team will just trade him? Aside from the bucks he can generate at the gate, this feels like a mutual waste of time.
MS: That's the one issue that never ceases to go away, and for good reason. After every bad Suns loss there will be more and more whispers about this possibility.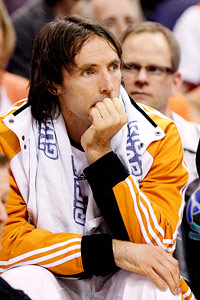 AP Photo/Ross D. Franklin
Steve Nash has a lot to think about these days.
After the Orlando trade, Nash went out and said that it's not like he can just place himself on any team he wants, so what's the point of asking for a trade? I'm sure Nash would be thrilled to be sent to a place like New York where he lives in the offseason to play with Amare [Stoudemire] and [Mike] D'Antoni. But he can't just snap his fingers and get into a situation like that. I doubt he ever demands anything publicly, but I would not be surprised if he privately asks the Suns to look into making such a deal at some point.
I vacillate on the question of whether a deal benefits the Suns. The Suns have a team full of solid future role players but lack anybody who can really develop into their No. 1 option of the future. If they can acquire that kind of a player (particularly if he's a power forward), then you have to pull the trigger. But if you're just going to get a couple more solid role players and mid-first-rounders, it just doesn't make sense. I feel like the best deal will be there during the summer. Unless the Suns make a miraculous turnaround, that would be the time to make this deal.
Then there's the emotional factor. Losing Nash would hurt many Suns fans. He's been the face of this franchise for six-plus seasons and is about as popular as any player can be to a home market. If the Suns trade Nash, they really need to get that critical rebuilding piece and appease Nash (they would never send him somewhere he doesn't want to go). And if they even have a shot at the playoffs, it's unthinkable to trade him.
I understand the Nash era must eventually end and the Suns would be wise to acquire some assets to expedite that process, but there are so many variables involved I just don't think it will happen until the summer, if at all.
Good stuff from Schwartz. And with all this in mind, a few thoughts of my own heading into this contest:
Between Gortat and Robin Lopez, the Suns may not have a prolific center tandem, but it is a twosome offering legitimate size. More size, in fact, than the average starting-reserve center combo in the league. Thus, tonight's game will offer the rare scenario where Andrew Bynum (and to a lesser extent, Pau Gasol) can't count on a size mismatch in his favor. I asked Drew about this after the Detroit win, and he said going against bigger bodies is actually his preference. That may be, but considering he's still getting his legs and conditioning up to speed, I'm curious to see how Bynum handles this bulk on the second end of a back-to-back.

Last night featured a nice two-way burst of energy from Ron Artest, who's certainly struggling to find his way this season. To some degree, this was expected, as Artest likely was motivated to put any talk of a rift with Phil Jackson to bed ASAP. But I found it noteworthy how Artest managed to remain engaged without being assigned a prolific scorer, which hasn't always been the case this season. Hopefully, this is a sign of a corner discovered, if not necessarily turned altogether.

The last times these teams tangled, the Suns drained a head-spinning 22 baskets from downtown. Like Kobe, I'm not losing sleep over Phoenix duplicating this particular formula for success.