With a pump-faked drive from the arc, a stop on a dime between the circles, some ridiculous hang time, and a baby J off glass, Kobe Bryant continued his climb up history's ladder. Tuesday witnessed him cracking the all-time NBA scoring list's top 10 at the expense of Dominique Wilkins. Tonight, he reached a single digit rank, nudging Oscar Robertson to the side. And note to Hakeem Olajuwon: Don't get too comfy. The guard you famously tutored during the summer of 2009 on the fine art of post footwork will repay the favor by leaving you in his dust before the month ends.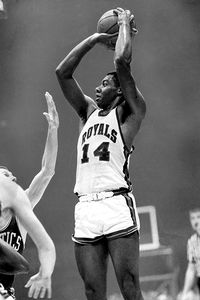 Win McNamee/Getty Images
Yet another all-time great passed by Kobe.
It's interesting that Kobe would go from passing Wilkins, a player often dismissed (fairly or not) as a scoring/dunking reel without the substance, to Oscar, the polar opposite in perception. After all, we're talking about a player whose 1961 season featured a triple-double on average. 30.8 points, 12.5 rebounds, 11.4 assists: That was a typical day at the office for the Big O, described in his NBA.com bio as "player against whom all others labeled "all-around" are judged, and he may remain the standard forever."
For all the attention typically focused on Bryant's ability to fill a basket, like Oscar, his ability to affect the game in all facets is what truly makes him special. At the top of his craft and concentration, Kobe's game has no weaknesses. Still, when I asked Phil Jackson if he found a commonality in their all-around games, he felt the difference in eras made the skill sets difficult to compare:
"It's just a different game. He took a position that just a lot of time was just to back down a guard. There wasn't the ability to double team in those days. That meant you had the big guard that he was, weighing 220, 225, he could back a guard down to where he wanted to and turn around shoot or make a play out of it. In this day and age, guys come and double, so it's not gonna happen. It's a totally different game. But Oscar could control the game from where he was. He played a lot of the game with his back to the basket. He was still a set up guard in a lot of ways."
Kobe seconded Jackson's assessment of the unique size mismatch while watching footage of Robertson with ESPN.com's Jackie MacMullan:
Robertson, said Bryant, is "like looking at LeBron James years ago. Same build. Stronger than anybody else."
But as McMullen revealed, Kobe's bag of tricks includes a little bit from The Big O:
As images of Oscar flickered on the screen, Bryant offered his own play-by-play: "He's coming down, isolating, now it's a glitch and a pump fake. Freeze the defender then raise up and shoot it anyway. I use that all the time."
That move isn't the only way Robertson reminds Jackson of Kobe.
"Winning-wise," explained Phil. "Oscar was a very competitive player. A very verbal player. He used to send his players around where he wanted them to go and direct traffic a lot as a player."
Other ties between the two? Robertson was co-captain of the gold medal winning 1960 Olympic team with Jerry West, who brought Bryant to the Lakers by trading for his 1996 draft rights. Plus, Robertson took home league MVP honors one time (1964), which feels crazy in retrospect even taking into account the domination by Chamberlain and Russell.
In the meantime, Kobe's prospects for another trophy aren't dead, but the odds arguably favor him wrapping up a career honored just once. It's certainly a hard notion to wrap your head around, but the road for such peculiarities was paved by the legend Bryant just passed.
After the game, Kobe's reaction to the achievement was predictably low key, but that shouldn't be mistaken for indifference. "It's a great honor," smiled Bryant. "Obviously, Oscar, I patterned so much of my game after his. Jerry. Michael. Those big guards. It means a lot."
I asked Kobe what elements of his game were specifically modeled after Robertson's:
"I took his baseline jumper. He was known for putting his body on smaller guards, taking them down to the short portion of the baseline and raising over them. That's something I took from him."
I'll go out on a limb and predict Laker fans will recognize that particular move.