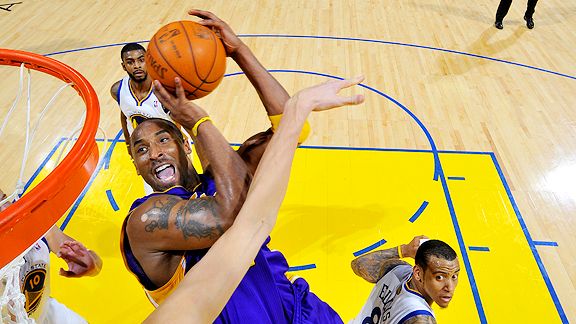 Rocky Widner/NBAE/Getty Images
"If I make this layup, can I have a good grade?"
Friday's tilt with marks the official mid-point of the 2010-11 season. Appropriately, Thursday afternoon at practice, Phil Jackson delivered his end-of-the-semester evaluation of his team:
"We're definitely a B-team right now," Jackson said. "We have room for improvement. What I like about it is we've got their attention and they're starting to be attentive on defense and know that they've got an opportunity to be a really good team." Still, a few too many bad losses, and losing streaks, took a little shine off the apple, Jackson noted.
Of course, he's just the coach. Some guy with 11 rings and a bust in Springfield. Who is he to pass judgment on the first half of the season?
Exactly. That's our job.
So with that, I present my grades for the team at the season's mid-point. As it was for the quarterly report card, there are rules. First, players are measured against their own expectations and capabilities. And no gradeflation. "C" is average, as the school gods intended.
So without further ado...
STARTERS
(For simplicity's sake, I've included both Andrew Bynum and Lamar Odom in this category...)
LAMAR ODOM (First Quarter Grade: A)
He continues to demand a spot on the Western Conference All-Star team. Despite moving to the bench nine games ago with the return of Andrew Bynum to the starting lineup, Odom continues to play at an extremely high level. His numbers, substantial as a starter, have barely moved as a reserve. Over the first 31 games, Odom averaged 15.6 points, 9.8 rebounds, and 3.2 assists while shooting over 57 percent from the floor in just under 36 minutes a night. Off the bench- 15.6 points, 9.2 boards, 2.7 dimes, on over 55 percent from the floor, all in a hair over 28.
Remember that slot on your elementary school report card, "Uses time wisely?" High marks for that. And everything else.
Second Quarter Grade: A
Overall: A
First things first: In the most important number for Bryant, he's 40 for 40. Meaning he hasn't missed a game thanks to injury, and relative to last season's menagerie of physical problems.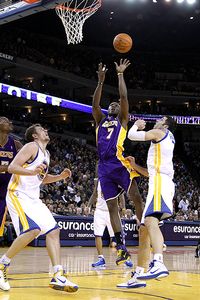 Ezra Shaw/Getty Images
Lamar Odom was great over the first 20 games of the season... and again in the second.
As for the other stuff, Kobe's numbers, by his standards flawed over the first 20 games thanks in large to some inefficient shooting, have improved. From 42.3 percent in November to 47.3 in December and a somewhat deceptive 46.7 percent this month. Over his last nine games, Bryant has been at or above 45.5 percent in seven. As for the other two, he dished out eight assists in a blowout win over Detroit, and had five dimes and 10 rebounds when the Lakers smoked New York. When Kobe is that efficient, the Lakers are hard to beat. Meanwhile, he's generally remained predisposed to keeping his teammates involved, even when some (most notably Pau Gasol and Ron Artest) haven't necessarily played well.
The Lakers had their problems in parts of the second quarter, but they didn't have a Kobe Problem.
Second Quarter Grade: A-/B+, and trending up.
Overall: B+
The slump beginning over the final five games of the first quarter lasted well into the second, to the point I questioned whether he was still a lock for a spot on the All-Star team. Whatever the cause- tired legs thanks to a heavy workload early, mental fatigue, a lack of patience on the floor, or some combination of the three- Gasol's December numbers fell precipitously. Scoring, rebounding, shooting percentage. Basically every counting stat. Moreover, he looked awful, too often disappearing from games.
Fortunately, Gasol seems to have turned a corner. As Jackson noted after Sunday's win, Pau is moving with more purpose and energy, and seems once again to be a step ahead of the game. He's logged four straight double-doubles, averaging 19.5 points and 13 rebounds in the process. In another sign his legs are returning is Gasol's 85 percent mark from the free throw line, on the heels of uncharacteristic struggles at the stripe before the holidays.
Second Quarter Grade (C/C+)
Overall: B/B+, and again trending up
Fish stayed above average in the early going thanks to some solid shooting from the perimeter.In the second quarter, his numbers tanked. In December, Fisher was under 30 percent from downtown, and while January's numbers from beyond the arc have improved (five-of-13), over his last 20 games Fisher is shooting an abysmal 34.6 percent. Even with the understanding expectations for Fisher as the team's PG are different than they'd be for virtually any other point on any other team, the figure is way too low. He's made too many unwise trips to the basket, resulting in points for the Lakers from time to time, but more often generating prime run out opportunities for the opposition.
I'll say again what I always do: Fisher, when he's not playing well, hurts the team more on offense than at the other end. Despite the poor shooting, he continues to rack up charges, play the angles well in transition, and do a lot of the little things helping compensate for the same problems he's had for a while marking opposing guards one-on-one. If he knocks down enough shots, his shortcomings aren't as large a problem. When he doesn't...
Second Quarter Grade: D+/C-
Overall: C
Out of sorts over the first 20 games, things got worse for Artest before appearing to get better over his last half-dozen games.. As it was early, in the second quarter games in which Artest had an impact- a positive one, at least- were more the exception to the rule. For Artest, it wasn't simply a question of his shooting or offensive output generally. Though it was lacking, the real problem was the manner in which Artest too often seemed to disappear at the other end. Back on December 8th, an aggressive performance from Artest limited Blake Griffin to one of the few off games he's had over the last eight weeks, Kobe Bryant's reaction was simple. It's about time.
He, like everyone else, was waiting for Artest to get after it. Less thinking, more force of nature stuff. That's what he's good at. Stuff starting to come back, in baby steps initially, along with confidence in his shot. Stuff needing to come back, in light of Matt Barnes' knee surgery this week.
Second Quarter Grade: C-/C
Overall: C
Over his first three games after returning from a longer-than-anticipated rehab and recovery following offseason knee surgery, Bynum had three field goals on 14 tries. Toss those out, and he's hit 61.5 percent of his hoists. Since returning to the starting lineup nine games ago, Bynum is averaging a very respectable 13.7 points and 8.6 rebounds, plus 2.44 blocks a night. He's made an impact inside, forcing teams to shoot over his go-go-Gadget arms, helping improve L.A.'s defense in the process. About the only thing he seems to have lost is the ability to hit free throws. He finished at 74 percent last year, but is currently under 60.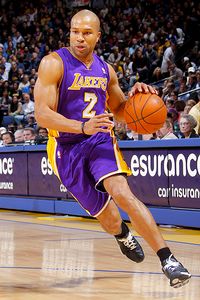 Rocky Widner/NBAE/Getty Images
Since a hot start shooting, Derek Fisher has cooled off considerably.
I didn't expect this much production from him this quickly. The touch isn't quite back, nor the timing, but both should improve with more time. What fans really is for Bynum to avoid another injury long enough to continue building momentum. Knock on wood.
Second Quarter Grade: B
Overall: B
RESERVES
Brilliant over the first 20 games, Barnes wasn't as strong in the second quarter. He hit only 26.5 percent of his triples (nine-of-34), helping explain why his scoring average dropped to under six points a game over that stretch. For an offense too often willing to stand around, Barnes' hustle and activity on the offensive end remained a boost, as was his willingness to hit the glass, nonetheless he was much less productive.
The numbers may have slipped, but the Lakers still suffer in Barnes' absence. A great deal. Artest is fully capable of continuing his comeback, but having Barnes behind him allowed P.J. the flexibility to run with a wide variety of lineups. More importantly, it helped limit Kobe's minutes, because there wasn't much need for him to slide down to the three.
Second Quarter Grade: C+
Overall: B
Predictably, his three point percentage has slipped, but expecting Brown to shoot in the high forties all season seems a little extreme. Still, he's at a well-earned 42.5 percent. He remains the team's most consistent and effective bench scorer (save Odom, who I generally treat as a starter when visualizing the lineup.). Generally speaking, his floor IQ has remained high. Relative to last year, Brown has had far fewer problems with overdribbling and shot selection.
With Barnes on the shelf, Brown is likely to pick up more minutes over the long haul, as Kobe plays more small forward. The Lakers can't afford for him to backslide. Fortunately, Brown hasn't shown strong signs he might.
Second Quarter Grade: B+
Overall: A-/B+
His success rate from downtown, up around 50 percent in the first quarter, dropped precipitously in the second (14-48, 29.2 percent). Blake has four triples this month and none in his last four games, during which he only two field goals overall. It's a problem because, given his skill set and the realities of the offense, spot up shooting is his primary function. But Blake has struggled even more from inside the arc, both generating his own offense and creating for others.
As it is with Brown, the pressure is on Blake to perform with Barnes out of the lineup. He's not going to put up monster numbers, but if the Lakers are to sustain real depth, something they had by reputation last season but not in reality, Blake has to be better.
Second Quarter Grade: C-
Overall: C
His assist rate remains high (17.2 percent), but so does his turnover rate (21.4). Basically, Walton hasn't played consistently enough to make an impact, something that could change until Barnes returns, particularly if Walton forces Jackson's hand. Until that happens, he's probably good for five minutes a night, give or take.
Technically, he was better in the second quarter than the first a) it's relative (at the first writeup, he was shooting 11 percent), and b) the minutes are so short it has no practical importance.
Second Quarter Grade: C
Overall: C-
Since Bynum returned to the lineup, Caracter has barely played. 41 minutes total, to be specific. Not much time to make in impact over 20 games, making him hard to evaluate. On a positive note, he is seven-for-seven this month. Perfection!
Second Quarter Grade: C
Overall: C
Theo Ratliff, Devin Ebanks, Joe Smith... all get incompletes, though if the Bakersfield Jam issue report cards, Ebanks should do well.
COACHING
PHIL JACKSON (Q1: B+/A-)
My biggest problem in the first quarter was Jackson's refusal to give Caracter more minutes in an effort to spare Gasol's legs, even if it would have hurt the on court product for a few minutes a game.
Over the second 20 games, it seemed like the coaching staff was having trouble reaching the players before they what appears at the moment to be rock bottom, losing at home by 19 to Memphis on Dec. 2. They put out the lessons, but the players didn't apply them. How much of that is based on mistakes from Jackson is hard to say, but while I tend to think it's hard to force players, particularly veterans whose hands are weighted down with jewelry, to play hard all the time, clearly Jackson bears some responsibility. Jackson hasn't been passive. He's changed up the practice routine, prodded players in the media, jimmied the rotations, allowed guys like Artest and Fisher to watch deep into fourth quarters if not the final buzzer, and tweaked/revamped (depending on to whom you talk) the D. I particularly liked the final move, not so much because of the technical changes made, so much as it gave the team something new on which to focus.
The goal for Jackson and his staff is to adapt without ditching what has obviously been a successful blueprint. It's a tough balance, and Jackson has walked it pretty well. Still, he has to lose points for how poorly the team played giving away position in the Western Conference, and the race for home court throughout the playoffs, as well.
Second Quarter Grade: B/B+
Overall: B+
THE TEAM (Q1: B+)
On the one hand, there have been high profile failures over their last 20 games, including that brutal three game stretch of losses by 19, 16, and 19 before Memphis came to town and dropped the Lakers by another 19 points. On the other, they've won 15 of them, including eight of nine. As a team, the Lakers certainly appear to have hit the "on" switch. Artest is improving, Pau seems to have rebounded, Bynum seems strong, and so on.
What they gave away in terms of playoff seeding remains to be seen.
Phil gave them a B. Seems reasonable enough, though B- seems better.
Second Quarter Grade: B-/C+
Overall: B