Another game, another legend passed on the NBA all-time scoring list by Kobe Bryant.
This time, a breakaway dunk created off his own steal against Donte Greene meant leapfrogging to the eighth spot past Hakeem Olajuwon, the two-time champion whose "Dream Shake" and other post moves dizzied countless defenders. As Bryant continues northward into more rarefied air, there will no doubt be an appreciation for each legend passed. (Yes, even a certain center and ex-teammate Bryant is guaranteed to pass at some point next season.) Basketball is a sport steeped in rich history, and no NBA player is more of a student of that lore than The Mamba.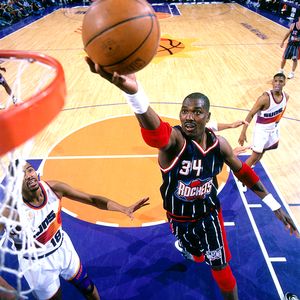 Barry Gossage/NBAE/Getty Images
One could do much worse than learning post moves
from Hakeem.
In the case of Olajuwan, however, Bryant was quite literally his student.
During the 2009 offseason, Kobe reached out to Olajuwon for a tutorial on low post excellence. As the Nigerian big man explained to Brian and me while appearing on our podkast in May 2010, his first reaction was to wonder why.
"I told him, 'You've got all the moves already. You don't need any more!' recounted Olajuwon with a laugh. "He said, 'Well, I'm always in the post. I love the post.' Just like all the big guys like to play like a guard and the guards like to play like the big guys. It's always the opposite, you know?"
But this session wasn't simply a matter of vicarious living through another position. It was a matter of necessity. True, Bryant has been hailed by many as the most complete offensive player in the game. He's also no stranger to the painted area, with an enviable arsenal of moves at his disposal. But there's a difference between being good in the post and great. Or even great and excellent. If there was another level to reach, Kobe was determined to get there.
"I can see why he needs the post moves," admitted Olajuwon, "Because as you get seasoned and get older in the league, you can get the points much easier in the post and not waste all that energy outside. I was so impressed of his understanding of the game to know that if he had the post moves, that would really expand his game and be a complete player."
With that goal in mind, the Hall of Fame big man took the future honoree under his wing and shared wisdom. "When we worked on the moves, we would talk about the technical points," recounted Olajuwon. "The secret to those moves. This move would set up the next move. Each move is the foundation for the next move."
"I learned a great deal, obviously," recalled Bryant during Thursday's practice in El Segundo. "Just the details of the post game. Recognizing double teams, how to deal with those. Hakeem is incredibly smart. For him to take the time to welcome me into his home and show me different things is a tribute to his greatness."
Greatness typically not only recognizes greatness, but what it takes to get there. Thus, Kobe's hunger to perfect his craft wasn't lost on Olajuwon. He described seeing Bryant utilize those lessons as "the greatest joy," but as much pride was expressed in the guard's refusal to remain satisfied.
"To see a guy at that level already still looking to improve his game, that says a lot about him," Olajuwon said. "His desire to be the best. He's already the best and he wants to improve."
Especially if wisdom is imparted by an unparalleled source.
"In my opinion, he's the greatest post player ever," Bryant said. "With all due respect to (Kevin) McHale, Hakeem was phenomenal."