When this current five game home stand began, today's contest was pegged as the fourth easiest behind the cream puff Kings. A relative breather between Boston and San Antonio. Of course, that was before the Lakers actually lost to Sacto, much less Boston. For the time being, all bets feel decidedly off. Still, the Rockets are a team dealing with their own struggles these days, most notably the injury bug's vendetta. As usual, Yao Ming remains at the center of these health problems.
I tracked down Rahat Huq from True Hoop's Red94 blog for some thoughts on the Rockets, then added a thought of my own to each point. Here's what to keep an eye on when the ball is jumped: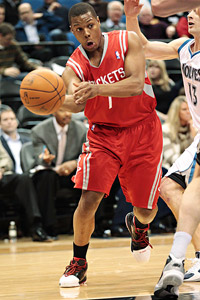 Jesse Johnson/US Presswire
Lowry does a good job involving teammates.
Andy Kamenetzky: The Lakers haven't faced the Rockets this season with Aaron Brooksas a sixth man of sorts. How much different are the first and second units with Kyle Lowry (one of the NBA's most underrated role players, IMHO) and Brooks swapped spots? And where is Brooks physically?
Rahat Huq: To say that Aaron Brooks has been struggling would be an understatement. After the injury, he simply has not been the same player and has also had difficulty adjusting to his new role. Much of this can be attributed to his hampered physical condition but some have wondered if his uncertain contract status has played a role.
With the first unit, Lowry and Martin want to attack and draw fouls. Off the bench, Courtney Lee handles a lot of the ball-handling duties allowing Aaron Brooks to attack for himself off the dribble. While thus far unsuccessful, the latter has assumed the "Vinnie Johnson" role for this team.
AK's thoughts: Truth be told, Brooks' "Microwave" reinvention (or regression, depending on your outlook) strikes me as inevitable. As tough a cover and dynamic a player as Brooks can be, his point guard skills have never impressed me. What's going on in Houston reminds me of the situation in Detroit, where they've clearly decided Rodney Stuckey may be a part of their future, but as a two guard. Brook's move to be bench may not be successful yet, as Huq notes, but it does feel logical.
As for Lowry, his 33.41 assist rate among point guards playing 25+ minutes sandwiches him between Chris Paul and John Wall, which is pretty good company. He's a smart player. Not to mention tough and strong, a bulldog in the vein of Derek Fisher. Clearly, his place in the starting lineup isn't translating to wins, but underestimating the B-List name at the one for Houston would be a mistake. He racked 10 dimes against the Lakers in a Dec. 1 loss, and is capable of damage.
AK: Kevin Martin leads the Rockets in scoring, but Luis Scola is only four points behind, and shoots 50 percent from the field. How well do they compliment each other as a tandem and is one a bigger key in your mind against the Lakers?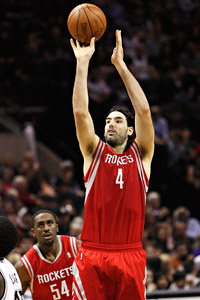 Soobum Im/US Presswire
Scola can score from all over the place.
RH: They're a bad complement overall insofar as neither plays close to anything resembling NBA defense. Trying to mask two matadors in a lineup already lacking athleticism and shot-blocking is a recipe for disaster, which is exactly what this team's defense has been this season. Offensively, both players fit well in Houston's free-flowing read-and-react scheme, moving to open pockets and taking advantage of defenses with their unique shooting abilities.
Scola is the bigger key because he's the team's only post option. Martin's baskets can be replaced from other sources -- he often sits in the 4th quarter of close games -- but it will be tough to beat the Lakers without easy points in the paint.
AK's thoughts: Scola won't likely make the All-Star team, but he rightfully entered the conversation this season. As Huq mentioned, he's a suspect defender, so there's no reason for Lamar Odom and especially Pau Gasol to settle for jumpers in isolation against him. Put the ball on the floor and force him to make stops. As for Martin, he's fantastic moving off ball, so the same track shoes used to cover Ray Allen should be laced up, hopefully with better results. Still, your highest paid player not named "Yao" or "Ming" often sits in the fourth for defensive reasons? Wow!
AK: The efficiency with which Kobe's racking points these days has been very impressive. In the meantime, Shane Battier is as celebrated as anybody at making Kobe work, but putting him on Kobe means Martin against Ron Artest in a serious size mismatch. What are you expecting, in terms of assignments and how successful can they be?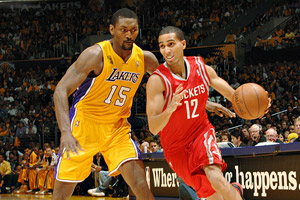 Noah Graham/NBAE/Getty Images
Things will be just as interesting if Martin
tries to guard Ron-Ron.
RH: I would personally put Martin on Artest just simply to invite that option to the Lakers. While he saved them in Game 7, what I learned from his sole season in Houston is that too much Ron is always a good thing for the opponent. The Rockets also have versatile defenders in Lee and Jared Jeffries,whom they can mix and match against the Lakers' wings.
AK's thoughts: I figured Huq would bank on Martin battling undersized. Between Artest's flame out from the floor against Boston, his erratic touch and decision-making this season, it's easy to understand why. Still, it's a matchup where Artest can easily bully Martin, so he could get the scoring machine into foul trouble even while failing to be prolific.
AK: Between Yao and Brad Miller, injuries have robbed the Rockets of size. How has this affected Houston and how can they offset the absence against a team as big as the Lakers?
RH: Chuck Hayes and Patrick Patterson will produce, but to counter the Lakers' length, the Rockets will need disciplined production from center Jordan Hill. Hill was the key in the last meeting, shutting down Pau Gasol in single-coverage, but the second-year-man is too prone to mental lapses and overall lethargic play. Jordan will need to rotate quickly and stay out of foul trouble to give his team a chance against the trees.
AK's note: Pau's hammy problems appeared to briefly flare up again in the last meeting, which could have affected his performance against Hill. In theory, he's healthy again, so there's no reason he shouldn't be able to get the best of an inconsistent youngster, should they end up matched against each other. More challenging, however, could be Gasol's (or Andrew Bynum's) time matched against Hayes. Posting up the Rockets center is just slightly easier than posting up an oak tree.