The rumor mill has spun into overdrive after an underwhelming winter, one that was compounded by bad losses to Sacramento and Boston, prompted reports of Mitch Kupchak's openness toward a trade. Whom would the Lakers move? Whom could they get? How radical a shake-up are we talking? Is this the equivalent of the panic button being pushed?
No.
Based on nothing but my gut, my first instinct is Kupchak was mostly trying to startle his team into a sense of urgency. Not that a trade hasn't crossed his mind, but vocalizing potential intentions feels extremely out of character. The Lakers are an organization typically playing things extremely close to the vest, and Kupchak would be cagey if asked on the record what he had for lunch. If Kupchak were really debating that direction, I doubt he'd say anything publicly and instead stealthily work the phones.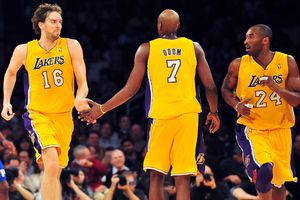 Gary A. Vasquez/US Presswire
It would be very surprising to see these this trio busted up.
But even if this were a rare moment of bluntness, mulling a significant deal and pulling it off are separate things. Beyond any front-office reluctance to break up the core in the middle of a title defense, the Lakers' options for doing so feel limited. Here are my reasons for that:
Who isn't moving, because the Lakers likely won't move them
I have made no phone calls confirming this, but I'm nonetheless willing to boldly declare that Kobe Bryant won't be included in any deal. And despite his malaise, Pau Gasol needn't pack his bags. He's too talented and important to the Lakers' fortunes, not to mention arguably too expensive for another team with so much uncertainty surrounding the collective bargaining agreement. Lamar Odom's contract is more cap-friendly, but unless the Lakers get a quality big in return, I can't picture him moving. Beyond LO's talent (particularly this season), he also provides insurance against an Andrew Bynum injury, and his locker-room presence is hugely positive.
Who isn't moving, because the Lakers likely can't move them
Putting aside that this is arguably the worst season of Ron Artest's career, would you really want him on a team he didn't choose to join in a long-term deal? Luke Walton is potentially less volatile but also less talented, making him equally unappealing. Derek Fisher's value is to an elite contender, and why would the Lakers help someone take their title? (Plus, there's the whole "Kobe's head would explode" thing.) Steve Blake's contract isn't absurd, but between his somewhat-underwhelming season and a potential work stoppage, there could be reluctance. And without another point guard in return, the Lakers have no legit option to back Fish.
The oddity complication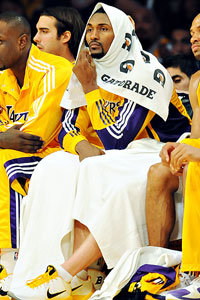 Win McNamee/Getty Images
Good luck moving this fella.
Because he re-signed in a one-year deal with the Lakers retaining Bird rights, Shannon Brown can veto a deal. (Remember, Devean George initially prevented Jason Kidd's arrival in Dallas.) Granted, unless Brown is packaged, this is borderline irrelevant, because his salary is too small to land an impact player in exchange. But it's certainly a wrinkle.
The Bynum (and by extension, Melo) question
Bynum is perhaps the biggest wild card. He's young and talented and has just one more guaranteed year left on his contract. His name has constantly popped up in trade rumors, whether for Jason Kidd, Kevin Garnett, Chris Bosh, Chris Paul or, as of late, Carmelo Anthony. Perhaps the Lakers have decided they'll never get a full season out of Bynum, so they might as well move him while he's still healthy.
Still, I don't see this happening. Bynum's presence makes a huge difference for the Lakers' D, even if the minutes are limited by health. And with Gasol so inconsistent, Bynum becomes even more crucial. Plus, I'm not positive Bynum is quite the lure presented by Lakers fans. He can change games, but he's also yet to get through a season healthy, making him a dicey player for a long-term commitment, especially with just a season and a half to make that call. If that eventual decision is no, a theoretically excellent player will have been surrendered to L.A. for a rental.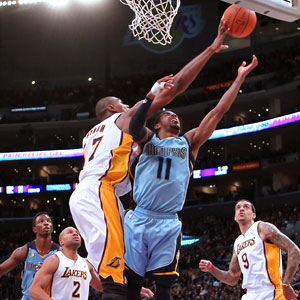 Jeff Gross/Getty Images
Is Bynum expendable? Is he coveted?
The fringe
Without being part of an unforeseen package, Matt Barnes, Derrick Caracter, Devin Ebanks, Joe Smith and Theo Ratliff aren't really a part of this conversation. They simply make too little money for a noteworthy one-on-one swap.
The trade exception
As Eric Pincus of Hoopsworld.com notes, the Sasha Vujacic trade left the Lakers with a trade exception worth $5.5 million, meaning they could go over the cap with a player of approximately the same salary. Of course, that money does count against the luxury tax, meaning Dr. Buss would pay double. Unless we're talking about one heck of a player, I'm guessing he doesn't want to pile on to an already giant payroll. Remember, the whole point of trading Vujacic was to save some dough. Ditto Vlad Radmanovic and Chris Mihm in recent years.
Everything you're saying makes sense, but in 2008, Mitch Kupchak pulled off the steal of the decade ...
Stop, because he actually didn't. Yes, it was an incredible deal, but people still inexplicably think this was a Jedi mind trick, as if Kupchak convinced Chris Wallace andMichael Heisley that Kwame Brown was actually Kobe. The Memphis brass knew exactlywhat it was doing. It moved a long and expensive deal of an unhappy player, received even more expiring money in Brown (used to absorb Zach Randolph) and picked up two young prospects, one of whom (Pau's hermano) has turned into a good player.
In other words, there was a method to Memphis' madness, and this deal wouldn't have happened without a big expiring deal in play.
The odds don't favor much of anything noteworthy before the trade deadline. Nor is a blockbuster deal really the answer, in my opinion. Pushing reset halfway through a three-peat quest arguably makes things more chaotic, and I don't think we've reached the need to take such a risk.
This is a team with an established record of excellence, and thus far, I haven't seen tangible reasons to think that talent is what's holding it back. As much as new blood could create new energy and a smaller deal may not be out of the question, at the end of the day, the Lakers will (and probably should) work with what's in front of them.