As Brian elaborated, the rivalry between the Lakers and Spurs hasn't just dominated the NBA since 1999. It's been equal parts competitive and respectful. Seriously, can you really hate Greg Popovich, Tim Duncan, Manu Ginobli or Tony Parker? (Okay, Eva Longoria might have a few qualms with the fourth guy, but you know what I mean.) But peacefully as these players may interact, they're willing to step on each others' necks (politely, of course) to come out on top of this contest. The marbles at stake, even in a regular season, contain meaning for both sides.
To get a better idea of how the team Derek Fisher described as "the best team in basketball right now," I tracked down Timothy Varner from the True Hoop network's 48 Minutes of Hell. Check out his thoughts on tonight's game, plus some videos of Fisher and Kobe talking Spurs:
Andy Kamenetzky: Talk about the 2011 dynamic between Tony Parker, Manu Ginobli and Tim Duncan. From what I've seen, it appears they're moving at a quicker tempo and not looking to operate so often through Duncan possession to possession. How are all three taking a role in driving the ship?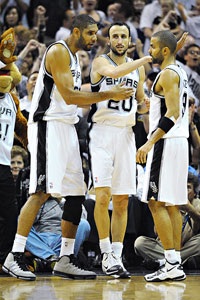 Brendan Maloney/US Presswire
Whatever Timmy is telling Tony and Manu, it's not "give me the ball or I'll throw a fit!"
Timothy Varner: The pecking order is different, no doubt. Duncan is now San Antonio's third wheel. He is not featured in the offense as much as in the past. And this will make your readers happy: He's not nearly the post defender he once was. Honestly, I think the Lakers have a major opportunity to exploit Duncan in the post, and not just tonight, but for the balance of his career.
Ginobili is at the helm, and he's San Antonio best player. Someone once said he was a bad boy, and they were right.
Tony Parker is still Tony Parker. He likes to score in the paint, as we all know. Parker's assists are up slightly, but that is a function of San Antonio's offensive improvement more than anything else. He's not Steve Nash. One thing to watch is Parker in the corner. He's gradually adding the (Bruce) Bowen three to his game. The Lakers will have to challenge him when he fills after the entry pass.
How are the Spurs handling their new pecking order? They've slipped into it like a pair of 3 year old jeans. Great comfort. Good look.
(AK's note: Entirely unrelated to the game, but still awesome: If you're a fan of Duncan and the show Arrested Development, this is the best... sight gag... ever.)
AK: With the exception of his increased three-pointer percentage, Richard Jefferson's stats aren't much different than last season, but the general consensus is he's fitting in much better these days. Is it mostly the byproduct of climbing 10 percent from downtown (which is in fact pretty remarkable), or have their been other improvements? Is he being used differently at all?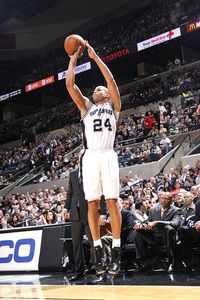 D. Clarke Evans/Getty Images
Richard Jefferson is bombing from deep.
TV: No, Jefferson's great improvement is overstated. His three point shot is better, as you've noted, and his defensive rotations are more crisp. He's a great case study in how marginal improvement can have a big impact. He's become less of a factor as the season pushes forward. The Spurs will need more from him in the playoffs in order to advance to the Finals.
AK: Gary Neal is the latest gem discovered either late in the draft or, in this case, outside the draft. For those unfamiliar with the rookies, what he does well and where he still looks like a rookie at times. And speaking of rookies, what can be expected of Tiago Splitter?
Woody Allen once quipped that sex without love was a meaningless experience, but so far as meaningless experiences go, it was a pretty good one. Gary Neal is a gunner, without many other skills to round out his game. But he's good at gunning. He's a major threat from deep, has a floater, and will occasionally finish at the rim. When Neal enters the game, he'll put up a good ratio of shots to touches.
Neal is 26 and played professionally in Europe. He doesn't look like a rookie too often. He comes off as what he is, a limited but effective bench player, with a few years of professional experience.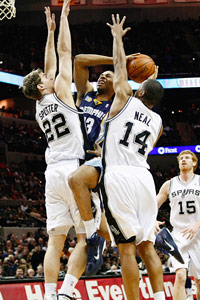 Soobum Im/US Presswire
Fear the guy on the right more.
Splitter is also a veteran from Europe, but unlike Neal, he's not playing very much. He's San Antonio's 5th big, and his minutes have not seen a dramatic increase even with the recent injury to (Matt) Bonner. He missed training camp, so his knowledge of the system is not where it should be. And the guard-driven Spurs prefer bigs who can space the floor, which is not his strength. He's a good player. He'll be a better player next year. But Splitter is not likely to help the Spurs this season.
AK: How much do you think Thursday's game means to the Spurs? They're a team outplaying expectations and going 2-0 (to this point) against the two-time defending champs would obviously raise eyebrows. On the other hand, there's a lot of experience and "been there, done that" in San Antonio's locker room, and they're pretty calm as a collective. Is this a game circled on the calender?
TV: In short, yes. They're calm and collective—and they're smart. This is not a game to look past. Everyone knows that, including the Spurs.
Good stuff from Varner. Also, here is my 48MOH entry for his question about the importance of home court advantage for the Lakers.