Sunday saw the Lakers pit a six-game winning streak against the power of the San Antonio Spurs in their house, the first of four road games against quality competition. Well, it's safe to say the results were positive. The Lakers didn't just whup their hosts from the opening tip. They were oozing from every pore with swagger. I don't recall the last time I've seen them look quite so swaggery.
So, what comes next? Could it be more of the same?
GAME OF THE WEEK
Saturday at Dallas, 5:30 p.m. PT
The importance of home-court advantage has sparked a season-long debate between Brian and me. Unlike my brother, I've steadfastly insisted that the Lakers, assuming they're playing at a high level entering the playoffs, don't really need it. They're a very good team away from the Staples Center. They've closed series on the road. And coming out the other side of a grueling Game 7 against Boston with the Larry O'Brien Trophy creates a type of confidence more powerful and real, in my mind, than an extra game in L.A. could.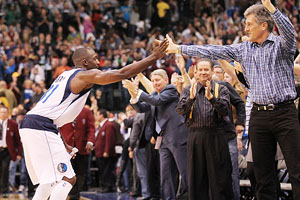 Matthew Emmons/US Presswire
Unless Jason Terry's buddy is willing to travel and bring a gaggle of Dallas residents with him, home-court advantage is mandatory for the Mavs to beat the Lakers.
Mind you, I'm not saying the Lakers wouldn't prefer home-court advantage. Only an idiot would look a gift horse in the mouth. For that matter, I'm not saying this route wouldn't be more difficult. But whether because of my faith in this team's collective mettle or a realization long ago that the Lakers had already made their bed, I've calmly resigned myself to this fate.
Where we're in agreement, however, is how much home-court advantage could make or break a team like the Mavericks. It's certainly not impossible to imagine them unseating the Lakers with the series beginning in Dallas. But the Mavs dethroning the Lakers without home court? Beyond the realm of what I consider a possibility. Thus, leapfrogging Dallas in the standings isn't so much about the Lakers gaining their own advantage but about stealing an opponent's lifeblood.
Making up this ground is an admittedly tough mission, and as Brian noted in a recent post, the remaining schedules are basically a wash. But a solid arrived in the form of a Sunday buzzer-beater from Zach Randolph, adding another "L" to the wrong side of Dallas' column. The Lakers are now just two losses behind Dallas, making potentially monumental the swing from a win in Big D on Saturday. Passing the Mavs was always essentially impossible without a victory, but the scenario is now considerably more doable should the road trip end on a high note.
Other games
Tuesday at Atlanta, 4 p.m. PT
Of the four games comprising this monster roadie, a contest in Hotlanta creates the least sizzle. Yeah, the Hawks are a playoff team, but not a team expected to make any real noise. They're 4-6 in their past 10 games. The Lakers crushed them like winery grapes on Feb. 22. Philips Arena will be half-filled -- unless transplanted Lakers fans decide to represent -- with folks expecting the defending champs to prevail. Compared to San Antonio, Miami and Dallas, Atlanta is the opponent generating the least hype.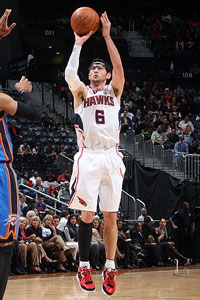 Scott Cunningham/NBAE/Getty Images
Newbie Hawk Kirk Hinrich adds an interesting, if surmountable, wrinkle to Tuesday's game.
Which is exactly what puts this contest squarely in the danger zone.
Of course, should everyone remember that the Hawks' roster includes All-Stars in Al Horford and Joe Johnson, an athletic defensive presence in Josh Smith and a new wing defender in Kirk Hinrich to throw at Kobe (Marvin Williams has been solid locking down the perimeter as well), the Lakers are likely in business. The visitors are the considerably more talented team, and their length should overwhelm Atlanta. But if this game is treated like the soft spot it actually is, particularly on the heels of a win even Kobe deemed the best of the season, matters could turn unpleasant.
It would be reasonable for the Lakers' winning streak to end at some point on this voyage. But Atlanta would be the least forgivable destination for a hiccup.
Thursday at Miami, 4 p.m. PT
When these teams met on Christmas, the Heat were hell-bent on proving their status as legit contenders, while the Lakers were hell-bent on cruising through the regular season, even nationally televised holiday hypefests, with as little conviction as possible required for a win. (Or, on several occasions, a loss.) The resulting 96-80 debacle left fans -- and Kobe -- questioning the Lakers' desire, a talking point raised roughly 10,000 times leading up to the All-Star break.
What a difference a few days-off-while-Blake Griffin-jumps-a-car makes.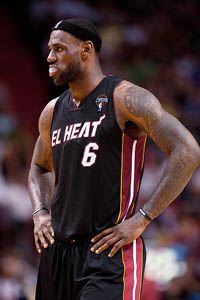 Steve Mitchell/US Presswire
Unhappy body language from LeBron has been a regular sight these days.
The Lakers are surfing the season's highest wave, while the South Beach super team has hit a troublesome patch -- four consecutive losses as of this posting. Big leads blown. Close games choked away. Reports of tears in the locker room. Things in Miami appear to be a mess, and a game against a dangerous Portland squad isn't the most ideal setup for ironing out kinks before tangling with the streaking Lakers.
Truth be told, I hope the Heat can get their act together for at least one night.
The game provides oodles of matchups on paper. Kobe versus Dwyane Wade. Ron Artest versus LeBron. Pau Gasol and/or Lamar Odom versus Chris Bosh. Frontcourt size versus a defense often skilled at preventing entry passes inside. A red-hot defense versus three of the more skilled offensive players in the league. We've already seen one dud showdown. And with no guarantee these teams will meet in the Finals, at least one entertaining game in the books would be nice.