It's been a tough 24 hours for milestones recorded by Moses Malone. Monday, his record for consecutive double-doubles since the NBA-ABA merger (51) was eclipsed by Kevin Love. The Wolves forward managed the same tally in one season, while Malone stretched his feat over the course of two. Tuesday, Malone found himself lapped by Kobe Bryant after contact from Joe Johnson beyond the arc sent The Mamba to the line for three free throws, all good.
And with that, another rung on the ladder reached.
For Kobe, the connection to Malone -- who played for the Sixers of Bryant's boyhood backyard -- is obvious. Before Bryant turned heads in 1996 with his jump straight from Lower Merion High School to the Lakers by way of Vlade Divacs' rights, Malone demonstrated such a move truly feasible. Yes, Kobe was the first high school guard drafted, but Kevin Garnett had been taken the year before him, Tracy McGrady the year after, plus five more youngsters before the decade concluded. The following decade began with Darius Miles taken third overall.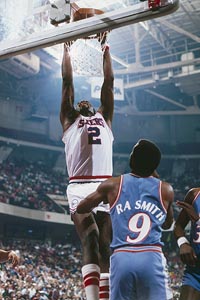 Focus on Sport/Getty Images
Moses threw down many a dunk over the course of his career.
Kobe's situation was hardly commonplace, but the wheels of a revolution were already in motion. When Malone braved these largely uncharted waters in 1974 upon being selected in the third round of the ABA draft by the Utah Stars, he might as well have been from another planet.
Similar to the way Jerry West famously insisted on acquiring Bryant by hook or crook as a high schooler, the Stars brass had to aggressively work to land the services of Malone, who'd actually signed a letter of intent with the University of Maryland. Safe to say, the relentless pursuit was worth the effort. In both cases, effort was also never on short supply.
As a 17-year old wunderkind, Kobe's "eat, sleep and play basketball" attitude, plus his unfazed reaction to the NBA world, threw Laker veterans for a loop. Malone similarly dove headfirst into basketball, and let it be immediately known he wasn't about to get pushed around by his older teammates.
From a 1974 Sports Illustrated article by Pat Putnam:
"There is the matter of toughness," says [Stars coach Bucky] Buckwalter, grinning. "They know he's young and a lot of guys have really laid it on him, trying to intimidate him. Elbows, knees, grabbing, shoving, the whole bag. And he's given it right back. That kid doesn't back up an inch. I knew what was going to happen, so I told our guys to go after him right from the first day of practice. We had to find out. They used to kid him by calling him 'the rookie.' Then one day after a rough workout he walked into the locker room and told them, 'You guys can keep on calling me a rookie, but I'm the toughest damn rookie you ever saw.' "
As a 19-year old barely removed from the halls of Petersburg High School in Virginia, Malone's teeth as an all-time great scorer were cut in slow form. Putnam's article acknowledged the rookie's talent, but mostly on defense and the glass. Whatever points scored took a back seat as a priority and, from the author's vantage point, a skill set:
"[Malone] is scoring, but not all that often, and hardly ever when he is away from the basket. His hands could be better and he does not always remember to move on offense, which means he will play whole halves and not touch the ball offensively more than four times."
Of course, the guy wasn't exactly Darko Milicic in his first professional season. As a rookie, he averaged 18.5 points per game, good enough for All-Star and All-Rookie team nods. Still, two ABA seasons (uncounted towards this record) and two in the NBA passed before Malone became a 20 point per game scorer. From there, he made up for lost time. Between the 1979 and 1989 seasons, Malone averaged at least 20.2 points. Who knows what scoring list heights might have been scaled without the relatively slow start?
Then again, had Kobe not averaged a scant 7.6 points as a rookie, just 15.4 off the bench the following year, then shared the spotlight (and the ball) with Shaquille O'Neal for six more seasons, who knows how much more quickly he'd have passed the man blazing his trail?