In business, it's common practice to give employees some stake in the company, whether through a bonus structure, stock, or another vehicle tying more directly their financial future to the future of the company, but also empowering them.
People give added weight to that which they own, and there's nothing like ownership to make a guy feel useful.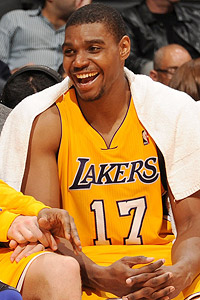 Andrew D. Bernstein/NBAE/Getty Images
Andrew Bynum has given the Lakers many reasons to smile since the All-Star break.
The same principle applies to the Lakers and Andrew Bynum. Since returning to the ranks of the Western Conference elite, his coaches have preached to their young center how, on a team filled with other stars and scoring talent, he could best help his team to a championship through defense and rebounding. It was a clear message with mixed results. Not that Bynum -- when available -- hasn't been a productive member of L.A.'s rotation, but only in fits and starts has he filled the mandate given to him by the coaches, and too often only in situations accompanied by an expanded role offensively. In last season's playoff run, Bynum earned respect from teammates, coaches and fans by playing injured, but he was still more tangential to the team's overall success. His presence, literally, mattered but Bynum wasn't a focal point.
Now, he is. Changes in L.A.'s defensive scheme have put Bynum in the center (no pun intended) of things, and since the All-Star break Bynum has been monumentally successful in the role. Chalk some of it up to increased health -- his surgically repaired knee may still be sore, but Bynum's mobility and hop have improved substantially -- and even more to psychology. The Lakers have empowered Bynum. "It made me feel like I could find a little bit of a niche on the squad and find where I'm supposed to be," he said of his featured role on defense.
He's been validated, as well. Over the Lakers' eight game winning streak heading into tonight's game against the Heat, Bynum has been able to see the practical effects of his work. He's getting rebounds on both sides of the floor, he's blocking shots. His teammates enthusiastically welcome him to the bench during timeouts and lineup changes, and after games his locker is surrounded by media, whether he scores six or 16. It isn't a question of going out and doing the little things that don't show up in a box score, where a guy like Matt Barnes thrives. There's nothing subtle about Bynum's play. It's all tangible.
For a 23-year old with great skill and a young player's desire to put the ball in the basket being asked to sacrifice for the greater good, these things matter.