Tuesday wasn't exactly a banner day for the Lakers. First, Steve Blake was diagnosed with chickenpox, shelving him indefinitely. Unpleasant enough for kids, chickenpox is worse when contracted as an adult, so it's undoubtedly a burly time in the Blake household. Beyond that, the Lakers have three other guys who never contracted the virus as kids- Ron Artest, Andrew Bynum, and Kobe Bryant.
Since the incubation period averages about 14 to 16 days, it's at least possible Blake could have unwittingly passed the pox on to any of the three. (Let PoxWatch '11! begin...) How's that for an exotic reason for Lakers fans to worry about the derailment of this year's playoff run?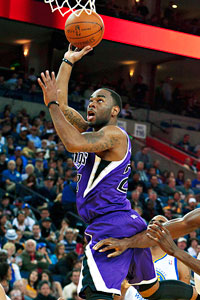 James O. Watson/US Presswire
Marcus Thornton has been very solid for Sacramento since arriving in a trade with New Orleans.
Then Matt Barnes, who sat out Monday's practice because of soreness in his surgically repaired right knee, missed last night's win over San Antonio.
These stories served only as appetizers for the main course Tuesday night, when Bynum left the game after hyperextending his right knee in the second quarter. He underwent an MRI early Wednesday afternoon. (Yes, his injury distracts momentarily from the possibility Bynum might come down with chickenpox- make no mistake, if anyone else on the Lakers gets it, it'll be him- but surely there was a better way to accomplish such a goal.) None of the three made the trip to Sacramento, in a game still holding a great deal of importance for the Lakers. With a win, L.A. clinches the Western Conference's second seed. A loss, plus a win for the Mavs at home over New Orleans, leaves the Lakers in third, giving Dallas home court should the teams meet in the second round.
(Should the Hornets pull the upset, they'd obviously be doing the Lakers a favor, allowing Phil Jackson to rest players from the moment a final score in Dallas is posted.)
So with plenty on the line, a thinned out Lakers squad takes the floor against a bad-but-improving Sacramento Kings squad quite possibly playing its last game in franchise history for hoops fans in our state capital.
To gain more insight into the Kings, and a game sure to be filled with emotion on a few levels, I hit up Zach Harper. You know him as the host of TrueHoop's Cowbell Kingdom blog, as well as the host of ESPN.com's Daily Dime Chats. He was kind enough to answer a few questions...
1. What kind of atmosphere do you expect Wednesday night? I can picture a highly emotional environment in which the Kings and Sacramento fans are passionate and intense. I can also picture a more "defeated" building in which the team is ready to pack it in and Lakers fans dominate the stands. What's your take?
Harper: The past few years, Lakers fans or people wearing Kobe jerseys have infiltrated Arco Arena (I refuse to call it Power Balance Pavilion unless they stay) and made it a 50-50 atmosphere in the arena. Wednesday night is most likely the last home game in Sacramento Kings history. After seeing a very strong showing from the crowd Monday night against the Thunder, I'd expect a packed house with mostly Kings fans filling the seats.
I think they'll try to leave a potentially lasting impression on the team, more than the Maloofs, and show their appreciation for the players that have given them a lot to cheer for in the 27 years the Kings have been in Sacramento. There are also rumors of a "sit in" occurring after the game is over. I expect a great Kings' fan atmosphere.
2. The Lakers haven't seen Sacramento with Marcus Thornton in the lineup. How has he impacted the Kings, and the DeMarcus Cousins/Tyreke Evans core?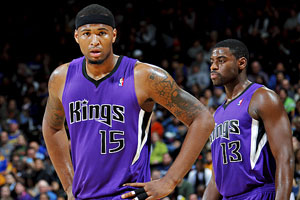 Rocky Widner/NBAE/Getty Images
One question the Kings need to answer: Who is going to be "the man?" Tyreke Evans or DeMarcus Cousins?
Harper: Marcus Thornton has been incredible for the Kings since he joined them at the trade deadline. He gives them a legitimate scorer that not even Tyreke or DeMarcus can provide. Those guys are very good offensive options but they don't have a deadly jumper from the outside. Thornton is a threat to score from everywhere on the floor. He's knocking down 39% from 3 and can create space for his jumper with his dribbling ability. He's kept the defenses honest while still opening up the floor for Tyreke, Beno [Udrih], DeMarcus and everybody else. They actually appear to be running an offense now, instead of having the most basic system in the NBA.
3. Sacramento is 7-6 over its last 13 games, which for them constitutes real progress. What accounts for the improvement?
Harper: A lot of this has to do with the return of Tyreke, the addition of Thornton and perhaps being not taken so seriously. They've beaten three playoff teams during this time and won five road games. Everybody on the Kings have played like they're trying to end this era on a high note. Thornton is scoring like crazy, the interior play of the Kings has been stellar and Samuel Dalembert is either having a great stretch or trying to up the end of this contract year. There isn't one real thing boosting this team. They're just really excelling without much expectation left.
4. Not to dig at your loss up north, but assuming the move is made, is this a team basketball fans in Orange County should be excited about?
Harper: I feel like you're asking Kings fans if their soon to be ex-girlfriend is a good kisser. I think this team will greatly improve in the near future. They have a good young core and with the right head coach, they could really be a tough team. They just have to find an identity. Is it building behind Cousins or Tyreke? Are they going to be an up-tempo team or a defensive-minded team. Will the Maloofs finally spend money in the new market or will they just try to pump it into their failing casino? The potential for this team is great. They just need to figure out what the plan is.