The playoffs are inching closer and closer, which means the analysis grows deeper and deeper. We exchanged emails back and forth with Michael McNamara of Hornets247.com (TrueHoop network). Tons of issues examined, so kick back and drink it all in.
Brian Kamenetzky: Michael, is everyone in New Orleans as pessimistic as Lakers fans are optimistic?
Michael McNamara: Basically, most fans believe two wins would be considered a victory. There is no realistic Hornets fan who believes that New Orleans can win this series, but there are moral victories to be had. Trevor Ariza has been a disappointment for most of the season, but a good showing on both ends of the court might give fans hope he could turn that corner next year.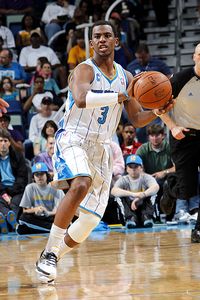 Layne Murdoch/NBAE via Getty Images
Hornets fans are hoping to see "Chris," not "Christopher" in this series
What fans want to see more than anything, however, is the return of Chris Paul. We have jokingly referred to him as "Christopher Paul" for much of the season because he simply is not the same guy we recognize as CP3. If he can have a series like Deron Williams had against the Lakers last year, and the Hornets can steal a game or two, I think that Hornets fans will be happy.
My question is whether or not you think that an easy first-round matchup might be the worst-case scenario for the Lakers? We see how they tend to get bored when they are not challenged, so is it possible that a tough first-round series would have been better in the long run?
Andy Kamenetzky: I understand the thought process, but I'd like to think that's overthinking matters. Even acknowledging the Lakers' willingness to, shall we say, cruise, they're decidedly built for the postseason. It's what they live for and all they've been thinking about since roughly December. The playoffs finally arriving should kick them into high gear and the 2009 semifinals against Houston aside, there's never been a glaring example of the Lakers sleepwalking through a series.
Besides, the Lakers haven't been good enough lately to poo poo anybody. As Kobe mentioned Wednesday on Mason and Ireland, "The way we're playing right now ... if we saw [the Timberwolves] in Round 1, they'd be a tough one."
Michael, how have the Hornets looked since David West's injury and how has Carl Landry -- who's been known to provide the Lakers fits -- done filling in?
MM: People think of it as Carl Landry replacing David West, but in reality, it is Jason Smith and Aaron Gray getting the minutes West left behind and that is a HUGE drop off. The Hornets were all set to go with a three-man PF/C rotation that could have rivaled any outside of L.A. Instead, they are forced to either go small with Ariza at the 4 or play journeymen with no business seeing playoff action.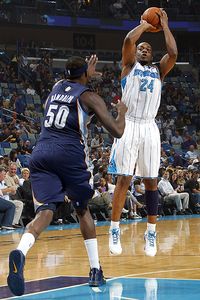 Layne Murdoch/NBAE via Getty Images
Carl Landry has been good for New Orleans, but he's no David West.
Landry has been a good replacement for West on the offensive end, but far worse on the defensive end. While West was never going to win Defensive Player of the Year, he understood Monty Williams' rotations and communicated better with teammates. West is also a much better rebounder on the defensive glass and can occasionally get some weakside blocks.
Overall, the Hornets have gone from a team I thought was either the fourth- or fifth-best team in the conference to a team that would have trouble beating the Kings or Warriors in a seven-game series. David West means that much.
Speaking of injury concerns, the Lakers are a little banged up with Andrew Bynum's bone bruise. Two-part question: 1. Can the Lakers win the title without a healthy Andrew Bynum? 2. Who is more important to this team: Andrew Bynum or Lamar Odom?
Brian Kamenetzky: A "healthy" Bynum is a totally relative thing. He wasn't fully healthy before the incident against San Antonio this week made him even less so. So almost by definition, they'll have to win it without him at 100 percent, because there's absolutely no way he'll get there in time. The good news for the Lakers is they've won consecutive titles with a limited-or-worse Bynum available. He really wasn't a factor in the '09 run, and last season he made a difference with his presence, but wasn't a dominating force by any stretch, and increasingly less so as the playoffs went along.
That said, Bynum needs to be somewhere in between the presence he was last season and the shot-altering, glass-dominating monster he was coming out of the All-Star break. It's not so much about the other centers he'll see, but Bynum's ability to control penetration. He raised L.A.'s defense to another level, one that makes them almost impossible to beat four times in seven games.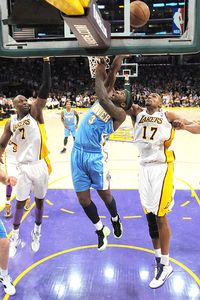 Kirby Lee/US Presswire
Ranking the importance of Andrew Bynum vs. Lamar Odom is a difficult proposition.
As to the second question, "important" is a tricky term. Assuming Bynum is in the lineup, Odom becomes the only reliable member of the Lakers bench, with Shannon Brown slumping, Steve Blake with chicken pox and Matt Barnes still hurting following knee surgery. Odom is a guy who gives Phil Jackson incredible flexibility with lineups, since Odom can handle the ball offensively, and guard a couple of different positions defensively. He's more important, in the sense he's more versatile and more things break down if he's gone.
Bynum, though, is a guy who can elevate them from elite to damn near unbeatable. So you choose, I guess.
Michael, what has been different about Paul's play this season, and how does it factor into this series?
MM: Saying that CP3 hasn't been the same as 2008 or 2009 should not be considered an insult, as those were arguably two of the best seasons by a point guard in the last 30 years. But Hornets fans have seen a different Chris Paul this year, as he's adjusted to new teammates, a new coach, and a new meniscus (or lack thereof). If you look at the other six guys making up the current seven-man rotation, only Emeka Okafor is a holdover from last season, and the two barely played together last year because of injuries.
Chris Paul has made a concerted effort to get his new teammates involved -- even more than in the past -- and has passed up hundreds of shots this season that he would normally take. Because of that, teams are almost daring him to shoot. Surprisingly, he still won't. He is taking six less shots per game than he did in his MVP season -- I mean runner-up season, as Kobe was given the award in 2008 for Lifetime Achievement -- and because teams know that he won't shoot, his passing lanes are smaller, which has affected his assist numbers.
Injury also has to be part of the problem. Paul used to be able to play 45 minutes in back-to-back games and show no signs. This year, he is horrible in the second nights of back-to-back games, while he is great on three or more days' rest. Also, his 3-point percentage has steadily dropped over the last five months: 48%, 44%, 44%, 30%, 26%. The good news, however, is there is plenty of time to rest in the playoffs. Because of that, there is hope the world will get to see the old CP3.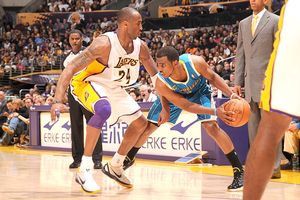 Win McNamee/Getty Images
It's feeling like 2008 all over again, man!
I understand why you ask about CP3, as elite point guards have been the Achilles heal for the Lakers. If that happens in this series, do you think that the Lakers might go with Kobe on Chris Paul? Perhaps Shannon Brown or Steve Blake? Or has Derek Fisher done enough for that franchise that Phil will leave him on the court, even if he is getting humiliated?
AK: I'm expecting -- or hoping for, if nothing else -- a lot of Kobe on Paul. He's the most ideal defender on paper against CP3 to begin with, and when you consider other factors, Bryant shifts from "logical" to "practical."
As you said, Fisher will have a hard time keeping up with Paul over 30-40 minutes. Blake will miss at least part of the series. Barnes' surgically repaired knee is acting up. Shannon's defense has been spotty. The size of Ron Artest and Lamar Odom could wear down Paul on scattered possessions, but as a primary assignment, that's pushing things.
Which takes us back to Kobe. Between the inches, Paul surrenders against him and Bryant's tenacity against players deemed worth of his attention, I'd love for Kobe to be the first option slowing Paul.
And speaking of "first options," the Lakers don't need Kobe to carry the scoring in this series. With Andrew Bynum presumably available at even half strength, he, Pau Gasol and Odom forge an exceptional size advantage over New Orleans. Especially Gasol, who's shooting 70.5 percent and averaging 22 ppg on 11 shots against the Hornets this season. Pound the ball inside all series and allow Kobe to conserve his energy. It could actually make a bigger impact than whatever points Kobe provides.
Brian, agree? Disagree?
BK: Well, Phil Jackson doesn't think Kobe would pick up Paul very much. At the very least, it didn't sound like his plan of attack. And while I'd be surprised if it didn't happen at all, particularly if the Hornets were close in the fourth quarter, I think the point you're making about how Kobe can take a lesser burden offensively applies at the other end, too. There's no reason the Lakers can't adequately defend the Hornets without Kobe spending a lot of time as Paul's primary defender. If as a group they display some discipline, they have the ability to prevent Paul from being both a scorer and a playmaker.
I'd start him away from CP3, and see how it goes. They can always make the adjustment if necessary.
Last question, Michael, then some predictions. Paul and Jarret Jack have made for an effective combo. How much mileage can they get out of that pair in this series?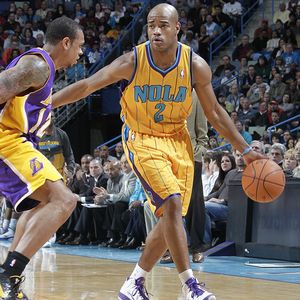 Layne Murdoch/NBAE/Getty Images
Shannon Brown and other Lakers will need to keep an eye on Jarrett Jack.
MM: If the Hornets are going to make things interesting, they are going to have to push the tempo and the best way is with multiple ball handlers who can start the break off turnovers or defensive stops. While a Jack/Paul combo will likely be a huge liability on the defensive end, it might be the only way that the Hornets can have enough firepower on the court to keep up. Since coming to the Hornets, Jarrett Jack has put up impressive numbers whenever he gets 25+ minutes.
While that combo could be dangerous, it still is hard to imagine the Hornets winning this series. They certainly don't have the firepower to win a shootout with Los Angeles, and it is hard to imagine holding L.A. under 90 points four times. That is the magic number, since the Hornets are 24-3 when holding opponents under 90 points and the Lakers are 2-12 when scoring under 90 points.
Still, Game 1 is going to be harder for the Lakers than most fans think, and I believe the Hornets will put a scare into L.A. before the Lakers pull it out. I expect the Lakers to let off the gas in Game 3 and for New Orleans to show love for their home team. That combination will result in a Hornets victory, but unfortunately it will be the only one in the series, as the Lakers win in five.
How do you two see it going down?
AK: Lakers in five as well. My respect for Chris Paul, even in a "down year," is high enough to believe he can will his squad to at least one victory. Plus, the Lakers may be more talented, but that's not the same thing as the Hornets being terrible. Lousy teams don't win nearly 46 games in this conference. However, the Lakers will control the series.
BK: Lakers in five, assuming they don't get bored or overly arrogant (like against Houston in 2009). The Hornets simply don't have enough talent to push the Lakers to a sixth game.