Two games into the playoffs, the Lakers look like a team still searching for itself. The good news, however, is the road can sometimes be a good place to discover championship form. The creature comforts of your house are swapped out for a hotel room and a less familiar bed. The daily distractions of your personal life are removed. Focus increases -- even when the games are in New Orleans -- because the threshold for mistakes decreases. Behind enemy lines, it's your roster against the world, and teammates have no choice but to bring the best out of themselves and each other.
For the Lakers, Game 3 isn't just about gaining control of a currently split series. It's about finding a way to morph into the best version of their team as the playoffs become more difficult. Here are a few items to keep an eye on once the ball is jumped.
Pau Gasol putting the ball on the floor more often
Pau averaged 22 points on 11 shots and 70.5 percent shooting in four games against New Orleans this season, so the last thing people expected from him during this series was telenovela-esque drama. But alas, here we are.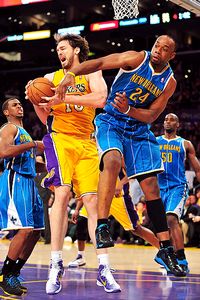 Gary A. Vasquez/US Presswire
Pau's series has thus far been a nightmare.
During Game 1, Pau didn't initially see the ball enough and by his own admission, proceeded to check out mentally. Gasol was clearly more engaged and active during Game 2, but the struggles continued. The respectively undersized likes of Carl Landry and Aaron Gray kept pushing Pau off his spots and preventing rhythm. A normally automatic midrange jumper still hit everything but net. The follow-up contest did feature five offensive rebounds, more defensive intensity and effectiveness, and a better body language. But the All-Star is clearly out of sorts.
In the meantime, presidential candidates rarely undergo the degree of scrutiny and analysis El Spaniard is currently experiencing. During Tuesday's practice, Gasol said he's ignoring the armchair QB noise, but the din must still be maddening. However, as long as everybody and their mother is chiming in, I'll add my two cents' worth of advice.
Put the ball on the floor and drive to the basket.
If Gasol is frustrated by his low percentages and inability to maintain low position, I've been equally frustrated by his reluctance to keep New Orleans' defenders off-balance. Pau excels at putting the ball on the floor and there isn't a single Hornet capable of successfully checking his drives on a regular basis. There have been far too many possessions where Pau's been relegated to the elbow or the free throw line, and rather than force someone to defend him, he's opted for the jumper.
That this distance is well within his established range isn't the issue. Pau is actually doing Gray, Landry, Emeka Ofafor, etc. a favor by not making them risk picking up fouls. Taking more control of these possessions, even if he doesn't always sink baskets along the way, could go a long way toward re-establishing the presumed hierarchy among big men in this series.
Kobe's rationing of energy in Game 3
As someone hoping The Mamba would guard CP3 before the series began, I was thrilled by the mutual decision between Kobe Bryant and Derek Fisher to swap Game 2 assignments. Kobe won't "shut down" CP3 on a possession-by-possession basis over the next 3-5 games -- nobody is that good -- but as Game 2 demonstrated, simply making the All-Star work harder pays dividends. The more disrupted Paul remains, the more disrupted the entire New Orleans offense grows.
Kobe is by far the best Laker for this task, and while the inevitable help from guys like Fish, Steve Blake and maybe even Ron Artest will be welcomed, I'm a big proponent of making Bryant the primary watchdog.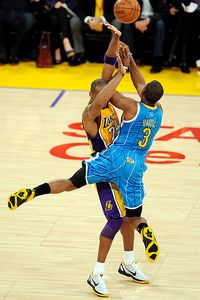 Jayne Kamin-Oncea/US Presswire
Kobe got a little too close here, but there's no denying his effectiveness against CP3.
Still, there is a price.
Chasing around arguably the league's best pure point is nothing if not physically taxing, and the proof came in the form of Kobe's offense. Only 10 shot attempts in all, with just three dropping. To Bryant's credit, the demands of shadowing Paul didn't prevent him from attacking the rim -- yes, your orejas are in fact burning, Pau -- but pacing himself effectively on offense while guarding Paul will likely be a work in progress.
For me, this isn't so much potentially problematic as purely fascinating. Corralling Paul logically requires Kobe to take a smaller role in scoring, so this is to be expected. Plus, 25-30 points from Kobe shouldn't be necessary to beat an opponent averaging 94.9 on the season. (Especially if Kobe's defensive assignment makes it even harder for New Orleans' points to come.) His teammates should be able to carry more of the load, especially if Pau snaps out of his funk.
Still, you know he's not gonna be satisfied with just a triangular cameo. As Kobe grows more familiar with the physical demands of his assignment, it'll be interesting to see how he picks his spots to create a stronger offensive presence.
The bench on the road
I wrote yesterday about the challenges for Lamar Odom and the Killer B's outside of Staples Center. And while filling in for John Ireland on the Mason and Ireland show, current ESPN NBA analyst/former NBA player Jalen Rose offered his perspective on what makes playing on the road typically tough for reserves:
"The familiarity. When you're playing at home, if you miss a shot, the fans are still cheering for you and your star player will still pass you the ball when you're open. On the road, when you miss two or three, your star player's gonna tell you to do the intangibles and run on the fast break.
"Your leash is [shortened] by your star player and by your coach and by your teammates. Instead of getting an opportunity to play 10-20 extended minutes because you're playing well, when you play poorly on the road and you get off to a bad start as a reserve, you play closer to 10 minutes, and that's what you have to watch with the Laker reserves. Not Lamar Odom, but Shannon Brown, Steve Blake, [and] Matt Barnes.
"Are they going to be able to get going early and sustain long minutes where they can get more opportunities to produce? Or do you come out there, miss a couple of shots, have one or two turnovers, miss a couple of assignments, and before you know it, you're sitting next to coach Phil Jackson?"