Technically speaking, the Los Angeles Lakers don't have to win Wednesday night's Game 2 at Staples Center, so calling it a "must win" is a little misleading.
But only a little.
For the Lakers to fall behind 2-0 with three of the five potential games remaining coming in Dallas would put them in a serious hole. A win Wednesday will require better individual efforts -- Ron Artest can't miss seven of eight shots, and Andrew Bynum, a team-low 16 in Game 1, needs to follow through on his postgame vow to more aggressively take his game to the Dallas Mavericks' Tyson Chandler and Brendan Haywood in the post -- and more coordinated work as a team.
Here are three more things to watch...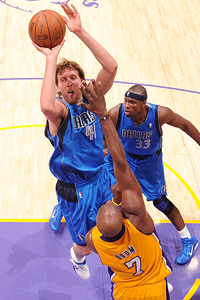 Andrew D. Bernstein/NBAE/Getty Images
How the Lakers handle Dirk in Game 2 will be a major factor in determining a winner.
1. Who Guards Dirk Nowitzki? I mentioned Tuesday night a great post from Sebastian Pruiti of NBA Playbook (if you haven't bookmarked this site, you should -- super educational, very insightful, and easily consumed) illustrating problems the Lakers had matching up with Dirk Nowitzki, whether with Pau Gasol or Lamar Odom, though Gasol got the worst of it. To be fair, 7-footers who routinely can rainbow fadeaways off one foot are often unguardable. (This we know from the old basketball saw, "Seven-footers who routinely can rainbow fadeaways off one foot are often unguardable.") There are times, just as it can be for Kobe Bryant or other superstars, when for all practical purposes checking Nowitzki becomes a matter of hoping he misses.
To the extent the defender can toss Nowitzki off his game, Pruiti, as some others have, suggests Lakers coach Phil Jackson add a third man to the Dirk Duties hopper: Ron Artest. Before Game 1, Jackson actually addressed that possibility. "I've seen him guarded with shorter guys: 6-5, 6-6, aggressive, quick," he said, noting they've used Artest on Nowitzki from time to time. Still, Jackson classified Artest as a guy to put on Nowitzki in "special needs" situations, making it clear he doesn't want to "overcompensate" in an effort to shut down the Dallas star.
It's not an ideal matchup, because despite Artest's physicality, Nowitzki is so much longer it's pretty easy for him to rise above the earthbound Artest for a clean shot. I suspect Jackson will again do whatever he can to maintain "normal" defensive assignments, starting Gasol on Nowitzki and using Odom when he's on the floor. Still, should either falter, seeing Artest take a few turns won't be a shock, if for no other reason than to give Nowitzki something different to consider.
Regardless, the Lakers need to do a much better job disrupting the ball movement allowing Dallas to register 30 assists on 39 field goals, an incredible rate, particularly on the road where dimes tend to be awarded less liberally. This while continuing to control the defensive boards (only five offensive rebounds and five second chance points for Dallas in Game 1) and keeping the Mavs off the line (11 free-throw attempts allowed).
2. Pau Gasol. In the first half of Game 1, Gasol was very strong, accounting for nine of L.A.'s 20 field goals with either a bucket or an assist. From there, he added six points in the third (with a pair of turnovers) and was a total non-factor, at least in a positive way, in the fourth. His stats of 15/11/7 plus a block aren't a train wreck of a final line by any stretch, but failed badly in the final minute, sending Nowitzki to the line with a bad foul, then losing the ball on the ill-fated second-to-last play for the Lakers. The latter was somewhat understandable, given how Kobe fell into him, but the former was inexcusable (even if Phil Jackson should have had Lamar Odom on Nowitzki in that situation).
Based on fan reaction over talk radio and the web, you'd have thought Gasol was horrid from start to finish. He wasn't, but now seven games into the postseason, we're still waiting for the version of Gasol helping deliver a pair of titles to the franchise. He seems to have recovered from the disastrous start to the Hornets series, but even with improvement he still isn't playing at a level worthy of his talent or location on L.A.'s pecking order with any sort of consistency. This Gasol isn't good or reliable enough to carry a team for stretches when needed.
For the Lakers to get where they hope to go this spring, Gasol must rediscover that form.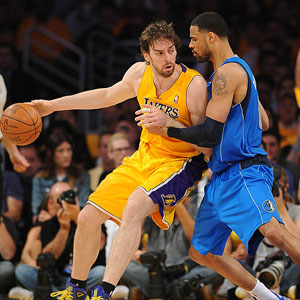 Noah Graham/NBAE/Getty Images
Through seven playoff games, Pau Gasol hasn't been the player the Lakers need on a consistent basis.
It's not simply a matter of attacking faster. One of Gasol's great strengths is patience, and the ability to read the defense without giving up his dribble. He showed it Monday, setting up clean perimeter jumpers for teammates by making Dallas defenders commit to a double before kicking to the perimeter, or in his touch passes to Andrew Bynum underneath. There are times Gasol seems to hold the ball confidently, with a plan. Other times, he seems unsure what to do with it.
The same inconsistencies show when he acts quickly. Speed isn't necessarily his problem. I'm not sure what is, and I doubt he is either. ... Which, by the way, probably gets to the root of things.
Nonetheless, it's vital the Lakers put Gasol in the center of their attack, not simply to get him going but because it forces Nowitzki to defend. In terms of series-long strategy, the Lakers give themselves a competitive advantage by making Nowitzki expend energy on both ends, hopefully sucking some life from his legs in the process. Nowitzki absolutely has to score efficiently for Dallas to win, but will he be able to do it over the course of a long series if required to play defense and rebound, too?
In Game 1, Gasol aggressively looked for his shot early against Nowitzki, going toe-to-toe with the big German. As the game went along, however, he and the Lakers stopped applying the pressure. That shouldn't happen Wednesday, and certainly can't long term. Gasol has to call his own number more often, and L.A. more frequently should plant Gasol around the high post, allowing him to facilitate the offense and also keep Nowitzki committed.
3. What Can Kobe Give? Before Game 1, Phil Jackson said he thought Kobe was "a lot better" physically following the three-day layoff between the first and second rounds, and Tuesday would be a good indication of where Bryant's injured left foot and ankle stood. Those fans looking closely Monday may have seen him deliver positive signs, however subtle and understated. Bryant's 36 points, including 12 straight at one point in the third, for example. Real blink-and-you-miss-it stuff. Still, the location of his shots in the second half -- 17 in total, all from the perimeter, with little penetration and no trips to the line -- had people asking questions. Was any of it a function of his mobility? Reaction to pain?
No, Bryant said. "[I was given] good mid-range jumpers. I shot a high percentage. Those are easy shots for me."
The schedule for the rest of the series, with games every other day until a two-day gap between Games 6 and 7, doesn't allow much rest. While it may feel counter-intuitive, the rapid pace could serve Kobe well. Fewer off days mean fewer days on the sidelines for Bryant, because as Jackson joked before the game, "I don't anticipate that he'll ever practice again." Jackson believes it might help Bryant stay in rhythm without the benefit of off-day work. This assumes he doesn't do anything during a game making the injury worse, in which case the whole model -- having to pound on that foot in playoff competition on alternating nights -- flips over. At that point, predicting Kobe's performance from night to night gets tougher.
Bryant seemed to emerge from Monday's game unscathed, meaning he should be strong for Wednesday's damn-near must win Game 2. Given how much attention was paid his shot locations, Bryant will almost surely figure out ways to dribble drive, draw contact and get to the stripe. If for no other reason than to get laptop toting pencil necks like me to stop asking questions. More off-ball action late in games could be very beneficial.
Just as it played out in Game 1, don't expect a free-throw parade for either side. The Lakers and Mavericks ranked first and third, respectively, in opponent free throws per field-goal attempt during the regular season, but even a few more FTA's from Bryant (and his teammates, likely to find themselves in position to finish near the rim should Kobe penetrate more effectively) could make a difference.