Ninety-eight have tried, 98 have failed.
If the Lakers are to be the first team in NBA history to overcome a 3-0 deficit in a seven-game series, the comeback will start this afternoon in Game 4. The team can find motivation from a variety of sources. Think of Phil Jackson, for example. As a Laker, do you want to be the guy who sends him out on the wrong end of a sweep? Think of your fans, who might like one more chance to cheer (or boo, I suppose, given what happened in Game 2) the team bringing home consecutive titles. Think of pride, personal and collective.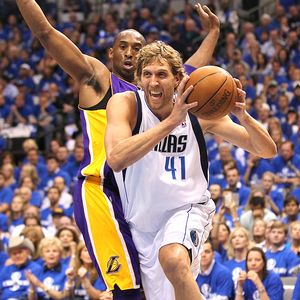 Matthew Emmons/US Presswire
The battle of stars has favored Dirk Nowitzki heading into Game 4.
But most of all, think of the mothers. Is it right to ruin their day?
Here's what to watch for in Elimination Game No. 1 ...
1. Fight. Thursday afternoon after arriving at DFW, I found myself riding the shuttle to the rental car station with another member of the media. We talked about the series to that point, and kicked around thoughts on Games 3 and 4. Both of us felt confident the Lakers would throw the kitchen sink at Dallas in Game 3, and they did. (In the end it didn't matter, but they did.) But as we played out potential scenarios, he was convinced the Lakers wouldn't get swept. If they lost Game 3, under no circumstances would they lose Game 4.
I felt strongly otherwise.
It's not simply a question of matchups on the floor, many of which are working against the champs (gotta call them that while there's still time), but of the team's collective mentality. The Lakers are a group interested in winning titles. Having reached a point where it's pretty clear it won't happen, how do they respond? If they understand eventually the end is coming, do they really care if the final count is 4-0, 4-1 or 4-2? The question wades deep into moral victory territory, something for which these Lakers have no use. "Win title/lose title" is their only relevant measurement.
If the Lakers truly believe they can do what has thus far been impossible over the course of NBA history and are motivated to try, they can win Sunday afternoon, pressing through whatever adversity comes in the process. However, if deep down Game 4 is collectively viewed simply as a way to delay the inevitable and maybe save a little face, the Lakers likely won't see Game 5.
2. Pau Gasol. Short of throwing the Lakers on his back and hauling them to four straight wins, Gasol's reputation will take a massive hit based on this season's postseason showing. It will not be pleasant, nor always fair, but it will happen.
He knows it, too.
So how does Gasol respond Sunday, with the damage already done? Pin his troubles to the way he's been defended, issues off the floor, rumored or real, mental fatigue, physical injury and exhaustion, or any combination of the group. Bottom line: Gasol has been disappointing on a pretty profound scale this postseason. Can the four-time All-Star, his confidence admittedly shaken, pull it together and deliver a full 48-minute performance -- if only to show himself it's still possible?
3. Easy points.In Game 3, the Lakers were outscored by 27 points at the 3-point line, and 13 at the stripe. That's 40 points to you and me, a massive swing largely accounting the outcome. Obviously, the Lakers would like to lower Dallas' production in those areas, speaking to defensive issues including the butchered fourth-quarter rotations Kobe referenced following Friday's loss and again before practice Saturday afternoon.
Unfortunately, Friday's numbers indicate just as large a problem, maybe larger, on the other side of the ball. The Lakers hit only three triples in 13 tries and earned a scant 14 trips to the line during Game 3. Basically, they were forced to points two at a time, requiring a great deal of efficiency to keep up. For a while, they managed to do just that, but over the course of the game found scoring to be an increasingly difficult proposition.
During the regular season, the Lakers were neither a high-volume free throw shooting team (24.1 attempts per game, 17th in the NBA) nor overly impressive in their outside shooting (6.4 3s per game, 12th in the league, on the 17th-ranked percentage). Save Mavs fans, who have enjoyed how horribly the Lakers have shot through three games, nobody wants them to stand outside and bomb away or spend 24 seconds chasing whistles instead of running the offense, but something closer to season norms would make a profound difference in L.A.'s attack.
Add in a few more points off turnovers, and things get even better.
In the end, it probably all returns to point No. 1 above. Can the Lakers commit themselves to a task everything from history to their own play this season says is impossible?