In the end, it really wasn't all that eventful.
Kobe Bryant's 2010-11 season lacked many of the elements concerning some heading into last summer, on the heels of his most injury-riddled season in recent memory. Yeah, he missed only nine games -- the list of star players missing more time last year was long -- but given his age, mileage and level of responsibility, the ailments of a season ago raised a few alarms. Bryant required arthroscopic surgery on his right knee over the summer. It didn't cost him any regular-season games -- no shock there -- but Kobe was certainly vulnerable starting the new season.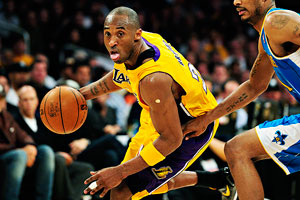 Icon/SMI
Overall, the Lakers couldn't turn the corner, but on a personal level, Kobe Bryant's season was strong.
Put together, it all seemed like a recipe for trouble.
Or not. The Lakers' 13-2 start was enough to take pressure off Bryant and avoid pushing the knee beyond a safe point. Throughout the season, Phil Jackson kept a lid on Kobe's minutes, shaving about five minutes a night off his workload, meaning despite playing all 82 games, Bryant actually logged 56 fewer minutes than a season ago. And while Bryant undoubtedly worked through a variety of dings and damage over the course of the year, until wrenching his left foot and ankle near the end of Game 4 against the Hornets in the first round of the playoffs, his health really wasn't a front-burner issue.
On the floor, Bryant's level of play put much of the talk concerning his decline on hold. His shooting percentage (45.1) was in line with his career average (45.5), while on a per-36-minute basis, Bryant's scoring, assist and rebounding numbers were superior to the 2009-10 season. His free-throw rate was higher, as well. Efficiency wonks will appreciate Bryant's improvement in PER, jumping from 21.95 to 23.97. Award wonks will appreciate Bryant's fourth-place finish in MVP voting. And while Bryant wasn't as sharp walking the line between aggressiveness in finding his own offensive game and keeping teammates involved -- as one of the league's usage-rate monsters, such considerations are particularly important -- while his shots-per-minute rose, so too did his assist rate.
Statistically speaking, at least, Bryant's production was as high or higher than it has been since his MVP season of 2007-08.
Certainly Bryant's offensive game continued its slow evolution. In three of his last four seasons, Kobe averaged about five shots a game at the rim (in the other, he averaged 4.4). This season, that number dropped to 3.5 a game. On the bright side, Kobe's conversion rate at the rack increased from 58.6 to 65.3 percent. Not surprisingly, Kobe made up for those missing FGA deep in the paint with more short jumpers, averaging nearly one more shot a game from 3 to 9 feet. On the downside, his 3-point attempts crept up slightly (again, on a per-minute measurement), despite a very weak average of 32.3 percent.
Unlike last year, when Bryant seemed to can a game-winning shot about every third night, this season he came up short. Not that there were many opportunities -- the Lakers didn't play all that many close games, win or lose -- but Bryant didn't provide the same level of last-second heroics. More importantly, as a team the Lakers often struggled closing games strong offensively, something for which Bryant bears some responsibility as he's the dominant ball handler and shooter in those situations.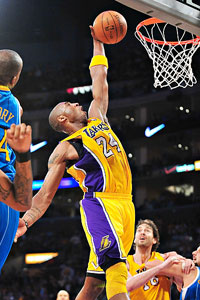 Gary A. Vasquez/US Presswire
Kobe didn't spend quite as much time at the rim this season as he did in recent ones, though when he got there he converted at a higher percentage.
"Kobe Time" didn't feel nearly as constructive.
Maybe it's the start of a trend, maybe not. No question the Lakers will have to become a more efficient fourth-quarter team, something likely requiring an adjustment of how they operate deep in games ... basically code for Kobe needing to make changes as well. These, though, are still more forward-looking concerns. Big picture, while anyone connected to or covering the Lakers understandably spends a lot of time searching for signs of decline from Bryant, this season, for all intents and purposes, he kicked that can down the road. There were down stretches, exacerbated by slumps from a normally reliable wingman in Pau Gasol. There were brilliant runs as well, including 18 games through December in which he shot worse than 45.5 percent from the floor only twice.
Basically, for the most part, it seemed like a typically solid Kobe Bryant season, something we're all used to but should never take for granted.
Defensively, he can still bring it when he needs to, but overall Bryant was just as much a problem in relation to struggles on L.A.'s end of the floor as he was a solution. I know he was named to the NBA's All Defense Team, but got there by reputation, not performance. He wasn't awful, but Bryant certainly wasn't first-team good.
Like most of his teammates, Bryant's numbers dropped in the postseason. He had some high-end games, but taken as a whole it was hardly Bryant's finest hour. Particularly when considering some of the more negative numbers, like an increased turnover percentage in the face of a diminished assist rate. But though he may not have been uniformly brilliant, he was well down the list of reasons the Lakers struggled.
Just as it was in the regular season, the Lakers had problems, but fundamentally didn't have a Kobe problem.
Bryant remains among the game's elite players. He's not the best player in the NBA anymore, particularly on a night-to-night basis, but that ship actually sailed a few years ago. His own weaknesses are more noticeable, as is his lessened ability to completely paper over the shortcomings of teammates. We knew that already, too. What Kobe clearly demonstrated was that this season wouldn't be the one seeing any sort of meaningful decline in his game, essentially putting the "How long can Kobe be Kobe?" question in a holding pattern. During his exit interview, Kobe talked about his excitement entering the offseason with no major ailments. It's a chance for him to get strong in a way he couldn't for this year, despite for the most part avoiding the injury bug.
They are important months in his never-ending battle against time and inevitability. How effectively they translate into on-court performance will have to wait until next year.
As for the 2010-11 season, Bryant delivered in fine fashion.
GRADE: B+