Last Sunday, as the Dallas Mavericks celebrated a championship in the same arena housing a pep rally last July to celebrate the union of LeBron James, Dwyane Wade and Chris Bosh, like all the analysts, Internet scribes and fans across Twitter, I pondered the standard talking points; LeBron's series-long disappearing act, a hesitance eventually shared by his teammates. The frustration that eventually did in Flash. Dirk Nowitzki's fourth quarter comeback. Jason Terry's clutch shooting. Depth overcoming talent. Teamwork overcoming flash. The nationwide pleasure taken in Team South Beach's wipe out.
But eventually, I also had a flashback to standing in the TD Garden visitor's locker room, watching various members of the 2008 Lakers talk about getting their asses handed to them in humiliating fashion.
And the title they won the following season.
And how similar the Lakers' and Heat's situations are.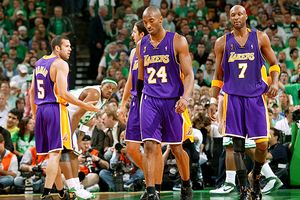 Jesse D. Garrabrant/NBAE/Getty Images
Before the back-to-back titles, Kobe and the Lakers absorbed the blows and ridicule.
Obviously, these aren't identical back stories. The Lakers, despite being considered (if memory serves) the consensus favorite in the Finals, nonetheless were riding an unexpected wave of greatness. The season began with Kobe Bryant wanting out and the franchise's future cloudier than a typical Seattle morning.
Yes, Andrew Bynum's shocking improvement, then the trade for Pau Gasol, transformed the 2007 seven-seeds into legitimate title contenders, but that's also no substitute for an entire season spent preparing for a Finals appearance. Not to mention, adversity conquered along the way. As Derek Fisher put it, the Lakers kind of "waltzed (their) way" to the NBA Finals before getting blindsided by the buzz saw that was Boston. Bynum available and Trevor Ariza fully functional perhaps would have offset that callowness. But at the end of the day, it was painfully obvious Boston had been the team spending every minute from training camp to their Game 6 blow out mentally readying for the moment they raised the O'Brien.
In theory, the Heat are the 2011 version of those Celtics, but on steroids. An even bigger and younger three who moved heaven and earth to join forces, then recruited veterans to similarly sacrifice dough to a shot at a ring. Of course, LeBron, Wade and Bosh also opted for WWE-style antics over Ubuntu, which only upped the "title or bust" expectations.
Which, in turn, upped the glee, ridicule and criticism when they fell short.
Think the Lakers had it bad with the non-stop talk that Kobe couldn't do it without Shaq, Pau and Lamar Odom were soft, Fish was too old, etc.? Well, that's nothing compared to what lies ahead for the Heat. Between their star power, gravitation towards the spotlight like a hybrid of every Kardashian family member and Twitter pushing 24/7 news cycles to dizzying heights, I don't think it's hyperbole to say there's never been a team scrutinized like the 2011 Miami Heat. Which, by definition, means the fall out will be even greater.
Nobody stands to absorb more uppercuts to the chin than LeBron, whose shrinking act resulted in a possession-by-possession reevaluation of his legacy and proximity to Michael Jordan. But there will be plenty of... wait for it... heat reserved for Wade, Bosh, Erik Spoelstra, Pat Riley or even the "three superstars" model until recently considered a must for constructing championship teams. It's officially open season on everything "South Beach." If their season existed under a powerful microscope while everyone assumed they'd eventually succeed, think about the future newly steeped in the stench of failure.
Of course, the Lakers proved this new world can also serve as a weapon. Driven by that humiliating, emasculating 39-point exit, each Laker took it upon himself to become better, whether that meant improving his play, leadership, physicality or mental toughness. Will LeBron spend the offseason developing an honest-to-goodness post game? Will he take stock as to why the pressure was too much to handle? Will he and Wade take an honest look at their inability to consistently co-exist and make the necessary adjustments? Will Chris Bosh emerge a player whose toughness can't possibly be questioned? Will Spoelstra examine the mistakes and reasons he was out-coached by Rick Carlisle?
Will everyone on the roster not merely accept but truly embrace the difficulty that always comes with winning a title, regardless of the talent assembled?
If these issues are tackled, then this too may pass for Miami. Beyond just as betting favorites, they're likely to enter next season as the consensus media favorite. And with good reason. They managed 58 wins and a Finals appearance despite injuries and an identity forged on the fly. Increased continuity, along with presumably full seasons with Mike Miller and Udonis Haslem, should only make them better. The Heat will be a good team for many years to come. Period.
Still, steps remain in need of taking, and mentally rather than physically. The bulls eye is even bigger, while the intimidation factor dwindles. Vulnerabilities will be further exploited. Opponents will look to punk them.
Of course, this is the scenario the Lakers conquered in 2009. A world of lemons was transformed into lemonade because of their resolve, plus the recognition of no other option. If James, Wade, Bosh, Spo and the key supporting players can use this reality to become better at their jobs, disappointment this June can ultimately become a worthwhile experience.
Not to mention, a potentially brutal development for the rest of the league.