Mike Brown on Kobe Bryant, the offense, point guards, and more
June, 24, 2011
6/24/11
1:00
PM PT

By Brian Kamenetzky
ESPNLosAngeles.com
Archive
Thursday night in El Segundo, Lakers coach
Mike Brown
stepped away from the war room (or more technically, his office, where he was watching the draft and eating pizza with his sons) to speak with the media before the team eventually selected
Darius Morris
,
Andrew Goudelock
, and
Ater Majok
. While he didn't get into an enormous amount of detail, Brown did cover a wide range of subjects: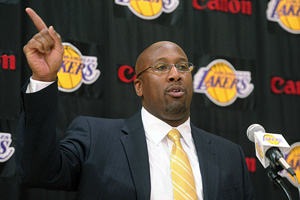 Kirby Lee/Image of Sport/US Presswire
Mike Brown plays the "Dead bird!" game with the L.A. media at his introductory press conference.

On his role in this year's Draft:
"I've kind of just watched from afar and kind of learned and listened.
Mitch [Kupchak]
and his staff have been doing this the whole year. They have a plan, they know the direction that they're going to go. I've watched them from afar, and they've seemed extremely organized and methodical about their approach, which is what I like. So I have the utmost faith and trust in the direction they're going to go tonight with this draft."
Did anything change about the approach once you came in, knowing what kind of players you would like?
"We've talked about the types of players that I like, whether it's guys who are already in the league, or guys who are going to get drafted. That's about it. For me to come in and try to really influence my opinion on this draft doesn't make sense, because those guys have been at it for many years, and not only that, they've been at this particular draft for the whole year, if not the last couple of years. Again, one of the things I always talk about is trying to build a culture of trust. Really, I'm here to show those guys support, but I trust those guys to do whatever they want tonight, and I'll back them because I know they've had success in the past, and will continue having success."
On whether he still believes this is a championship roster:
"I love this team. I think this team is built to win a championship, or championships. I'm excited about coaching the guys that we have."
On putting together the coaching staff:
"I'm almost done. I'm really close to being done… I haven't, in terms of putting a contract in front of people and letting them sign it, no, but I've come close to finalizing a few spots. So I feel pretty good about the direction that it's heading... I didn't interview that many, because some guys I knew that I'm hiring, and that I specifically wanted to go after. But there were a few guys. I probably interviewed probably about four or five. Those were guys that I didn't know very well, but I wanted to sit down and talk to, to get to know better, and see how well they would fit."
In meeting with players, what have you emphasized, and what have they emphasized with you?
"For the most part, we've been getting to know one another. I think that's the biggest thing. I don't know any of these guys real well, and they don't know me real well, either. We've been laying that foundation of respect for one another, and then trying to build on that from there. I've given them a little taste of some of the things I believe in on both ends of the floor. Nothing too complicated... "We talked a little offense, we talked a little defense. We talked about each other's families, what you've got going now. Just basic stuff."
On meeting with Kobe:
"I feel good about it."
Are you bothered that Kobe has not made a statement in support of you?
"No. No. I'm more than ok with [Kobe].
How does the point guard role change in a different offense?
"The one thing is it will be an equal opportunity offense where the one, the two, or the three can bring the ball up. Because all the smalls are interchangeable. So it's not going to be too much different, because in the past here they had multiple guys, even including Lamar, bring the ball up. But the one thing we like to emphasize, we like to emphasize attacking the clock. We want to get the ball from the backcourt to the frontcourt within the first four seconds or so, so that we can get to a second, a third, and sometimes a fourth option without our backs being up against the shot clock. So we'd like to get the ball up the floor a little quicker than what we've done in the past."
Do you know yet how you're thinking of using Kobe?
"Yes, I do. It fits into what I'm trying to do in our early offense. What I was saying is our early offense is going to be similar to what San Antonio did back when they had the two bigs in David and Tim. Again, there will be some bits and pieces of the triangle involved. But I think the triangle, it's a motion offense for the most part, and a lot of people have bits and pieces of that within their offense. It won't be any different for us, and we'll make sure Kobe's in his comfort zone, or his sweet spots out on the floor."
Those triangle elements carrying over, do they particularly involve Kobe and how he fits in and how you want to use him?
"He can fit in the mix that way. There are some other ideas that I have as to how I'll get him to fit in. But bits and pieces of the triangle, not only for him but for some of the other guys, too. There's a little bit of a comfort zone there, but I have some other ideas of how I'm going to get those guys to get to their sweet spots on the floor to be able to be effective offensively."
What's the mix you want working Kobe on and off the ball? What balance do you want?
"One hopefully that will keep our opponents off balance. I think he'll be on the ball some. I think he doesn't necessarily have to be a
Chris Paul
in a pick and roll situation, but because he is who he is, he's going to command a lot of attention and draw a double team whenever he comes off a pick and roll. So sometimes he'll be involved in the pick and rolls, not only to look for an opportunity to score himself, but to be a facilitator because he's going to draw and attract a lot of attention in situations like that. Then anytime you can have somebody who comes off screens or moves well without the ball, they're harder to double team, so we'll mix some of those elements in there, too."
On Bynum wanting a bigger offensive role. How does he anticipate creating a pecking order?
"It's going to determine itself, with how well guys play. I can't score for any of them. So if they go out and show they can do something, I'm not going to go to Pau if he's having a good night, if he's going for 35, 36, and he's leading us and say "No, no no, you've got to slow down and let Kobe pass you." We're just going to play the game, and our guys are going to play the game the best way to help this team win."
Is communication, given what could be coming around the corner with the labor problem, more important now with the players? In a normal summer you might have more time to get to know guys.
"Yes, you know that something could be coming, but I'm just going about my business just like I would any other time. I'm not doing anything special or anything different, because I always like to hit the ground running anyway. The more that I can get done, the better it is for me. At least I'll feel like I got more accomplished, that I'm a little bit ahead of the game. So I'm trying to knock out whatever I can sooner rather than later for everything, and it will continue like that."
On getting settled in LA:
"My family is not completely [settled]. My wife is still back in Cleveland. She's still getting the house ready to move and put on the market. My boys got in today. I might make a trip, one more trip back there. But for the most part I'm bunkered in pretty good."