You've seen the headlines in steady succession since the NBA lockout began on June 30th. "So-and-so weighs overseas options" ... "Player X signs with Spanish club team" ... "Turkey, China, Italy, Belarus and Dijibouti lure Kobe Bryant."
OK, that last one might have some fiction to it. But there's some truth, too.
The biggest difference between the last NBA work stoppage in 1998-99 and the one the league is mired in today is that now there is a pipeline for players to find jobs overseas that didn't exist back then. There is an opportunity for players to not only to stay in shape while feeding their competitive fire, but to make real money doing it. New Jersey's Deron Williams is reportedly making $5 million to play for Besiktas in Turkey and Bryant was offered up to $6.7 million to lace them up for Virtus Bologna in Italy.
Lakers reserve guard Steve Blake won't be adding any stamps to his passport anytime soon, however.
"If we're not having a season then I'm going to take the time to enjoy my kids and be with my wife and spend more time in Portland at my regular home, and just use the opportunity to just continue to work out and improve myself," Blake said in a recent phone interview. "I've prepared myself for this financially, so I don't need to go overseas and do it for the money."
Blake and his wife, Kristen, have three young boys -- Nicholas, Jamison and Zachary -- but if he were a less-attached man he could see himself traveling the globe to continue to play basketball.
"More power to those guys," Blake said. "Let them go play basketball, the game they love, and make some money doing it. If they don't want to let us play here, they'll play somewhere else. If I didn't have three kids and wife, I'd probably go play somewhere as well."
The rest of the wide-ranging interview can be read below. We cover what went wrong against Dallas, which famous athlete he went golfing with this summer, why it's OK that there's a viral video of him getting in a fist fight at practice, how his first meeting with Mike Brown went and more.
What are your impressions of what's happened since June 30th?
"To be honest with you, I don't really talk about the lockout. I let our president [Derek Fisher] handle that. I have faith in him that he'll get the right deal for us and that's about as far as it goes for me."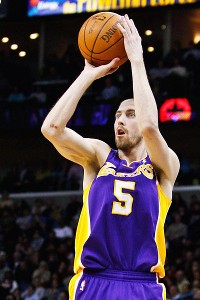 Derick E. Hingle/US Presswire
Lakers guard Steve Blake said he's looking forward to playing under Mike Brown -- whenever the season starts up again.
Have you been in touch with Derek or any other teammates throughout the offseason to keep communication open?
"I went to one meeting about [the lockout], but they keep us informed through email and things like that. Whenever something comes up, they let us know. Other than that, it's not like I call my teammates and gossip about it. I'm just kind of waiting for things to happen."
What about talking to teammates about Lakers-related stuff?
"It's mostly texts here and there. Most guys are with their families and it's hard to get on the phone a lot so I just shoot a text to guys here and there and we'll write back to each other that way. I did a coaches clinic with Luke [Walton] earlier in the summer, which was cool. That was cool to get the coaching experience and hang out with Luke for the week. That was a good time."
Take me through your offseason workout regimen. I know you don't always just do basketball and you like to work in other types of fitness activities.
"I've been in the gym a lot. I'm working on my skills in the game, working out for an hour and a half or so in the day, then get some rest and then I go back into a strength-and-conditioning program that I do for another hour every day. So, I really have two workouts a day, taking Sundays off, and I'm just trying to improve in every area, really. From ball handling to shooting, getting more athletic and stronger. I try to get better in every aspect every summer, so that's really been my focus -- just work on everything."
What about shooting specifically? I read that you wanted to add more arc to your shot.
"I've continued to work on that. I did hear a lot back after I did that interview [with the L.A. Times]. It's not like I'm going to be shooting the ball way up in the air. I don't think most people will even recognize [the adjustment], really. But I'm continuing to shoot the ball better by having a little bit more arc on my shot. Nothing dramatic. I've been a pretty good shooter throughout the years so I don't want to change my shot completely, but yes, I've definitely tried to become a better shooter. For sure."
Before June 30th, what were your first impressions of Mike Brown? What type of communication did you have with him?
"I'm excited to play for him. He seems like a great guy, he seems like he's really family-oriented. I really enjoyed talking to him. He gave me a call as soon as he had the job and also I was able to go in the gym a couple times before the lockout started and talk to him in person and just kind of see what his thoughts were on everything. I really enjoyed talking to him. He's a great guy and a great coach. I'm really looking forward to it."
Did he leave you any studying material about the offense you are going to be running next year?
"At brief we talked about the offense. He didn't give me any playbooks or anything like that, but we briefly talked about using the strength of our big guys and pushing the ball, getting it in the post and things like that. I got some things on defense, what our defensive playbook will be like. It was just a brief overview. We didn't get too specific, but we basically talked about everything."
I know you're not a huge stat guy, but last season you had 12 games where you had one or zero shot attempts. I also know you're not looking to be a volume shooter, but was that a reflection of perhaps never finding a full rhythm with the triangle? And maybe, with a more conventional offense under Brown, you might have more comfort next year?
"I think it was a lot of the product of the system of the triangle. I think it was the product of the triangle and minutes. When I was playing with Portland and when I was with the Clippers, I was playing 35-40 minutes a game a lot, so I got more shots that way. I don't look for a shot, so when you play limited minutes, I'm not going to get as many as I would. … But that doesn't worry me or bother me at all. It's just a product of the system. Maybe in this [new] system -- I don't know yet, I haven't played in it [yet] -- maybe opportunities will be there more. I don't know."
What are your impressions about last season? You had the spotlight of being an L.A. Laker, playing for Phil Jackson, playing with Kobe, getting swept by Dallas after a pretty successful regular season. … Have you reflected on what happened last year?
"You reflect a little bit. Obviously playing for Phil Jackson was amazing. He's the easiest coach to play for. He made it mentally a lot easier than a lot of places I've been. Obviously he's a great teacher of the game. I just loved playing for him. Even though the triangle was different for me than what I was used to my whole life, it was still awesome to learn from him and see how he handled players and games and all that great stuff. And playing with Kobe is awesome. How can you go wrong playing with the best player in the world? And playing with one of the best winners and best leaders in the game in Derek? And then everybody else.
"The team we had had the best chemistry off the court. I just loved it. There was a lot of learning curve for me that I had to learn from, but at the same time, it was a fun year. It was definitely disappointing the way it ended, but I think that just motivated myself and everyone else to come back and win it this next year."
Looking back at the Dallas series -- obviously the Mavericks went on to win the championship and Dirk Nowitzki was playing out of his mind -- but was there something basketball-wise that went on in that series that you can point to and think, "Yeah, that's why we lost"? Was it fatigue? What do you think led to a four-game sweep?
"Basically, they deserved to win. They shot the ball amazing. They played defense really well. I think a lot of what it came down to was us just not finishing the games strong. Because, we had a couple leads. In Game 1 we had a lead and we didn't finish that off. Maybe if we finish that one off, it gives us more confidence and takes some confidence from them. It could change the whole series. And then in Game 3. We just didn't finish those games off. If we would have finished those games off, it would have been a totally different series."
What have you been doing with your down time?
"My time has been all in Portland. I did a basketball camp in Hawaii, took a little vacation with my wife to Mexico, but other than that I've been in Portland the whole time and just training and working hard here, getting ready to go."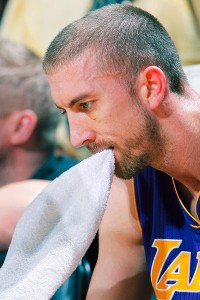 Rocky Widner/NBAE/Getty Images
Blake said the Mavs' excellent shooting, combined with the Lakers' failure to close games, led to L.A.'s ouster in the playoffs.
Tell me more about the camp in Hawaii.
"I do camps every summer. I didn't do one in Maryland this year, but I've done one in Maryland for seven years. I did one in Portland for four years. I've done one in Hawaii for a couple years now. It's just the Steve Blake Basketball Camp where I go in and kids 6-14 come in and we teach them skills and play basketball and I jump out and play with them and have a good time and answer questions. I'm there the whole time. It's something I really enjoy doing, basketball camps, so it's something I'm going to continue to do even after I'm done playing."
I heard you went golfing with a pretty famous tennis player earlier in the summer …
"I had a chance to play with Pete Sampras, which was a pretty cool experience because he's, if not the best, one of the best tennis players to ever play the game. He was a great guy. He was really cool. That was fun."
Who is the better golfer between you two?
"Oh, he's better than me. He hits the ball, I'll tell you. He hits it super far and he's a good athlete."
Is that a new sport for you or are you pretty keen on golfing?
"I'm a decent player. Since I've been in the NBA, I only get the chance to play maybe five times a summer, so I haven't had a chance to refine my skills. But I've been playing since I was 6. My dad was a club pro for years. He taught me when I was really young. My dad is a scratch golfer. That's definitely part of my family, golf, so I love it."
There was a video of you from your Maryland days getting into a fight at practice that hit the Internet a couple of weeks ago. You obviously have a reputation of being kind of feisty but this was a full-on fist fight with John Gilchrist.
"It's basketball, man. It happens. Me and John, we're friends. It's nothing personal. He was young and I was young. Sometimes you get into fights. I'm not going to shy away from a fight, just like he's not. It's not the first one I've been in and it's not going to be the last one I'm going to be in either."
While we're on the subject of Maryland, what are your thoughts on the new-look ACC?
"Years back, when they added Miami, my first thoughts were, 'I can't believe they're changing.' To me, it was the ACC and there was so much tradition and with the teams that were there I always thought nothing should change. But, obviously things are changing everywhere. Since that's been happening, now to hear Syracuse and Pittsburgh are coming, I think that's great. They're adding two really strong schools, especially basketball programs with history and those football teams are good as well. I think it's only going to make the ACC even stronger. I think it's pretty cool."
I spoke to Derek Fisher at his camp and he said that come late September, early October, if the NBA players were still locked out, he could see Lakers players organizing an informal workout together. Has there been any dialogue about that or is that still down the line?
"It's a possibility. I can see that happening. I think there's some dialogue out there for that, but nothing's set in stone. I think if this goes on long enough … I know me personally, I already miss playing with the guys and being around them and stuff so I think it would be awesome for all of us to get together. I'm sure our captains -- Kobe and Derek -- they'll put something together for us. If it's going on too long, I'm sure we'll get together and it will be a blast."
You said that last year gave you more motivation to get things right and achieve your goal of a championship. If nothing changes with the roster and the same core is brought back, do you believe that you guys are the team to beat? Should you guys win the championship next year?
"I would love for it to be the same group of guys. Even though we didn't win a championship, it was the best team I've ever played on. If they bring everyone back, I think we have a great shot of winning the championship. I would love for that to happen."
Dave McMenamin covers the Lakers for ESPNLosAngeles.com. Follow him on Twitter.