Assuming there's ever a 2012 season for Mike Brown to make his debut, it will by definition be compressed. Everything from the games played to the time for getting everyone on the same page will be served by way of a bullet train. Factor in how Brown had barely over a month to communicate with players before the July 1 lockout and the goal of cohesion becomes even more difficult.
For the time being, the process of meshing his new players to a championship level has been left entirely to Brown's imagination.
Thankfully, it's been in overdrive for quite some time.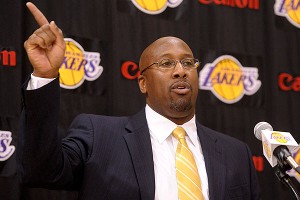 Kirby Lee/Image of Sport/US Presswire
Even before he was introduced by the Lakers as head coach, Brown thought about the job.
Brown actually began picturing himself as the Lakers head coach shortly after July 2, 2010, the day Phil Jackson announced he was embarking on his "last stand." Brown, newly unemployed after getting fired by the Cleveland Cavaliers, knew he didn't want to remain out of coaching very long. And as he shared over a Thursday afternoon lunch at the Lakers' facility in El Segundo with a handful of media members, the Lakers were the team heaviest on his radar.
"I was intrigued with this job," noted Brown. "And you know, I'm not one to talk about [or] look at jobs that are already filled and so it was common knowledge that Phil was going to step down. Early on. Even if a job is filled, you may watch teams and say, 'I would do this, I would do that.'
"But this one in particular, because you knew Phil was going to walk away at the end of the year. I really watched it and studied it and you're excited about the team because of the different players and so on and so forth... I knew I wanted to coach this year and if I had an opportunity, which I felt that I would have during the year, that I was going to take what I felt was the best opportunity."
How vivid was this fantasy of succeeding The Zen Master? The devil may be in the semantics. When I asked if he was "studying" the Lakers from a distance, Brown balked, but conceded he was "watching them closer than any other team." He also didn't agree with my framing of the situation as "coaching the Lakers in his mind," but he nonetheless often pondered how he would have handled certain on-court situations during the failed three-peat bid. If even Brown hadn't pictured himself giving halftime talks inside the Lakers locker room, visions of holding a white board on the Staples Center bench don't feel like a stretch.
Of course, it's also indicative of a coach's mind, which typically can't be turned off. If fans with no chance whatsoever of coaching the Lakers play armchair coach 82+ games each year, can any less be expected from a man with a reasonable shot?
Brown is nothing if a man of meticulous preparation. During the lunch, he pulled out three large and thick three ring notebooks. One contained offensive plays. Another defensive schemes. And the third was devoted entirely to practice sessions. (On a related note, Allen Iverson in a Laker uni feels like a long shot.) Throughout the lockout, Brown and his staff have examined these pages with a fine-toothed comb, modifying the contents to the Laker roster.
Obviously, this is a more in-depth, meticulous, and purposeful process than the time Brown spent mentally swapping Pau Gasol and Andrew Bynum (like all Lakers, never mentioned by name by Brown to avoid a league fine) for the Duncan-Robinson twin towers. Or noting differences in the skill sets and versatility between the supporting casts of LeBron James and Kobe Bryant. One requires daily meetings and hours of time, the other a couch and the NBA package.
Still, the wheels in Brown's head never stopped turning throughout the 2011 season.
"I didn't, per se, have it on paper," said Brown of formally crafted plans for the Lakers. "But I had an idea what I would do with this team on both ends of the floor, yeah. Watching them in different situations, [thinking] I would have done this or done that.
And that's not second guessing anybody, that's just being human and enjoying the game."
And, as it turns out, prepping yourself to nail an interview with the NBA's marquee organization.
Brown's first formal meeting with the Lakers, which took place at Dr. Buss' house, began by making small talk with Jim Buss and Mitch Kupchak as they waited for the Lakers' owner to arrive. Finally, Jim opted to shift the conversation to basketball, since his dad would be arriving shortly. The stage set, Brown moved to the center spotlight.
"I felt like I knew what I wanted to tell them," recalls Brown. "So I just started telling them what I thought was appropriate. About five to 10 minutes later, Dr. Buss walks in. We say our hellos and Dr. Buss goes, 'Wherever we were, let's basically continue.' And Mitch goes, 'I'll tell you where we were. Mike has taken over the interview.' "
Brown initially apologized, saying he "didn't mean to do that. It just sort of happened." Hardly offended, the brass told him to "keep going."
"So I told them what I wanted to tell them," said Brown. "They asked questions based on that."
Looking back, I asked, did all the time spent picturing what he would do as Laker coach prepare him for this moment at the Buss estate? Brown didn't even let me finish the sentence.
"No doubt. No doubt. No doubt."
That he landed the job may have been somewhat surprising to Brown, who still felt like a "long shot" after the meeting ended. ("I felt like during the interview, I had the three guys engaged and so I felt pretty good about it, but I still didn't know.") That he was offered the opportunity to succeed Phil Jackson in part by virtue of his preparation, however, isn't shocking at all. That's just an extension of who he is.
"Yes, We get paid a lot of money to coach and all that, but the money we get paid, I think it has something to do with X's and O's, but the reality of it is, basketball is a game that a lot of people playing and watching. I think there are a lot more people that are educated about this game... I think there are a lot of people who can X and O very well.
"We get paid to manage personalities that are lot of times larger than life and situations so on and so forth. And deal with the public criticism that comes with it. That's why our salaries are what they are.
"I think the biggest thing in dealing with whatever you're going to deal with is preparedness. Preparation. And so going through the different scenarios, and then I had a short window of time from when they agreed to interview me to actually coming in, doing my homework ahead of time helped me in that area for when I came in."