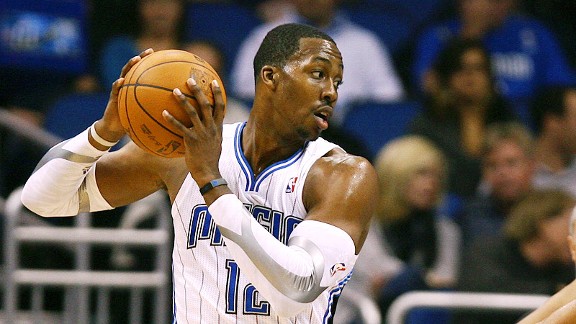 Douglas Jones/US Presswire
Will Dwight Howard be in a Lakers uniform any time soon? Or even anytime at all?
Andrew Bynum is playing well.
He's averaging 16.5 points, 13.9 rebounds and 1.9 blocks, all with a positive influence defensively. Add genuine offensive polish and a sense of still untapped potential, and Bynum has a growing portion of the local hoops-loving population -- still a minority, but bigger than it was a month ago -- wondering whether it's a smart idea to flip him for Dwight Howard should the opportunity arise.
Fortunately, none of those people are Mitch Kupchak or Jim Buss.
The math remains simple: The answer is yes. If Orlando will take Bynum for Howard, the Lakers should do it before Magic GM Otis Smith changes its mind. Pre-signed paperwork should be sitting next to the office fax machine, requiring only names to be filled in. Even Bynum admits he'd make that deal.
The focus on Howard around L.A. has been intense, particularly in the wake of the nixed Chris Paul deal. Given the historic success of the Lakers in acquiring and keeping superstars, it's easy to get sucked into the notion that Howard's arrival is simply a matter of time. It's a belief constructed, more or less, on four planks:
Howard is willing to sign an extension with the Lakers.

In Bynum, the Lakers have the best player routinely appearing in trade rumors.

The Magic can't afford to wait, nor ultimately will they be picky, because they might be left with nothing.

The Lakers get what the Lakers want.
No. 1 appears unassailable. No. 2 is a matter of debate I suppose, but winning it with Brook Lopez is tough. From there, it's muddled. No. 3 assumes that the worst thing Orlando can do is let Howard walk, when in fact the answer really is accepting an offer not serving long-term team needs for fear of bad PR. Orlando isn't the typical midsize market. Throw a rock in that town, and you'll hit either a mouse-eared tourist or a pro athlete making his home there. It's sunny. Taxes are favorable. The Magic, who don't have a long-term roster problem, can rebuild relatively fast with the cap space and high draft pick likely accompanying Howard's departure, assuming smart management. A big haul of players isn't required, and the wrong haul does more damage.
As for No. 4, it basically comes down to this: If the Magic decide they don't want to move Howard before the deadline, it will get far more complicated for the Lakers because the door would open up for teams to outright sign him as a free agent. If Orlando decides it doesn't want Bynum, a defensible position for any number of reasons, the Lakers very likely would be out of luck.
My point isn't that Howard is an impossibility; it's just that there's a very real chance he's in a different uniform when all is said and done, meaning an important question has to be asked:
What is Plan B?
The Lakers seem determined (or at least their fans seem determined for them to be determined) to thread the NBA's most difficult needle, namely improving the team today while simultaneously ensuring they have a younger star for Kobe Bryant to pass the torch. For about 90 minutes a few weeks back, it appeared they'd done it by trading for Paul, although given the holes that would have been left following the deal, only the "get your future star" part was guaranteed.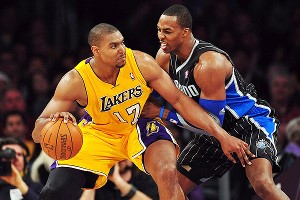 Gary A. Vasquez/US Presswire
Is Andrew Bynum enough for the Lakers to land Howard?
Now the fundamental choice could very well be between this team, this year, and a chance at the next big thing. It's not an easy one.
The Lakers are 10-6 through 16 games despite a comically brutal schedule affording no practice time (hence Kobe's "blueprints" comment after Thursday's loss), and they're adjusting to a constantly changing lineup and new philosophies on both sides of the ball. They've already established a very good defensive identity and could improve. Still, given their road results (1-5) and the stomping received Thursday at the hands of a Dwyane Wade-less Miami Heat, the the odds of them winning a title as currently constructed are long. The problem, though, isn't at the top with Bryant, Pau Gasol and Bynum, but in the middle. It wouldn't take an injection of superstar to flip that script. Howard strengthens a strength but doesn't solve other structural problems. Midrange moves, meanwhile -- someone who can create off the dribble, a more reliable outside shooter, bench scoring, to name three -- could make a huge difference.
Smaller trades aren't easy to pull off, either, but are certainly less costly. But given how few appealing parts the Lakers currently have available to trade, giving up any damages their pursuit of an A-lister.
If the trade deadline rolls around, the Magic still don't bite and there's an opportunity to help a team playing well despite the shortcomings, the Lakers will find themselves in a bind.
Particularly in light of heavier restrictions kicking in on taxpaying teams after next season, it's hard to pass on the chance to win now, especially when Door No. 2 is a gamble on a star the Lakers might not get anyway. The Lakers have a viable three-player core this season and next, particularly with Kobe looking like a monument to German engineering. On the other hand, there are compelling reasons to roll the dice and play for the superstar (Howard, maybe Deron Williams) until the bitter end. Because some of the new restrictions on player movement (namely stiff limits on sign-and-trades) haven't taken effect, if the Lakers are going to thread that needle, this could be their best chance. In a couple of years, getting their next Kobe could be tougher.
It's a tricky calculus, to say the least.
The Lakers aren't immune to the NBA's new post-lockout gravity. It's not so much the juiced-up tax or revenue sharing (the Time Warner TV deal, among other things, affords L.A. some flexibility) but rather the roster restrictions: a smaller midlevel, no biannual exception, the aforementioned restrictions on sign-and-trades, and so on. Turning over a roster effectively always has been most efficiently accomplished by stripping it down and will only become truer under the new CBA.
Rebuilding without rebuilding, essentially what the Lakers hope to do, was very difficult under the old system. It'll be damn near impossible with the new.
For now, the Lakers can afford to keep their options open. Eventually, perhaps once the trade market comes into focus in March, they'll have to choose a path. Once they do, absolute commitment will be required. Getting it wrong risks becoming something far worse than being a team suffering a rare down year or two: a decent-but-expensive team everyone knows has no chance of winning a title.