PodKast w/Ben Harper: Lakers, Kobe and the art of cover songs
January, 27, 2012
1/27/12
10:55
PM PT

By Andy Kamenetzky
ESPNLosAngeles.com
Archive
It's always fun when friend-of-the-podKast, two-time Grammy winner and die hard Laker fan
Ben Harper
visits the studio. We sat down for an extended conversation about the state of the Los Angeles Lakers (Ben's a little worried) and, of course, music. The show was broken into two sections
-- Part I and Part II can be heard in the entirety here
-- and the breakdowns can be found below, with specific links to certain sections.
Part I
- (3:10): Ben expresses concerns about this team
. For starters, Harper has concerns about the championship viability of a team featuring two seven foot players. As he notes,
Mike Brown
has talked about using
Pau Gasol
and
Andrew Bynum
the way
Tim Duncan
and
David Robinson
were used in during the Spurs' title runs, but that's also the last time we've seen that work. Playing the averages, is this really a winning formula?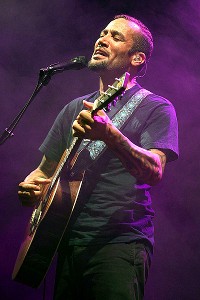 Mark Metcalfe/Getty Images
The Lakers and music are Ben Harper's passions.
- (7:25): Ben's also concerned Brown's emphasis on hellbent-for-leather defense 48 minutes a game
is inspirational in theory, but too draining in practice. Having said that, he's actually confident
Kobe Bryant
can maintain this pace and production over the next 47 games, despite this season's wrist injury and last season's knee/ankle problems. Watching him play like the dude wearing the #8 jersey has made the stretches of ugly offense a kick to watch.
- (15:13):
Kobe walks a high-wire act each game as the Lakers' scorer and primary play-maker
, and Ben feels for the superstar as he carries that burden. "He's brought us five rings, and to this day, the city can't decide if they him to shoot or pass," laughs Harper. In the meantime, Ben wants to see the German doc for his own knees. There's nothing wrong with knees, but seeing Kobe bounce up and down the court this season, why not?
- (18:25)
: We recorded this show hours before Wednesday Lakers-Clippers game, a contest that featured some animosity between the teams. Mention of the Clips also got a rise of out "Ben Harper the Laker fan." Between a dynamic he describes as "Yankees-Mets" and the local reminder
Chris Paul
should have been a Laker, let's just say the Clips won't be receiving complimentary copies of
"Fight for your Mind"
anytime soon.
PART II,
where we talk music, and specifically, the art of recording a cover song:
- (1:15):
"Covers have a way of finding you," Ben explains. Sometimes you'll hear them from friends or randomly on the radio. Other times, you'll be asked to take part in a soundtrack, as was the case when Ben recorded the Beatles' "Strawberry Fields Forever." It was requested he keep it very close to the original, which provided the challenge of remaining faithful to the employer while adding his own stamp.
- (3:49): Aretha Franklin
is the artist Harper considers probably the most unapproachable artist to cover, at least as a singer. Her voice is just "untouchable," as he puts it. However, he'd love to do an album of Franklin cuts with a steel guitar serving as her vocals. I'd listen to that.
- (13:30): It turns out, all three of us share the favorite cover song:
"All Along the Watchtower," by
Jimi Hendrix
. It's so incredible and iconic, most people forget there even
was
an original version. And by the way, the original was done by
Bob Dylan
, certainly no slouch himself. Hendrix's version managed to make Dylan's basically irrelevant, a testament to the greatness he (re)created.