It will be the Lakers' sixth game in about nine-and-a-half days, the last of a long trip, with an early tip time that has never suited them particularly well.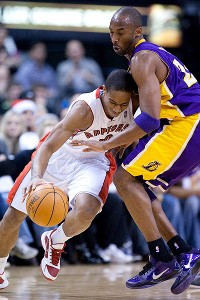 AP Photo/The Canadian Press/Frank Gunn
With Andrea Bargnani sidelined, Compton product DeMar DeRozan is as good an offensive option as the Raptors have.
And there are all the reasons the Lakers could struggle Sunday in Toronto. They're external, centering on the context of the game, not the opponent, because the Raptors are a bottom-feeding squad, no question. At 9-19, only five teams have fewer wins, and they'll take the floor without their only high-end talent in Andrea Bargnani. With him, they're bad. Without him, they're borderline unwatchable.
Still, while it's a game the Lakers should win, it's fair to say when it comes to this team, particularly on the road, there may be no such thing. To gain a little more insight into Sunday's game, we reached out to Sam Holako of Raptors Republic.
1. With Bargnani out, where does Toronto's scoring come from?
Holako: The first thing to remember is that with Bargnani out, the Raptors score through sheer attrition, void of much team ball-movement. You'll see a lot of listless passing on the perimeter then someone jacking the ball up with under eight seconds left on the clock. Jose Calderon has been doing his part of hitting outside jumpers and finding guys off the pick-and-roll, and Leandro Barbosa is hit-or-miss as he's always been, but the three-headed hydra of Jerryd Bayless, James Johnson and Linas Kleiza has been carrying much of load, putting up shots at will. DeRozan checks in from time to time with a big game, but they are too few and far between. It's the Raptor effort that keeps us interested as fans, not the offense sans Bargnani.
2. Jose Calderon is a guy who's name pops up in L.A. when talking about potential PG's. What's your scouting report on him?
Holako: Calderon has been a pro throughout his tenure in Toronto. He protects the ball as well as anyone in the league, makes smart plays, hits his jumpers and keeps defenses honest off the bounce from time-to-time. I'll always love him for standing up to Kevin Garnett and not let him get away with the vitriol that always spews from his mouth. I always thought he would excel in the triangle offense given his solid three-point shooting. However, he could be even more valuable in Mike Brown's system (he has a system, right?) by freeing up Kobe to play off the ball, and executing the high pick-and-roll with Pau Gasol to perfection.
3. Compton product DeMar DeRozan appears to have taken a step back this year. What's gone wrong?
Holako: DeRozan has definitely taken a big step backwards this season for a few reasons: 1) he has been shooting much more; he's already taken more three pointers than all of last season but only hitting 32.7% of them 2) he's not getting the ball in the right spots, with much of his offense coming off of catch-and-shoots 3) he's averaging less trips to the line because he isn't attacking the rim off the bounce and putting pressure on opposing defenses. It all comes down to his consistency and his willingness to mix up his offense. He's still only 22, and has a great deal of upside, but coaching and mentoring will tell the tale on his development.
4. What are three things that have to happen for the Raps to win this game?
Holako: Pray to the basketball God's that a combination of an early start, hot Raptor shooting and enough indifference to playing a bottom feeding team will force the Lakers into an insurmountable hole they wont be able to dig themselves out of. Look, even if the Raptors somehow take Andrew Bynum AND Gasol out of the flow with a faster pace, Kobe can pull it together at any time and drop 40. It's not going to be pretty.
Thanks again to Sam. Be sure to check out Raptors Republic for all your dino-hoops needs.