Phil Jackson used to reference Red Holzman all the time, and Mike Brown does the same with San Antonio Spurs coach Gregg Popovich, whose staff he served on from 2000-2003 and who is clearly a major influence.
Still, if there's one place Brown hasn't been able to emulate his former boss, it's in managing minutes. In Portland on Tuesday night, Popovich essentially threw the game, and a streak of 11 wins with it, electing to sit Tim Duncan and Tony Parker (Manu Ginobili is already sidelined) to get his stars genuine rest and "put some money in the bank" for the second half of the season. The Spurs lost by 40, but with his team nearing the end of its long rodeo road trip, Pop, as he's done brilliantly over the last few seasons, took a big-picture approach.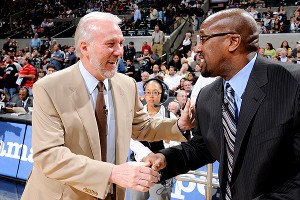 D. Clarke Evans/NBAE/Getty Images
Mike Brown has learned a lot from Gregg Popovich, but hasn't emulated him in every way.
Meanwhile, Kobe Bryant enters tonight's game against Dallas averaging 38.2 minutes a night, nearly 4.5 more than last season. And while attributing all of it to his workload isn't totally accurate (L.A.'s lack of coherent offense late in games doesn't help) there's probably some link between the heavy minutes and the fact Bryant shoots about 46 percent in the first three quarters, and 39.7 in the fourth.
Pau Gasol, it's worth noting, is playing a ton as well. Two guys, both over 30, both with real mileage on the tires, playing more than you'd like.
There are real differences between the Lakers and Spurs, no doubt. Most significantly, even after the loss Tuesday, San Antonio is 23-10, 2.5 games behind Oklahoma City for the Western Conference's top seed. As playoff positioning goes, the Spurs are in good shape. The Lakers are currently fifth, but only two games out of ninth. Not much space for wiggle in that room. Popovich also has more useful players at his disposal, allowing him not simply to leave guys in street clothes, but also keep his stars' minutes down game to game. Duncan averages under 30, Parker a hair over 34, Ginobili, working himself into post-injury shape for much of the year, only 21.8.
So it's definitely easier for Pop to rest his guys, but that doesn't mean Brown can't do better. He has talked a lot about reducing Bryant's workload, but thus far hasn't in any significant way. Lack of depth contributes, but so does a certain lack of willingness. The weakness of their bench and offensive punch makes garbage time hard to find, but Brown has options the other way, too. He absolutely could have pulled the plug on Sunday's game in Phoenix -- the first in a stretch of four games in five nights-- after the Lakers fell down by 27, and kept Kobe from playing 40 minutes in what turned out to be a 12-point loss.
Pop almost surely would have.
Sitting his stars, as Popovich did Tuesday, isn't going to be an option for Brown, but he'll face some tough choices over the last 34 games relative to Bryant's minutes in particular. How he balances that is shaping up to be a significant storyline for the Lakers down the stretch and into the postseason.