It's been nearly a week since any Laker save Kobe Bryant and Andrew Bynum dribbled a basketball in a competitive setting, and Drew did so for less than six minutes. The Lakers were also playing a pretty uneven brand of basketball heading into All-Star weekend, which makes a smooth return after a layoff harder to picture. But as fans surely recall, the 2011 squad limped into the break after a Cleveland loss, possibly the worst of Phil Jackson's coaching tenure in L.A. And so, nobody anticipated the next 18 games would result in 17 wins, with Bynum playing the role of a modern day Bill Russell, and the rediscovery of optimism (albeit premature) that came with them. Similarly, this team's unpredictability -- among other pressing issues, like item #1 below -- makes a one-sided win or loss feel equally realistic tonight against Minnesota. That's why we play the games.
Here are three items to be mindful of once the ball is jumped.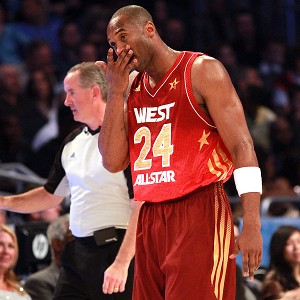 Ronald Martinez/Getty Images
Kobe's availability is the $1,000,000 question.
1) Kobe Bryant's potential absence
As reported Tuesday, Dwyane Wade's hard foul during the All-Star Game left Bryant with a concussion in addition to a nasal fracture. While he's officially listed as day-to-day, the NBA's new concussion policy makes participation feel like a stretch to me. The final decision isn't Kobe's, so a willingness to play through pain isn't the issue. Doctors are typically cautious, particularly with brain injuries, and the procedure is rigorous. Plus, in a modern sports world hyper-conscious of the long-term effects from concussions, I'd be very surprised if the league risked clearing a player just 24 hours after being diagnosed.
Perhaps Bryant's concussion will be mild enough to prove me wrong, but if he's unable to go, the impact is obviously huge. To begin, who starts at shooting guard? Andrew Goudelock is behind Kobe on the depth chart, and actually matches up a lot better against 6'2" starter Luke Ridnour than 6'7" reserve Martell Webster. However, if Brown wanted to keep the rotation as relatively normal as possible, he could insert a player outside the rotation for Kobe rather than shuffle both units. That being the approach, Jason Kapono or Devin Ebanks (recently recalled from the D-League) would get the nod.
But no matter who's announced in the first five by Lawrence Tanter, the Lakers will need to elevate their collective game to offset Kobe's absence. The ball must move inside to Pau Gasol (the offense should additionally run through him) and Bynum. The Wolves will certainly work hard to prevent this, but the Lakers can't allow impatience to prompt frustration, along with low-percentage deep jumpers. The ball must be swung to find cracks in the Wolves' D, and this must be done with care as well as purpose. This team turns the ball over too often as it is, but truly can't afford empty possessions with Kobe unavailable. For that matter, the transition opportunities created for Minnesota off miscues will also prove dangerous.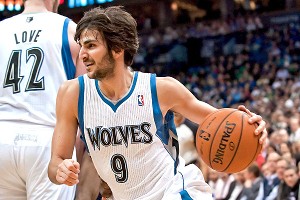 Greg Smith/US Presswire
You want Ricky shooting, not passing.
Under the best of circumstances, the Lakers can't afford many mistakes. Execution will make or break them even more with Bryant sidelined.
2) The defense against Ricky Rubio
Stop me if you've heard this before, but the Lakers occasionally encounter trouble checking top-flight point guards. In particular, those deadly in transition or capable of collapsing a defense upon penetration. I'd say Rubio fits both bills. To neutralize the Spanish phenom/heart throb/reckless gambler, the key is turning him into a scorer rather than a play-maker. As a facilitator, he can get the Wolves rolling in a hurry. He's plenty capable of taking over a game, and while getting everyone involved, Rubio can be devastating.
As a scorer, however, Rubio is fairly erratic. The kid shoots in the 30's from 3-9 feet, 10-15 feet and 16-23 feet, and his 47.7 percent clip at the rim is quite low measured against point guards. (How low, you ask? The next player behind him among PG's playing 25+ minutes is Derek Fisher at 40 percent.) Rubio's not afraid of a big shot, and as the Clippers will attest, he'll occasionally drain one. But playing the odds, you want him forced to score.
Gasol, who knows Rubio well after their stints as teammates for the Spanish National squad, concurs (even while giving me the business):
3) Rebounding
By any measurement, the Wolves do good work on the glass. They're sixth-ranked or higher for total rebounds per game... offensive rebounds... defensive rebounds, and rebound differential. Obviously, a strong foundation is created by Kevin Love and his 14 boards, a tally placing him only behind Dwight Howard for league-best honors. But Rubio, Wesley Johnson, and Michael Beasley (5.3 rpg) all hold their own among positional peers. The Lakers came out on top during the January meeting in Minnesota, but the Wolves pulled down a whopping 24 offensive rebounds, which they converted into 32 second chance points. The excellence holding an opponent to 38.5 shooting was nearly undone by so many extra opportunities to score.
Between the two, Gasol and Bynum accounted for just 13 rebounds, one fewer than Kobe himself. It's especially on those two to do a better job putting their body on another body, boxing out and keeping their heads on a swivel at all times.