The importance of a win this evening doesn't requires much in the way of explaining, so what say we simply cut to the chase? Here are four items to be mindful of in Minnesota.
1) Kobe's shot selection
Broaching this subject is the equivalent of voluntarily sticking my head in a wasps nest, but it's clearly been an issue during the road skid. Against the Pistons, Kobe seemed consumed with shooting his way through a frigid start, an unnecessary goal with Pau Gasol and especially Andrew Bynum dominating an overwhelmed Pistons frontcourt. Against the Wizards, Bryant spent the first half picking apart Washington with assaults on the rim and head-fakes, drawing multiple trips to the line in the process. After intermission, he inexplicably began firing jumpers at will. 15 of 18 shots clanged, and the offense became stuck in the mud. Even Mike Brown said these weren't good decisions.
In all, Bryant's misses over these two games accounted for 40 empty possessions. Even the most ardent Mamba fan must acknowledge the negative effect.
To be clear, the issue isn't Kobe's shot count, but rather the quality of these shots. Assuming the majority of shots are within the flow of the offense and sensibly launched, the number itself isn't necessarily a huge concern to me. (For example, during the first half in D.C, Bryant took 13 shots, which might be defined as "a lot," but they were largely good looks, so I didn't care.)
Kobe's scoring instinct mirrors the average human being's instinct to breathe, and he's also quite good at uniting ball and basket. I not only expect 24 to get his share of shots, I want him to. But there's a responsibility that comes with "eating first," so to speak. With Kobe at his most judicious, he -- and by extension, the Lakers -- can provide any opponents fits. When he's reckless, the Lakers become vulnerable.
2) Ricky Rubio is mired in a slump.
The Spanish phenom has made a better transition to the NBA than many pundits expected, and is perhaps the only candidate to best Kyrie Irving for "Rookie of the Year" honors. But most first-year players encounter periodic struggles, and Rubio's dealing with one right now. Over the last ten games, he's shooting just 30.3 percent from the field, with his assists down to 6.7 from a season average of 8.2. Over four March games, the numbers have dipped even further. Shooting percentages of 26.7 from the field and 16.7 percent from behind the arc. Six dimes. And 7.8 points a game, more than a bucket below his 10.5 average.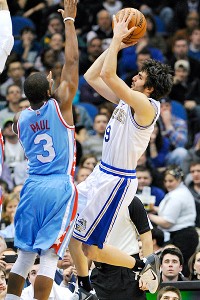 Getty Images
Let Ricky shoot.
Moreover, in two games against the Lakers this season, Rubio has struggled even more putting up points. A horrific four points per game have been accumulated on 10.5 shots, courtesy of a 14.3 percent clip from the field.
For a team often susceptible to a fast point guard's talents, this slump obviously comes as great news. The game plan against Rubio is always to dare him to shoot. On Friday, I imagine this approach will be cranked up even more.
3) Kevin Love, however, is playing out of his mind.
When last the Lakers saw the former Bruin, it was Leap Day and he was in street clothes at Staple Center, unable to compete with flu-like symptons. Love's importance to the Wolves was powerfully illustrated in his absence, as the Lakers scored a lopsided win over a quality opponent. In his four March games since, the power forward's numbers would make a video game do a double-take: 33.3 points. 47.8 percent from the field. 50 percent from beyond the arc. 80.6 percent from the stripe. 13.3 rebounds. Three assists. There was also a game-winner against the Clippers, along with a postgame statement of it being "my time right now."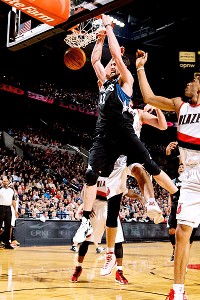 Cameron Browne/Getty Images
Love has been a bad man of late.
The statement is pretty irrefutable, but for one night, it needs to feel like empty smack. That task largely falls on Gasol and Bynum. In particular, they need to prevent Love from going bananas controlling the glass on both sides of the ball. The Lakers need every possession possible, and in turn need to prevent extra looks at the basket for Minny.
4) The Lakers' level of engagement
Against Miami, the Lakers played effective transition defense against a team ferocious on the break. Against Detroit and Washington, the Lakers reverted to typically awful form. The intensity discrepancy was palpable, and it directly correlated with several other shortcomings. Poor focus outside Staples is nothing new this season, but with momentum, confidence and self-reliance seemingly building, the team-wide backslide was nonetheless disappointing. These losses have also sparked off-the-record grumbling, and allowing negativity to fester will hurt this team in the long run, much less in Minnesota.
I began this post talking about Kobe, but the reality is far too many others were problematic no-shows. Against the Pistons, there were a grand total of 13 combined points from players 4-9. Against the Wiz, Metta World Peace went one-for-six from the floor for three points. Bynum turned the ball over seven times. And with the exception of Gasol, every Laker fell short of matching Trevor Booker's offensive rebound tally (8). That simply doesn't cut it.
For the road trip to be salvaged, the onus to produce is roster-wide. Everyone needs to take a look in the mirror and hold himself accountable.