Back in the olden days, when the Lakers were the West's dominant franchise and the CBA didn't exist to stunt the franchise's championship dreams, the NBA draft was fun, but ultimately a night belonging to the league's weaker sisters.
"Look at those teams trying to make themselves better with those little basketball ragamuffins. How adorable!"
The evening made for good copy and sports-radio conversation, but wasn't fundamental to the success of a team like the Lakers. Sure, draftees have value, no doubt, but L.A.'s picks were always lousy anyway, and resources (measured financially and in available roster spots) were better aimed at players more likely to help them win now, not years down the road.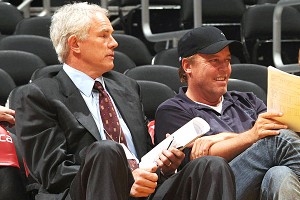 Noah Graham/NBAE/Getty Images
If these guys want the Lakers back in the first round Thursday, will they find a way?
The Lakers have often been spectators in the draft. In some seasons they've barely been involved at all.
Thursday's edition of the draft sets up as yet another slow night for the purple and gold. Their lone pick is the 60th, the NBA's version of Mr. Irrelevant. But more than any season in recent memory, this year the young talent flying off the board, from the higher-tier guys on down, will seem more a necessity than a luxury.
A first-rounder or two would look awfully nice right about now.
The Lakers are trying hard to keep their Kobe Title Window open as long as possible, but they have major problems with the salary cap and luxury tax, few options available to add quality players in the free-agent market, and limited trade options.
In that context, the draft becomes yet another reminder of the ways in which other teams are improving while the Lakers aren't.
So with that in mind, it's time to play a little draft night "What if."
As in, "What if...
1) "...the Lakers want to trade into the first round?"
Lakers executive VP Jim Buss said recently the Lakers would like to, and if motivated enough they can get it done. Here are three potential options:
Trade. Pau Gasol or Andrew Bynum could be part of a package returning a first-rounder. But for a team still in win-now mode, the question isn't how the Lakers get into the opening round, but how to do it and still get better next season. Doing both is tough if Gasol or Bynum heads out the door -- landing a pick likely means the package of seasoned players coming back isn't as strong -- and outside those two, there isn't another player on the Lakers' roster any sane executive would sacrifice a first-round pick to acquire. A trade pushing the Lakers back into Round 1 could certainly benefit the future, but that's a completely different conversation.

Traded Player Exception. A wild card could be the trade exception gained last season in the Lamar Odom deal. They still have it, dusty as it might be getting. As a mechanism used to acquire a first-rounder, it would likely require the Lakers to take back a contract they wouldn't otherwise want. Think Cleveland absorbing Luke Walton as the price of a pick in the Ramon Sessions deal. Would the Lakers do it? Probably not. They're trying to shed payroll, particularly superfluous money paid to players they wouldn't otherwise want. L.A. might take a player on a short contract capable of filling a need next season (especially if it meant getting back into the first round), but that hypothetical player sounds useful. Why would another squad surrender that sort of asset and a pick for a TPE?

Buying a pick. This is the most straightforward option. As ESPN LA's Dave McMenamin reminded me this week, teams can spend up to $3 million to buy a pick. The Lakers used a little of their allotment in the Sessions deal last year, but still have a substantial amount of that money left, and it might be enough to get something done. As a point of reference, the Lakers sold the 29th pick in the '09 draft to New York for $3 million on the nose, meaning a move like this probably nets nothing higher than the 25-30 range, which would mean contractual obligations at least in the neighborhood of $1.8 mil over two years. (Interestingly, many teams value high second-rounders more, because the same caliber player might be available, but wouldn't be locked into a guaranteed deal.)
Bottom line: Dealing their way back into the first 30 picks isn't impossible. It's also not probable, and if it happens, it can't be counted on to yield a player who would step into next season's rotation.
2) "...the Lakers had drafted better in recent years?"
Aside from last year's second-rounders (Andrew Goudelock, Darius Morris), the Lakers had drafted a grand total of two players on the roster -- Devin Ebanks ('10) and Andrew Bynum ('05) -- and acquired a third (Kobe Bryant) in a draft day trade way back in '96. Had they done better work, would the pickle in which the Lakers currently find themselves be as briny?
Probably, because their draft record isn't bad.
While the Lakers haven't drafted any stars, only twice since 2000 have they held selections inside the top 20. Given the placement of their picks, the realistic goal isn't All-Stars, but players developing into credible NBA players. In that, they've done well. First-rounders have included Bynum, Jordan Farmar, and Sasha Vujacic. Javaris Crittenton (19th pick in '07 and the last No. 1 the Lakers kept for themselves) was a bust, but in the second round the Lakers found Walton, Ronny Turiaf, and Von Wafer (seriously -- drafted in '05, he's still around). More recently, Ebanks, Goudelock and Morris have all shown potential.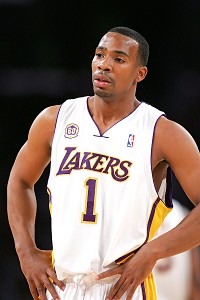 Lisa Blumenfeld/Getty Images
Javaris Crittenton was the last first-rounder selected by the Lakers with the intent of keeping him.
The Spurs might guffaw at L.A.'s track record, but overall the Lakers have done pretty well. The issue isn't that they don't draft well, but that they don't draft much, period. Two No. 1s went to Memphis in the Gasol deal -- fair to say that worked out -- and the rest, including the two in Thursday's big event given up at last year's trade deadline, were generally sacrificed for financial considerations. First-rounders come with guaranteed contracts, money the Lakers have felt compelled to spend on players more likely to contribute immediately.
It's reasonable to argue that the Lakers should have held on to more assets, from draft picks to players moved to save cash (Vujacic for example), but in fairness they've spent a ton on payroll with a great deal of success, and the shortsightedness was intentional, designed to pry open as long as possible this team's window of opportunity. Future considerations have always been secondary.
Have they undervalued the draft a little? Probably. Teams like Boston (Avery Bradley) and Miami (Norris Cole) have found value at the end of the first round. Could they have spent more? Sure. Should they have? Easy to say when it's not your money.
3) "...the Lakers hadn't made the Sessions trade?"
The Lakers acquired Ramon Sessions in the hope he'd be the ingredient required for the Lakers to make another Finals appearance. Effectively, he cost them their own first-rounder and the one acquired from Dallas in the Odom deal, because as Kupchak would explain, the Sessions and Derek Fisher swaps were two parts of the same trade.
Obviously, it didn't work out as intended.
The Lakers were again bounced in the second round, and Sessions (despite an ugly playoffs) chose to enter free agency rather than exercise a $4.55 million player option for next season. Meaning the Lakers are out the picks, and while I expect them to re-sign Sessions, for the time being they don't have him, either.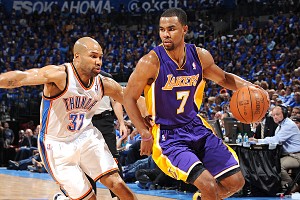 Andrew D. Bernstein/NBAE/Getty Images
If the Lakers knew then what they know now, would they still have made the Sessions deal?
Knowing what they know now, the Lakers probably wouldn't have dealt for Sessions. The picks used that day constituted a healthy portion of the team's tradable assets, and even if the Lakers would still rather pay players more likely to help them fast than draftees chosen in the 20s, those picks could help get such players.
But it's hard to be overly critical. Like many, I thought the Sessions deal would be a huge boost (for a while it was). I accepted the logic, both financial and as a matter of practicality, inherent in the Fisher trade. If it was an error, it was one of commission rather than omission. They took a shot. To some degree at least, it missed, but the Lakers weren't winning anything as constructed. That much we knew.
4) "…the Lakers just use the 60th pick, and that's it. Any shot they get a good player?"
Here are the guys taken with the final pick over the last 10 drafts:
'02- Corsley Edwards (Sacramento, 57th pick)

'03- Andreas Gliniadakis (Detroit, 58th pick)

'04- Rashad Wright (Indiana, 59th pick)

'05- Alex Acker (Detroit, 60th pick)

'06- Will Blalock (Detroit)

'07- Milovan Rakovic (Dallas)

'08- Semih Erden (Boston)

'09- Robert Dozier (Miami)

'10 - Dwyane Collins (Phoenix)

'11- Isaiah Thomas (Sacramento)
Those 10 players have combined to play 201 games in the NBA; 69 belong to Erden, and 65 to Thomas. So on the one hand, the slot doesn't exactly have a proud track record. On the other, the Kings picked up a winner in Thomas only a year ago. So the 60th pick is on a roll!
Finding a gem is the exception to the rule, but isn't totally unheard of. And they do say it's a deep draft. I suppose we'll learn how deep.