These represent the shooting percentage, three-point percentage, and turnovers per game for Shannon Brown in 11 games since Kobe Bryant returned from his ankle injury on February 23 in Memphis. All add up to trouble for the Lakers, who are still searching for consistency at any guard spot not occupied by Bryant.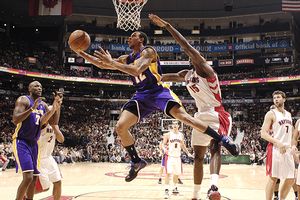 Ron Turenne/Getty Images
Shannon Brown may be athletic, but his performance of late has been a little off.
The turnover numbers are particularly distressing. February was the first month in which Brown averaged over one per game, landing at 1.3 a night, and the five games in which he played about 38 minutes a night in Kobe's absence weren't the problem. Over that stretch, Brown only had five giveaways, with only one multiple giveaway game. Since then, however, he's had six, a fair amount for someone whose primary responsibility isn't always handling the ball.
Over the course of the season, Brown has been encouraged by the coaching staff to push himself in the offense. Given his athleticism and work ethic, there's certainly upside to be mined. Unfortunately, the process has at the same time exposed holes in Brown's game, particularly since teams are no longer surprised by him. Perhaps because he's uncomfortable moving the ball as a true point, Brown tends to over-dribble and struggles finding good angles to make passes within the offense, particularly to the post.
Those struggles are bleeding into the rest of his offensive game.
Sitting next to Lakers TV analyst Stu Lantz one night at Staples, he noted how many players will simply choose to shoot if they're uncomfortable passing. Lantz wasn't referring to Brown, but could have been. Relative to other NBA guards, Brown (who hasn't spent scads of time as a primary ballhandler, even going back to his days at Michigan State) doesn't handle or move the ball as naturally, whether in the half court or on the break.
Put it all together- the encouragement coaches and teammates to be aggressive, his natural limitations as a player- and the result has been too many forced, cringe-worthy hoists from the floor. More and more, opposing teams are giving him perimeter shots, with good cause. Worse, Brown now appears to be pulling the old Sasha Vujacic trick of looking to cram 30 minutes of performance into 15 to 20 minutes of actual playing time, with predictably diminishing returns.
The other side of the ball hasn't been a picnic, either. Because of his strength and athleticism, Brown has shown flashes as a defender, but hasn't been as sharp of late. Writes wondahbap over at Silver Screen and Roll: "I just don't get him lately. Or maybe he doesn't get it. Could someone please tell me why he continually goes under screens when he's defending good shooters? Or doesn't seem to at least anticipate the screen. He did this against Stephen Curry. He did it against Chauncey Billups. He does it every game. You can debate the problems of Fish all you want, but Fish is 35 y.o. and slow. What is Shannon's excuse?"
For the past two games heading into Tuesday's tilt with Sacramento, Brown has been Phil Jackson's primary guard off the bench. Vujacic isn't playing much, and Jordan Farmar has logged all of 11 minutes. If this is the role PJ has planned for him into the playoffs and beyond (it's a little presumptuous to say it is), Brown simply has to play better. Even if it isn't, he has to pick it up. Jackson could very well be giving him more minutes so when the playoffs roll around, Brown has a better feel for where the proper balance lies, something Farmar and Sasha have had more time to find.
It's a theory, anyway.
Brown is a great kid, humble and hard working. Last season he busted out of the NBA purgatory after arriving in L.A., but still wasn't granted deep responsibility for the team's fortunes. This year he has a larger stake, and like a lot of players is finding it tougher to make headway over the long haul once the rest of the league has cut a lot of film together. It's now his responsibility to adjust, or at some point Jackson's to adjust his playing time.